Hello Pinoylifers.  I did some shopping at the local Filipino supermarket the other day and I wanted to share this with you.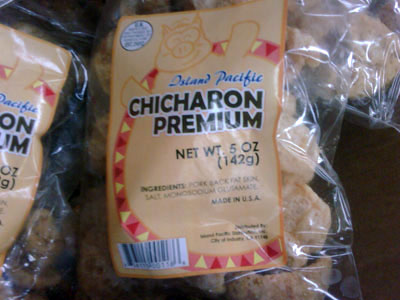 Yes folks, chicha-f'n-ron.  Just in case you can't read those magical ingredients on the front of the bag…

Mmmm… Pork Back Fat Skin + Salt + MSG = PINOY PRIDE!!!
Have a great Lent.
Hello Pinoylifers (and the brand new army of haters – thanks for the traffic).  2009 is starting off strong for Pinoy stand-up comedy.  Jo Koy had his first hour long special air on Comedy Central in early January and on January 19, Edwin San Juan's SlantEd Comedy show had its first Showtime taping that featured Edwin, Bernadette Balagtas, Joey Guila, Dan Gabriel, Ron Josol, and Paul Ogata.
Here are some photos from the January 19th SlantEd Comedy show taping at the El Rey Theatre in Los Angeles, CA.
Where were you the night Manny Pacquiao beat Oscar De La Hoya?
Last night's event will be ingrained in the memories of Filipinos all over the planet.  A lucky few will proudly say that they were at the fight in Las Vegas to witness history happen.  Most will tell a tale of gathering at a house loaded with food, friends, and family as they cheered on their hero on a television screen. 
In Los Angeles, a select group of community members were invited to watch the fight at the Montalban Theater (yes, it's named after the man who played KHAN!).  The fight screening was sponsored by Nike in conjunction with community organization Search to Involve Pilipino Americans (SIPA) and was billed as the Manny Pacquiao fan headquarters. 
That's where I was and this is the story of that evening.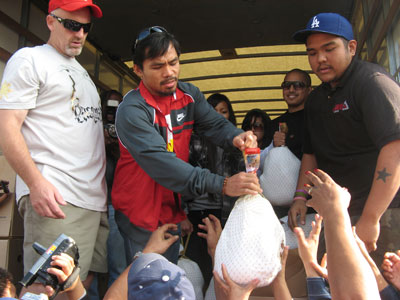 In a token of appreciation to his fans in Los Angeles, Manny Pacquiao gave away 500 turkeys in a park in Historic Filipinotown.  Enjoy the photos!
Update: Someone posted a short video of the event Youtube.
Pictures! NEAT-O!