Imagine a World Without Filipinos – Pinoylife Redux
July 15, 2008 · Posted in Uncategorized
I swear, sometimes gifts just fall from the internet heavens.
Joel, the Pinoylife admin, got an email forward containing an article titled "Imagine a World Without Filipinos". It was published in Saudi Arabian news outlet Al-Watan written by Abdullah Al-Maghlooth. If you haven't seen it yet, it's a quick read:
Click the image to read the original article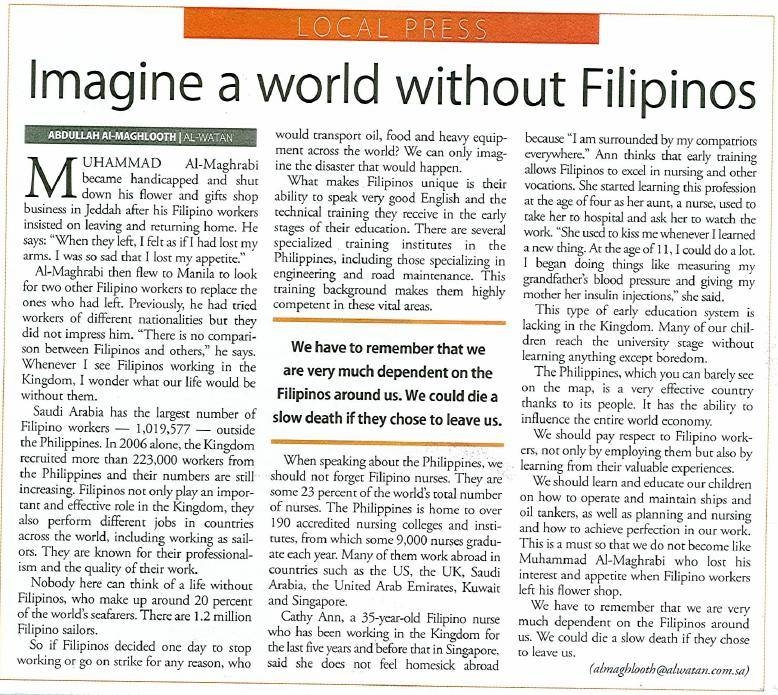 The gist of the article is generally positive so props to Abdullah for the kind words. The title does make you think. What would it be like if we got rid of all the Filipinos on the planet? I'm sure there are some racist cocksuckers that would have a month long celebration but this is a hypothetical scenario that will never happen so don't start making your parade floats just yet. Abdullah Al-Maghlooth pointed out some obvious things such as the negative impact on available nurses, manual labor, nannies, maids, and most importantly how eliminating Filipinos would decrease of the amount of seamen in the world. (Damn right!)
But there are other side effects that Al-Maghlooth didn't cover. I now present to you my version of the article, "Imagine a World Without Filipinos".
Consider the following societal side effects if this world did not have Filipinos:
Mexican fight fans would actually have to chant their boxers' name instead of "ME-HI-CO, ME-HI-CO, ME-HI-CO" as Mexican boxers would have to fight each other since Manny Pacquiao wouldn't be around for them to lose to. This could lead to further divisions within the Mexican community worse than La Eme vs. Nuestra Familia.
Drug companies would lose millions in revenue as the demand for medication to treat high-blood pressure, hypertension, and diabetes would drop significantly.
Kaba Modern would still exist.
No stage production group would ever be able to put a complete cast together for Miss Saigon. What, you think they'd actually cast a Vietnamese person as the lead?
You would really see how many people are truly Hawaiian on this planet.
The Magic Mic corporation would file for bankruptcy.
The ozone layer might improve since there would be no such thing as Jeepneys.
Not as many people would care about Journey getting a new lead singer.
The art of turntablism wouldn't be as cool as it is today since the Invisbl Skratch Piklz, Beat Junkies, and countless DJ crews would have never existed.
The menu at Colma Cafe in the Lucky Chances casino would absolutely suck without Filipino food.
Politicians in the United States would not have to come up with ideas of trying to get the Filipino vote. Wait, they don't do that now! Nevermind.
MyGringos.com would actually be social networking site focusing on Latinos with Caucasian friends.
Movies such as North Shore, Wayne's World, and La Bamba would not have been as good without the Filipino American actors that were in them. Then again, films like Deuce Bigalow: European Gigolo, Surf Ninjas, Lumpia the Movie and American Adobo wouldn't have been made so I guess it's a wash.
David Pomeranz's music career would have been over a long time ago.
Navy officers would lose a significant amount of weight since they won't have any bad ass Pinoy cooks to make their food.
The majority of the early decade's hip-hop and pop hits would not have existed since Pharrell Williams wouldn't have had Chad Hugo to form the Neptunes.
Kick ass lumpia, lumpia shanghai and turon would be replaced by the crappy egg rolls from $1 Chinese fast food restaurants.
And finally…
Kraft foods would have to come up with another name for their chocolate coated cookie snack sold in Spain and the Netherlands.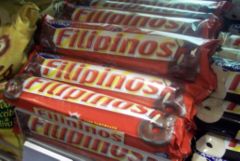 I know you have some thoughts as well. Please add on to this list in the comments section.
Comments