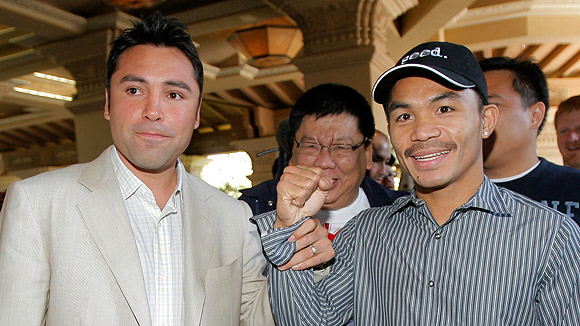 AP Photo/Jae C. Hong
Manny Pacquaio and Oscar De La Hoya just agreed to the biggest boxing event of 2008! Mark your calendars fight fans cause Pac-man vs. DLH goes down on December 6.
De La Hoya to fight Pacquiao in December – Reuters 
GOLDEN BOY WILL FIGHT PACQUIAO - Sportinglife.com
Pacquiao to move up two weight classes to fight De La Hoya - by Dan Rafael, ESPN.com
Fight with Pacquiao makes a lot of cents to De La Hoya by Graham Houston, ESPN.com
Dear Spain,
I was born in the Philippines and grew up in the United States – Los Angeles, California to be exact.  Growing up as a Filipino in the United States, I've felt the need to learn the history of my adopted country and my mother country.  It seems that for over 300 years, Spain pretty much had their way with the Philippines.  Granted, you guys got the hell out of Pinas back in 1898 but there have been lasting negative effects on Filipinos due to Spanish influence.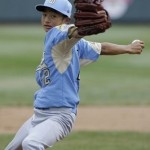 There might have been very little Filipino representation in the 2008 Beijing Olympics, but one championship event this week was full of Pinoy representation as the Waipi'o little league baseball team beat the team from Matamoros, Mexico, 12-3 to win the Little League World Series Sunday in South Williamsport, PA.
The team, representing the US West region, beat the Mexican team, whose players are taller, have averaged eight runs a game and beat Japan's little league representatives during the International Championship round Saturday. On that day, the Hawaiian little leaguers scored an improbable 7-5 victory against the team from Lake Charles, LA (representing the US Southwest) after rallying from a 5-1 deficit to score six runs in at the top of the 6th and final inning to win the game and move on to the World Championship.
The Aloha State's team hails from Waipahu, a Honolulu suburb known for its large Filipino population, and owed much of its success to players like pitcher Caleb Duhay (pictured), who pitched 5 1/3 innings with only three earned runs in the final match. Duhay also contributed three runs and a hit of his own at the plate. Catcher Keelen Obedoza scored a hit as well. Other Pinoys on the team such as outfielders Jedd Andrade, Matthew Yap and Jordan Ulep also contributed to the team's championship. 
News Link: http://www.honoluluadvertiser.com/apps/pbcs.dll/article?AID=/20080824/BREAKING02/80824033
Box Score: http://www.littleleague.org/series/2008divisions/llbb/WSBoxScores/llws32.html
Little League site: http://www.littleleague.org
Big thanks to Elson Trinidad for sending this in.

This year we are forced to make a decision.  No, not McCain or Obama.  Not even Jabbawockeez or Super Cr3w.  Southern Cali Pinoys get to choose between TWO Filipino festivals from on the weekend of September 6 and 7.  Which one should you go to? 
For the 2nd year in a row, a dance group comprised mostly of Filipino Americans wins the title of Americas Best Dance Crew on MTV.
I'm sure most of you were watching and I heard about the Philippine flag and the Pinoy themed warm up gear. That's f'n awesome. Unfortunately, I was having pizza and watching the Olympics but I'll catch the replays on MTV when the Olympics are over.
Super Cr3w Wins America's Best Dance Crew – People Magazine
America's Best Dance Crew' is Super Cr3w! - Los Angeles Times
Congrats to Super Cr3w and way to win one for Las Vegas… or Southern California… oh wait, you guys said Las Vegas. 
Speaking of the Olympics, the Philippines got a gold medal! Sort of.
Once again, a Filipino athlete got a gold medal in an Olympic exhibition sport.  This year, the sport was Wushu and Filipino Willy Wang (I swear that's his name) was the gold medal winner.  He truly was the cock of the walk in Wushu as he shafted all other competitors in his demonstration of skill and dexterity with his bare fists.  Wang's ballsy performance is reminiscent of Arianne Cerdenas gold medal in women's bowling in 1988, which also was an exhibition sport. 
Here are the links for the Willy Wang story:
RP wushu athlete cops gold in Olympic demonstration - GMA News
RP finds consolation in Wushu gold in Beijing - ABS CBN News
Ok I'm all out of dick jokes.  Wait, I got one more. 
Penis. (That cheesy enough for you Chafa Khan?)

Olympic fever has struck and I'm all in.  The swimming races, the basketball games, and even the badminton mixed doubles are things I find myself mesmerized by… in hi-def of course.  I'm cheering for Phelps, Coughlin, Kobe, and anyone representing the good 'ol U.S. of A. 
I'm also pulling for Team Philippines… all 15 of them.  The Philippines is competing in archery, shooting, taekwondo, swimming, boxing, long jump and diving.  The Philippine government even put up $220,000 for the first athlete to win a gold medal for the Philippines. (And no, the 1988 gold medal in women's bowling doesn't count 'cause it was an exhibition sport.)  The money is a great incentive but I'm not sure if it is enough for a crispy pata eater to bring the gold back to the archipelago.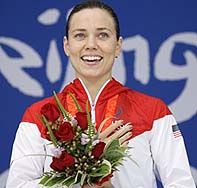 Team USA is off to a great start at the Beijing games.  There's been so much attention to Michael Phelps in his quest to make Olympic swimming history that other milestones are being glossed over by the media.  Being that this is a Pinoy pop-culture site, I need to show some love to Team USA swimmer Natalie Coughlin.  Natalie got the gold medal for the 100m backstroke and became the first woman in Olympic history to win the gold in this event in consecutive Olympic games.  And if you weren't sure, Natalie is part Pinay as her lola is Zenaida Bohn from Meycauayan, Bulacan. 
Coughlin trumps Coventry in 100m back final – ndtv.com
Natalie Coughlin's Olympic Profile – nbcolympics.com
In more news, the Philippine government along with some other private groups have put up 9.5 million pesos as a bounty for an athlete to bring home the first gold medal to the Philippines.  That roughly makes out to be about $220,000.  If nobody wins that, they should give Natalie $55,000 just because her lola is from Bulacan.
More updates coming soon. GO TEAM USA!
I think hell just dropped a few degrees because the Asian Journal actually did a decent piece on the Pinoys and Pinays that are competing in MTV's America's Best Dance Crew.
Much props to Asian Journal writer Joseph Pimentel for the article.  Now if they could just do something about that wack ass name.  Anyway, check out the link:
FilAms representing top 3 groups in MTV dance show - by Joseph Pimentel, from Asian Journal