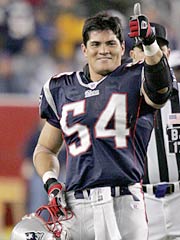 On Monday, August 31, 2009, New England Patriots linebacker Tedy Lacap Bruschi announced his retirement from professional football. Tedy played a key role in the three Patriot Championship teams of 2002, 2004, and 2005. His leadership on the field was rewarded by his teammates as he was chosen to be the Patriots' defensive captain. In 2005 he suffered a mild stroke only to return months later to be a contributing defensive player to his team and earn the award for NFL Comeback Player of the Year.
Bruschi was truly one of the best that ever played on the gridiron and has earned his place in Filipino American history as one of the elite athletes in American pro football.
Working-class hero Tedy Bruschi bows out - Boston Herald
Tedy Bruschi's Wikipedia entry
Hello PinoyLifers. Someone forwarded an email with a link to a website called Gimmick City.  It's claiming to be the "Hottest Web TV Show". 
In the email from Giovi Zamora and his awesome hairpiece, he wrote:
"We are pre launching our Web TV can you please watch our show at www.gimmickcity.com and your comment and suggestion would be greatly appreciated" (grammar not corrected for your enjoyment)
So folks, I'm not commenting. I'm here to help Giovi and that's where you come in.  Take a look at the video and if you are so compelled or moved by it, please share your thoughts in the comments section.  Thank you all for helping do God's work.
August 18, 2009. A day that will live in infamy. A day where Filipina American singer Erika David sang God Bless America for Filipino Heritage Night at Dodger Stadium and f-cked up royal.  You can even see James Loney laughing during the clip.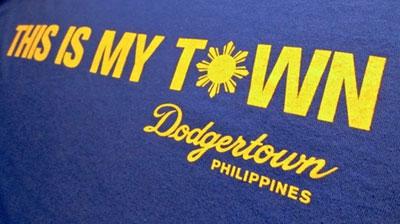 The official My Town Philippines souvenir shirt from the Los Angeles Dodgers (Photo taken by Jon Bareng which I took from him off Facebook)
On Tuesday, August 18th, the Los Angeles Dodgers put an end to the St. Louis Cardinals' 5-game winning streak with a 7 to 3 victory.  Over 49,000 baseball fans were in attendance at Dodger stadium that night to witness an action filled game complete with overpriced food and liquor. 
For the Filipinos that went to the game that night, the evening's story wasn't just about a night at the ballpark.  The Dodgers marked that specific evening as Filipino Heritage Night.  To celebrate this special night, the right field reserve section was decorated to say My Town Philippines and the 800 people that got tickets for that special area were given access to all you can eat concessions, a special Filipino food menu and a souvenir t-shirt that said "This Is My Town, Dodgertown Philippines".