Album Review: Metallica gets back to metal with "Death Magnetic"
September 21, 2008 · Posted in Uncategorized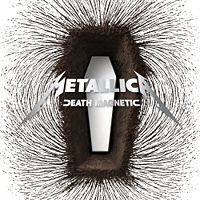 Album: Death Magnetic
Artist: Metallica
Release date: September 10, 2008
Review by Francis Yap
Metallica is a band marred with a history of controversy, starting from their earlier days of alcoholism and debauchery to their not too recent legal pursuits against online file sharers.  Combine this with "St. Anger", which is the least successful album in the band's career, and you'll see that Metallica has a serious task of winning back their die hard followers along with a new generation of metal fans.  The band has faced plenty of criticism from fans and critics alike since their infamous "Black Album" due to their change in musical direction.  They shifted away from their complex, fast, and epic pieces to songs with a hard rock edge, simpler, and commercial styles.  Nearing middle age, can Metallica still seem relevant in the Metal world?
"Death Magnetic" is not Metallica's best album, but it's a welcome breath of fresh air from their recent string of weakening album sales.  After working with Bob Rock for more than 10 years, the band hired Rick Rubin to step up and produce a strong album.  The band has even embraced their Internet fanbase and pre-released songs and video blogged the recording process on MissionMetallica.com. 
Metallica has made a 180 and seem to be going in the right direction.  Foregoing short and commercial songs for epics that run past the 6 minute mark, the album doesn't feel drawn out and has enough layering to keep you interested throughout.  The solos have made a triumphant return and guitarists James Hetfield and Kirk Hammett actually harmonize on multiple songs.  The lyrics aren't the greatest on this album, but the music completely makes up for it. 
Metallica has returned to thrash metal and goes back to their old school style.  They're even touring with real Metal acts like Lamb of God instead of Rap Rock acts like Limp Bizkit or Linkin Park. They sound like a well oiled machine on Death Magnetic and the band seems fully poised at letting the world know that Heavy Metal is not a dirty word and not some crap meat heads listen to. 
There are some songs that just stand out such as "My Apocalypse" and "All Nightmare Long".  "The Day That Never Comes" is my current pick on the album and one can feel the emotion going through lead singer James Hetfield's mind.  However, I completely hate the music video that accompanies the song.  "Broken, Beat & Scarred" is a fist pumper and will most likely be used in some montage for the WWE.  One of my annoyances is the inclusion of "The Unforgiven III".  If the band decides to write another sequel, they better call it "The Unforgiven IV: The Quest For Peace."This album is a must buy, and I think sharing Metallica music on any P2P is bad.  Haha, Lars is still a chode.  I give this album 4 out of 5 Filipina Nurses asking their husbands to turn down that noise after working a night shift.
Big thanks to Francis Yap for the review. And if any of you are wondering what a Metallica album review is doing on a Pinoy pop culture website, go do some research on Metallica's bad ass guitarist Kirk Hammett. His guitar solo skills are the reason a lot of you cannot pass "One" on Expert in Guitar Hero 3.
Comments