MANNY DOMINATES! (and Oscar gets PWN3D!)
December 7, 2008 · Posted in Uncategorized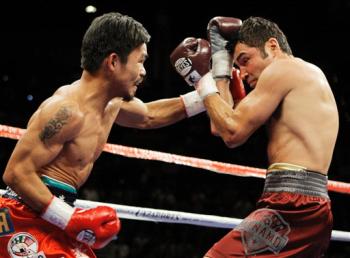 I'm STILL in shock.  The common feeling by a lot of fight fans leading up to Saturday's "Dream Match" between Oscar De La Hoya and Manny Pacquiao was that their hearts were with Manny but they didn't know if he could overcome the size and power of Oscar De La Hoya. 
Manny not only won the fight, he dominated Oscar De La Hoya into an 8 round TKO.  A FREAKIN' TKO!
The torch has officially been passed. The new king of the ring is a Filipino boxer named Manny Pacquiao.
Pacquiao too fast, too strong in lopsided win - SFGate.com
Analyzing Manny Pacquiao's victory over Oscar De La Hoya - L.A. Times
Mismatch indeed: Pacquiao dominates De La Hoya - ESPN.com
Trigger? What trigger? Outgunned De La Hoya leaves firepower at home - ESPN.com
Pacquiao – De La Hoya post fight quotes - SecondsOut.com
Postfight Press Conference (Video) - The Ring 
Comments