Witnessing History and Living in the Moment
December 7, 2008 · Posted in Uncategorized
Where were you the night Manny Pacquiao beat Oscar De La Hoya?
Last night's event will be ingrained in the memories of Filipinos all over the planet.  A lucky few will proudly say that they were at the fight in Las Vegas to witness history happen.  Most will tell a tale of gathering at a house loaded with food, friends, and family as they cheered on their hero on a television screen. 
In Los Angeles, a select group of community members were invited to watch the fight at the Montalban Theater (yes, it's named after the man who played KHAN!).  The fight screening was sponsored by Nike in conjunction with community organization Search to Involve Pilipino Americans (SIPA) and was billed as the Manny Pacquiao fan headquarters. 
That's where I was and this is the story of that evening.
At about 6:30 p.m., I arrive at the Montalban Theater with my good friends Eric and Ryan.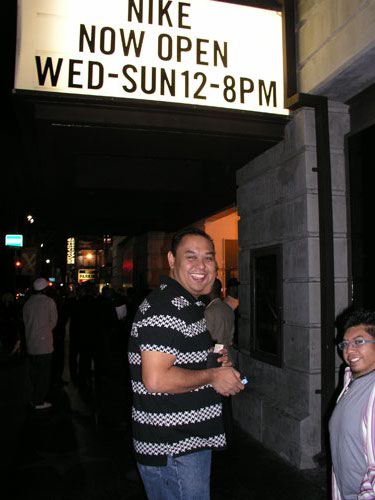 Eskrima instructor and all around bad ass Arnold Noche showed up a few minutes later and all of us got hooked up with the VIP wristbands thanks to Joel Jacinto and Winston Emano. Thanks guys!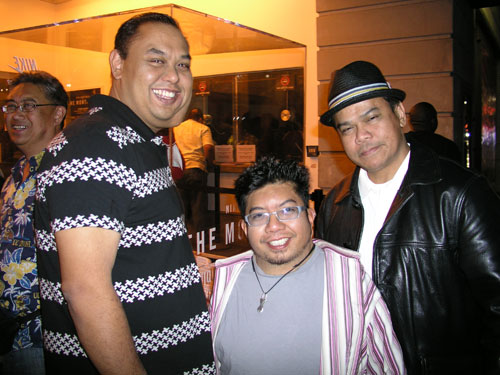 Eric, Ryan, and Arnold (and Florante in the back)
As we entered the lobby of the theater, Nike was selling the Manny Pacquiao "MP" t-shirt along with the Nike PACMAN KNOWS shirt.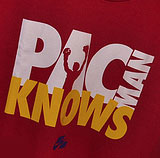 I purchased a few shirts and went into the VIP area. Belvedere Vodka was sponsoring the open bar so who am I to turn down free vodka drinks. I drank… and drank… and drank.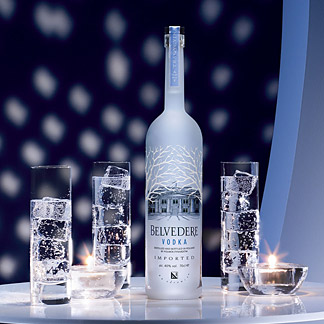 Come fight time, I was so drunk that I felt like I was at the MGM Grand arena with the amount of yelling I was doing at the screen. A few more friends joined up with us at the fight and partook in some of the Belvedere as well.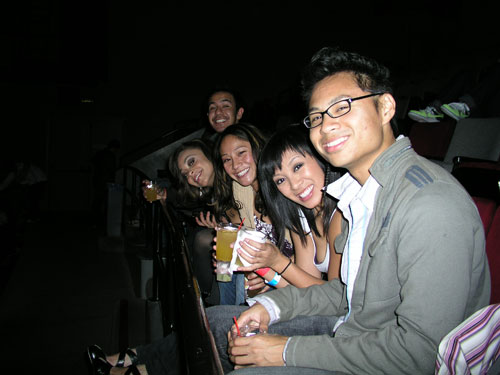 Then I saw this…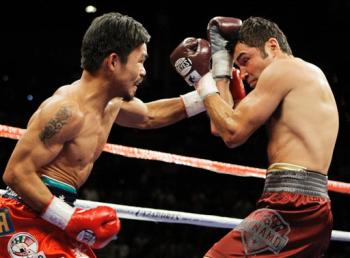 then this…

and finally this…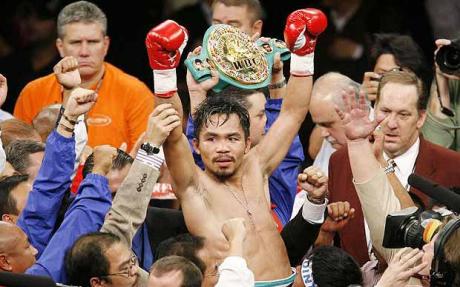 The Montalban theater cheered with each connecting punch and erupted when Oscar De La Hoya chose not to continue the fight. I jumped out of my chair yelling my ass off as if I just won the lottery. Then the Belvedere cocktail girl walked in front of me and I took a few more of those drinks to celebrate the win.
I stumbled my way out of the theater surrounded by a mob of exuberant Filipinos – an energy I haven't seen from a concentrated group of Pinoys since EDSA 1! It was time to celebrate with my drunken stupor so we did what any other group of Pinoys would do… we went to go get some food!
Eric drove us over to Sanamluang in Hollywood for some late night Thai eats.
Ryan ordered some spicy thai noodles with shrimp…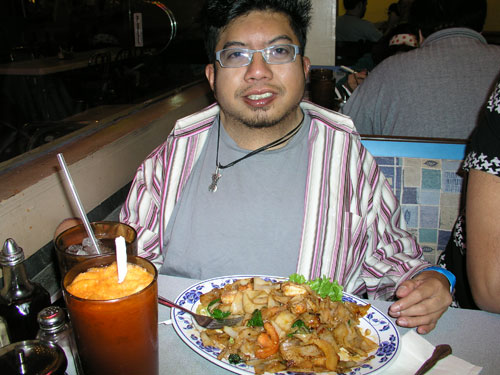 while Eric and I both got the Pork BBQ over rice plate.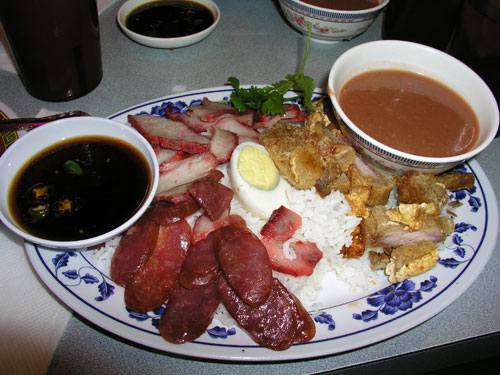 We finished our meals but the night was still young and I was still drunk. There was more celebrating to do. I then thought about all the crap that people in the media were saying about Manny Pacquiao.
Bernard Hopkins: "De La Hoya Will Knock Pacquiao Out. Manny Pacquiao is such a tremendous athlete. But he is facing the fox. The fox knows how to eat his lunch even if it is not yet served. The fox knows how to outsmart everybody, and Oscar is that fox. Pacman is 100 percent offense. He has questionable defense. That's how I look at it. Oscar will stop him in the eight or ninth round!"
Yep, too bad you couldn't outsmart or outbox Joe Calzaghe.
Floyd Mayweather, Sr.: "Oscar is going to beat the dog shit out of Pacquiao. Oscar is going to rearrange his fuckin' face man, believe me. Oscar is going to turn him over man. He's going to turn him all the way over – compared to him, he's a giant. When he hit his ass, he's going to know he's a giant,"
Yep, and you wonder why your son doesn't listen to you anymore.
And of course there's Oscar: "I will be extremely, extremely disappointed if this fight doesn't end in a knockout. It will be a total disaster."
I couldn't have agreed more.
Manny is a class act and is not a trash talker or a gloater. It's just not something that's in his nature. But I was pumped full of vodka and I don't really give a f-ck so I felt it was time to do some gloating. I convinced Ryan and Eric that we needed to go to downtown Los Angeles, wear our Pacquiao shirts, and take photos in front of Oscar De La Hoya's statue with the Filipino flag, a magic mic and the turkey that Manny gave me.
Well, we picked up Ryan's brother Ross and got to Staples Center only to find out that the De La Hoya statue was not 100% complete and was not on the premises as it was being worked on. And there we were with all this stuff and no De La Hoya statue.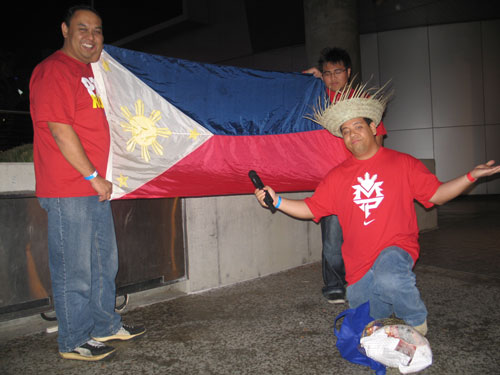 So we said screw it, we took pictures with the Magic Johnson and Wayne Gretzky statues.
Here's Eric, Drunk Moonie holding a magic mic, the Magic Johnson statue, and a frozen turkey in a xoom bag.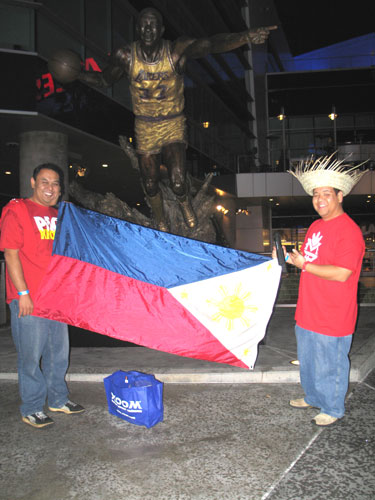 And one with the Great Gretzky statue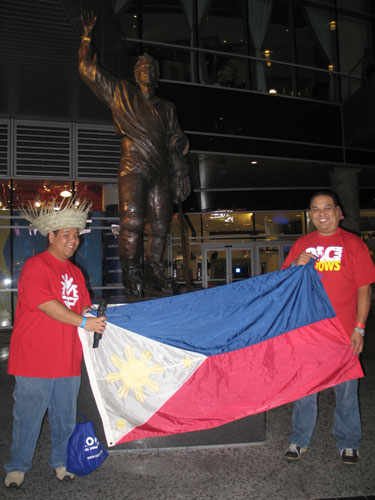 It was about 11pm and I was starting to get sober but I felt cheated that I didn't get to hold my Filipino flag in front of a Mexican American icon in a symbol of some form of retarded victory. So I convinced Ryan, Ross and Eric that we needed to find some places to hold the flag up in victory. We drove around L.A. and decided to end the evening taking these photos.
Location 1!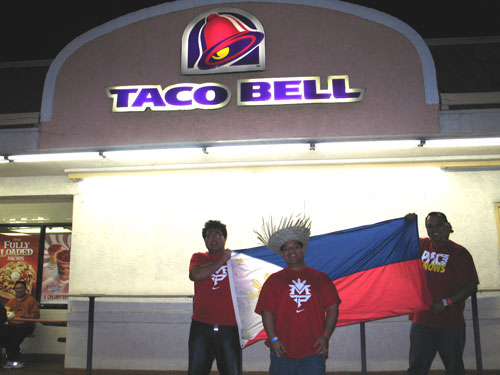 Notice the Pinoy in the background eating his food and laughing at us.
Location 2!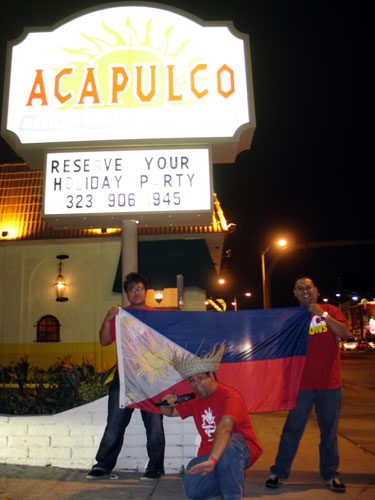 And finally…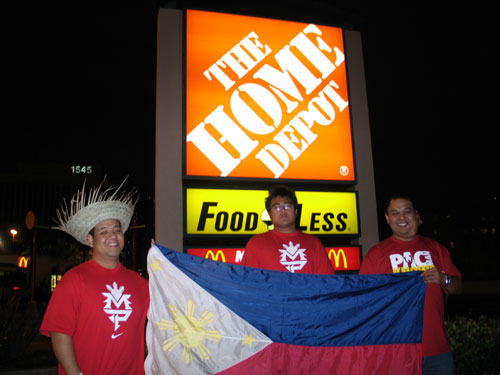 GOOD NIGHT EVERYONE!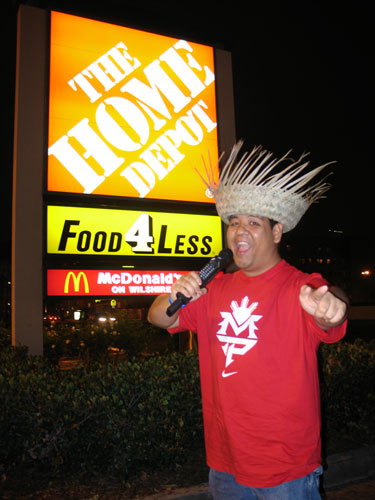 —————
And if you were out partying on Saturday night and didn't DVR Saturday Night Live, then you missed the latest music video from Andy Samburg. Here it is for your enjoyment. It's awesome.

Comments