The Olympics Update for 8/12/08 – Go Natalie!
August 12, 2008 · Posted in Uncategorized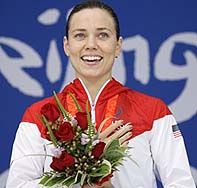 Team USA is off to a great start at the Beijing games.  There's been so much attention to Michael Phelps in his quest to make Olympic swimming history that other milestones are being glossed over by the media.  Being that this is a Pinoy pop-culture site, I need to show some love to Team USA swimmer Natalie Coughlin.  Natalie got the gold medal for the 100m backstroke and became the first woman in Olympic history to win the gold in this event in consecutive Olympic games.  And if you weren't sure, Natalie is part Pinay as her lola is Zenaida Bohn from Meycauayan, Bulacan. 
Coughlin trumps Coventry in 100m back final – ndtv.com
Natalie Coughlin's Olympic Profile – nbcolympics.com
In more news, the Philippine government along with some other private groups have put up 9.5 million pesos as a bounty for an athlete to bring home the first gold medal to the Philippines.  That roughly makes out to be about $220,000.  If nobody wins that, they should give Natalie $55,000 just because her lola is from Bulacan.
More updates coming soon. GO TEAM USA!
Comments