FPAC 2008 – The PinoyLife Recap
September 7, 2008 · Posted in Uncategorized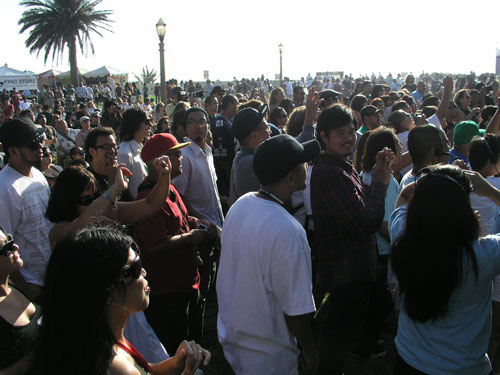 I am super tired right now. I just spent two days at FPAC. The top of my scalp is burnt, my flat feet hurt and I really want to just sleep. 
But I owe it to all the cool people that had such nice things to say about PinoyLife.com at the festival to muster up the strength to crank out the FPAC recap.  I just downed my medication for high blood pressure and the pill to lower cholesterol so I'm in a whole world of fun right now.
Here's the recap!
THE AWESOME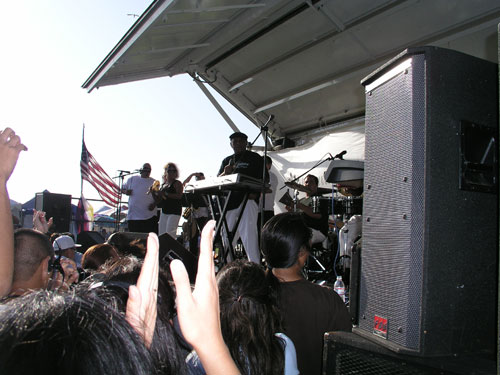 Joe Bataan lived up to being the headliner on Sunday with a full band and a crowd that was ready to party.  He's simply a great performer and the best choice to close out FPAC.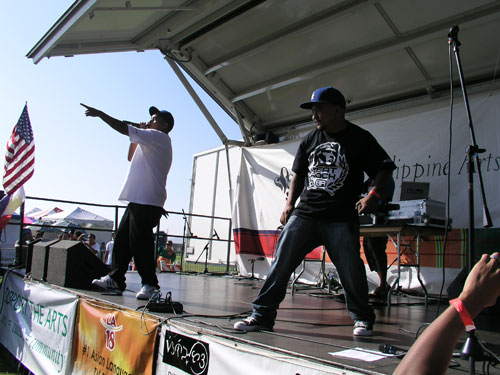 Kiwi and Bambu had solid performances on Saturday and Sunday respectively.  Their fans got a special treat as the two rappers made cameos at each other's sessions to deliver some of their classic Native Guns songs.  If you weren't there, then you missed out because the Native Guns reunion was an FPAC exclusive.  Good stuff from both guys and make sure you check out Bambu's new album "Exact Change" coming out on September 11.
The Show and Prove Street Dance Showcase on Sunday afternoon was hugely popular with festival goers of all ages.  With the popularity of MTV's America's Best Dance Crew, the Generation Stage was overwhelmed with people trying to catch a glimpse of the hip-hop dance teams. Extra mention to PAC Modern and Kaba Modern for always delivering the goods.
THE COOL
Kapisanang Mandirigma's Philippine martial arts demonstration may not have had a huge crowd but they brought out some heavy hitters from the different disciplines of Kali and Eskrima. 
Camille Velasco performing with Kayamanan Ng Lahi was a good surprise.  I had a chance to meet the former American Idol contestant and she's a really nice person.  She took photos with anyone that asked and checked out a lot of the other acts.  Camille is a real class act. 
There were also some good bands that played on the Generations Stage on both days. 
P.I.C from NYC turned some heads on Sunday afternoon and, despite competing with a main stage that had Bambu followed by Joe Bataan, the people that wandered by the Generations stage got a pleasant surprise as they heard the unique and soulful music of P.I.C.  Did I mention they have a horn section? HORN SECTIONS KICK ASS!!!
Saturday afternoon had three solid bands in the afternoon with For Elise, The Committee, and Rhythm Natives.  Props to the FPAC folks that scouted and found these guys.  I just wish Fil-Am Arts could do a night time band showcase at a club. (Hint!)
I can't forget the reggae and dub sounds of the band that had the best name at the festival… THE FIGHTING COCKS!  Thanks to John Eric and Sy for all the kind words about PinoyLife.com.  I'm glad to know that PinoyLife is cock friendly.
THE LONG OVERDUE
The tribute to Pinoy DJs featuring Kuttin' Kandi, Babu, Rhettmatic, and Nasty Nes was great to see.  These pioneers left their imprints on the hip-hop culture while representing being Pinoy to the fullest.  Thanks goes out to these four great DJs for everything they've done and continue to do.
THE FUNNY
Sadly, this year's FPAC ended the Rex Navarrete performance streak but people were treated to a newer face in Pinoy comedy and magic, Justin Rivera.  The best way I could describe Justin's style of comedy is an ethnic version of the Amazing Jonathan but with less blood and better magic.  This guy is funny as hell so if he's performing at a club near you, please go out and watch his show. You can also catch him on The Gong Show on Comedy Central.
This year's balut eating contest was hilarious and grotesque at the same time.  I'm not a balut eater but quite a few of my friends that had an up-close view of the people eating the duck eggs were a little concerned for the competitors as my friends weren't too sure if those eggs were fully cooked.  But hey, if you're on stage eating balut for our entertainment then your personal health is probably not on the top of life's priority list.
I also have to give some props to Filipino Style Clothing with the Tabachoy shirt and the Got Gout shirt.  Good stuff fellas. Please keep cranking out the shirts.
And now the part you've all been waiting for, here comes the rant.
THE NOT SO FUNNY
Travis Craft.  Whoever thought that booking this guy to emcee the main stage was a good idea needs to be taken out and shot.  If you don't know who Travis Craft is, he's the poor excuse of a YouTube hit that got popular by speaking anglo-fied Tagalog while cooking adobo.  Yeah, it was novel on YouTube for a two minute video clip but it became annoying and painful at FPAC with the more stage time this guy got. 
Speaking of not funny, did anyone hear the crowd laughing their asses off when the Happy Slip chick made her live comedy debut?  Neither did she.
Note to the FPAC planning committee: Beware of YouTube phenomenons as they will more than likely SUCK LIVE.
THE DOWNRIGHT RIDICULOUS
Waiting at least 45 minutes to buy a plate of Filipino food at a Filipino festival is not cool.  Waiting a long time for a parking shuttle on Saturday is not cool.  Advertising that someone is going to perform at 11:00 am then when I arrive at 11:00 am and find out that the person already performed 'cause he got bumped up early WAS NOT COOL. 
FPAC planners, please be more considerate of people's time.  People drive long distances to the festival and they gladly pay the entrance fee.  The least you can do is be considerate of the time investment people are giving the festival.  FPAC goers would rather spend their time enjoying the festival instead of being in food lines and shuttle wait areas.
THE SLIGHTLY UNCOMFORTABLE
The street dance showcase was cool but it was a bit weird watching 12 to 15 year-olds dancing to Prince's song Erotic City.  FPAC should always stand for the Festival of Philippine Arts and Culture and not the Festival of Pedophiles And Cradlerobbers.
THE ACT THAT I PRAY WILL NEVER BE ON STAGE EVER AGAIN
Miko Pepito.  Holy shit! This guy was talagang wack na wack naman bro! I don't have the actual video of him at FPAC but just imagine the video clip below really loud in an outdoor festival on a Saturday afternoon with a purple shirt on.
Ok folks, another FPAC is in the record books.  It was a smaller area and there were some hits and misses but it's fair to say that people had a good time.  I know a lot of you were there and the people behind the festival read this site so feel free to share your thoughts about FPAC in the comments section.
Time to crash.
Links:
Kiwi's Obligatory FPAC Reflection - Kiwi's Blog
Hardly any Filipino food at the Filipino Festival - darleeneisms (.la)
FPAC vs. Pinoyfest – J!-Ent
Comments