Thoughts on HBO's 24/7 De La Hoya – Pacquiao | Episode 1
November 18, 2008 · Posted in Uncategorized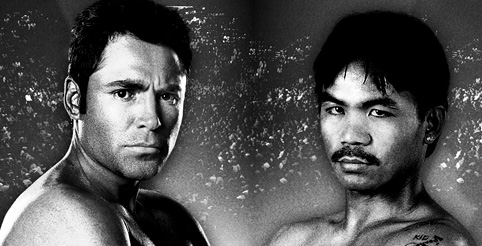 We are just weeks away from witnessing the biggest fight in Filipino sports history.  I never thought that I would see the day when the world's best pound-for-pound boxer would be a Pinoy.  I'm sure boxing historian Corky Pasquil is crapping bricks of joy right now seeing that we are living in a new great era of Philippine boxing. 
HBO knows they are sitting on a goldmine with this fight so they are going to milk it for all the pay-per-view dollars that they can get.  That's why they are dedicating four episodes of their outstanding documentary series 24/7 to the build up of this historic fight.  For those unfamiliar with HBO's boxing marketing methods, for each major boxing fight, HBO sends film crews to document the lives of the two boxers headlining an upcoming bout to give viewers an inside look at what the fighters go through to prepare for the big event.  24/7 shows people how the fighters train, how they spend their down time, their family life, who their trainers and cornermen are, and any other fun information they can dig up.
The cable network aired the first of four episodes of the 24/7 De La Hoya – Pacquio series over the weekend and I was able to see what the cameras captured as they followed our beloved sports hero Manny Pacquiao.  It made for interesting television because I always am intrigued as to how a show will depict the Philippines and the Filipino people.  I was also interested to see how Manny and his crew would come off on camera. 
Well, I saw the show and I have a few thoughts and recommendations towards Manny, his crew, his wife, and his fans.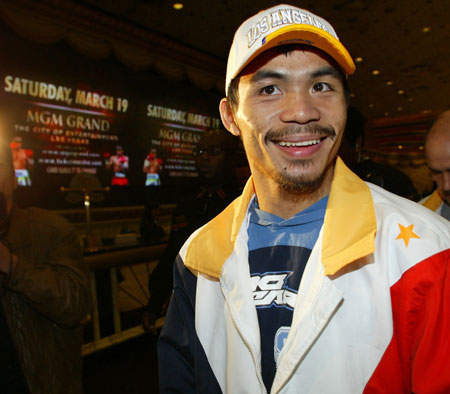 To Manny,
I know you are one of the greatest boxers in Philippine sports history and are considered a national hero.  However, when your wife, who has stood by your side during all your alleged shenanigans and who has made the trip to L.A. be by your side as you train, when this woman comes to visit you for the few moments you can spare for her… PUT THE FUCKING MAGIC MIC DOWN!  Damn Manny, how much of a cold, insensitive prick did you look like when Jinkee went down to visit you and your attention was on how high you scored singing on a karaoke machine.  If that's how it is in your marriage then fine but at least play up the good husband role in front of HBO's cameras.
Manny, I understand that you are a generous soul and share your wealth with many people and causes.  It is admirable that you give money to help provide medical supplies to impoverished areas of the Philippines.  But do you really need an entourage of 12 people?  Dude, you're awesome and everything but you aren't Jesus!  Considering the world's economy, you might want to downsize the payroll for the leeches. 
I've given it some thought and you really only need an entourage of 8 people max. Here's the breakdown
1. Buboy – you need your hype man. 
2. Personal chef and nutritionist – aka the guy that fries the fish, salts the eggs, and cooks rice
3. Bag carrier guy – Buboy should be doing this after all you've given him but that's fine, you can get a bag handler
4. Manager and personal handler – takes care of your appointments, your bills, and making sure the whores stay quiet with some hush money. If you don't think this person is needed, please talk to Kobe Bryant.
5. Translator – You still suck at English bro.
6. Pusoy/Mahjong player to your right who will also be the gopher
7. Pusoy/Mahjong player across from you who can also be your Nintendo Wii opponent
8. Pusoy/Mahjong player to your left just cause you need a 4th
Each of these people should also be able to jog with you… including Buboy!  Drop the rest of the entourage and save some bucks for your family and kids.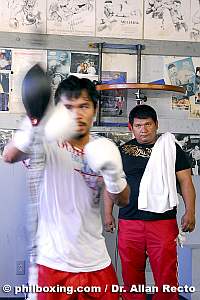 To Buboy Fernandez,
Buboy, Buboy, Buboy.  You have the wackest name in the history of Filipino athletics.  I'm sure that Manny appreciates all you do being his confidant, his friend, and cornerman.  To most of the Filipino Americans reading this site, you're kinda like Too Big MC with Manny being MC Hammer. You're like the loud, chubby, Pinoy cousin we always see at family parties that likes to tell dirty jokes really loudly while smoking a cigarette and drinking some Chivas Regal.  You're this pudgy guy that I always see with Manny who yells and urges him on but I'm not quite sure what you do outside of fight time. 
On the 24/7 show, I saw you at Wild Card gym wearing athletic warm ups as you watched Manny train with Freddie Roach.  Manny was working his ass off as you just stood there with your three dimensional gut.  Now, I'm not a thin person myself but if I spent most of my day inside of a boxing gym helping to train someone, I really shouldn't have an excuse to be… how do you say… rotund?  Buboy, Pinoys love you for being you but if you're gonna wear athletic gear at a boxing gym, try to work in some crunches and the speed bag while you're there.  Thanks for listening and ease up on those Du-Par's pancakes across the street from the Palazzo.
To the guy from Salinas that took his family down to Hollywood to meet Manny Pacquiao,
I can understand that you, as a fan, would be willing to make the 5 hour drive to Los Angeles just to meet your sports hero.  Did you really need to bring the wife and kids?  I hope you took them some place cool afterwards like Disneyland or the Eagle Rock Plaza.
To all the people in the Philippines,
Be aware that HBO film crews are out there looking for the most indigenous looking Pinoys they can find in the hopes they can say "Manny Pacquiao ees da best!" in a really thick accent on camera.  If possible, for the next few weeks, try to dress a little better. And some of you might want to up the brush and floss frequency from once a month to twice a week… just until the camera crews go away. 
If you think someone will potentially embarrass our people on camera, please feel free to tackle them down and wrestle them away from HBO's cameras. You will be doing the nation and Filipinos abroad a huge favor.
To HBO,
Ok we get it. The Philippines has some poor ass people. But how come you only show the homeland's poverty and rural areas?  That would be like talking about the United States and only showing red neck trailer parks in poor southern rural areas.  Please tell your film crews to film some Pinoys in Manila that are near some offices, universities, and malls.  Ok wait, maybe not the malls.
Overall, it was a great first episode and I'm really getting pumped up for the fight.  Can Manny win? What will be Freddie Roach's fight strategy?  Who will challenge Buboy for the last piece of chicken?  Find out on the next episode of HBO 24/7 De La Hoya – Pacquiao! 
Comments