Album Review: Black Kids astound with sound on "Partie Traumatic"
December 11, 2008 · Posted in Uncategorized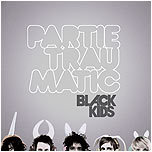 Album: Partie Traumatic
Artist: Black Kids | www.blackkidsmusic.com
Release Date: July 22, 2008
Review by Anthony Foronda
"Dance! Dance! Dance!" is the phrase of the day when it comes to the Black Kids' debut album Partie Traumatic. The Jacksonville, Florida outfit's debut album is a throwback to the fun, 80s synth-pop sound which made this new musical discovery such a joy. With every listen, each track is wrapped in pure unadulterated pop goodness that definitely gets you moving.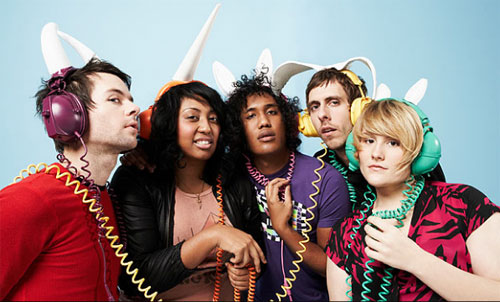 Half-black and half-Pinoy frontman Reggie Youngblood's witty lyrics coupled with the rich sound of his bandmates Owen Holmes (Bass Guitar), Reggie's sister Ali Youngblood (Keyboards and Backing vocals), Kevin Snow (Drums), and Dawn Watley (Keyboards and Backing vocals) spin tales of hook ups, heartbreaks, and infidelity with just the right amount of sugar to keep it from being the bitterest pill you could ever swallow.
Their breakthrough single "I'm Not Gonna Teach Your Boyfriend How to Dance With You" is an infectious little number that brings me back to the good old days of 80's new wave. From the playful lyrics "he's got two left feet and he bites my moves" to the call and response verses between Reggie, Ali and Dawn, the song stays with you long after the final notes have played out. It makes you want to dance and spite those around you who don't know how to move.
Another standout track is "Love Me Already." Man, somehow this band has been going through my diary of messed up relationship moments. The song plays out like a bad memory as Reggie sings about his girlfriend being totally into his best friend and them hiding it from him. Yet, he still wants his girlfriend to love him. Talk about art imitating life, the chorus "Love, Love, Love me Already" reminds me so much of my younger days when unrequited love meant taking an emotional beating from a girl but still feeling the need to try to win her heart. Yes, that's the sadomasochist in me that comes out when I hear this song. I mean, you have to show her that you can take the pain right? Because what doesn't kill you makes you stronger!
Okay, maybe I've talked a little too much about me.  Back to the album review.
Their debut is expertly produced by the very talented Bernard Butler. The former Suede guitarist brings his Britpop expertise to the table and it shows. You can hear hints of Suede's frontman Brett Anderson in Reggie Youngblood's vocal delivery as they both share that sexy falsetto voice that make female scenesters squeal with delight.
Partie Traumatic is the soundtrack to an unmade John Hughes teen flick. It's playing in the background while you get all spiffy for that party you and your friends are going to hit.  It's that guilty pleasure that you hide from your elitist music collection because it's not Radiohead or Sigur Ros. This is an indie pop album for everyone. From the trade off verses between Reggie, Ali and Dawn to the infectious grooves that keep you moving to the beat.
This is the Pinoylife pick for album of the year.
Video: I'm Not Gonna Teach Your Boyfriend How to Dance With You
Comments