Anthony Bourdain: No Reservations goes to the Philippines
February 10, 2009 · Posted in Uncategorized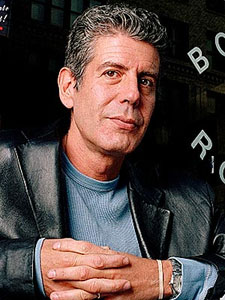 Travel Channel host Anthony Bourdain
Big thanks to Pinoylifer Cire B for sending this one in.
The Travel Channel's hit show Anthony Bourdain: No Reservations is going to the Philippines!  Finally, in its 5th season, restauranteur/chef/culinary bad ass Anthony Bourdain explores the culture and cuisine of our beloved mother country.  I can't wait to hear his no-holds-barred commentary on the unique foods of the Philippines.  I wonder if he'll work in an Apocalypse Now reference. 
Here's the Travel Channel website's synopsis of the upcoming episode:
Tony visits the Philippines, the "Land of the Lechon." He stops in Manila, which is a diverse combination of Spanish and Chinese cultures. Then he heads off to Pampanga to sample some of their rare delicacies.
Set your DVRs kids!
Anthony Bourdain: No Reservations – Philippines
The Travel Channel
Monday, February 16, 2009
10pm Eastern (check your listings as some of you west coasters may get it at 7pm)
Anthony Bourdain: No Reservations – Official Site
Comments