Anthony Bourdain hails lechon as the BEST PIG EVER!
February 17, 2009 · Posted in Uncategorized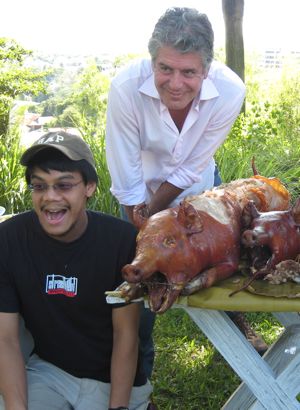 Anthony Bourdain and his buddies Augusto and Wilbur
Food blogs and Pinoy blogs are going Tony Bourdain crazy after his popular show Anthony Bourdain: No Reservations went to the Philippines.  The show finally aired and I have to say that as a Filipino American, I felt it was superbly done.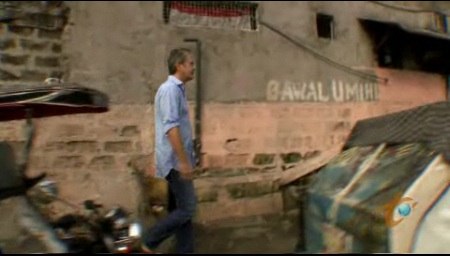 The Really Good
Every local guide that Anthony Bourdain and his staff found in the Philippines was intelligent, well spoken, and provided an accurate perspective of the Philippines that was familiar and true to what Filipinos all over the world have come to love about our culinary heritage. From the open markets in Manila to the kambing and sisig in Pampanga, Bourdain did our homeland justice by showing viewers the jewels of our comfort food in the commoner's environment. 
Anthony Bourdain could have easily just gone to Manila and done a 20 minute segment dedicated to Philippine nightlife but, as all of us that have been to the Philippines can attest, the real beauty of the motherland isn't found in a congested, shopping mall saturated area.  The television crew brilliantly captured the heart of a people by showing how Filipinos come together as family and friends to enjoy life over local delicacies made with fresh ingredients from an open food market, drizzled with kalamansi, and chased down with a San Miguel.
When the locals talked about the food Filipinos enjoyed, not only did you feel the sense of pride they had in our dishes but somewhere in their spoken words was the story of the Philippines.  The mesh of various cultures put together in a big cauldron of stew with a side of mixed vegetables that were savory and bitter is simply symbolic of a people and culture that has endured so much. 
The best surprise of the show was the recurring question that Bourdain posed to every person he encountered… "Who are the Filipinos?"  As much as that question has spawned countless discussions on Pinoylife and Filipino American Experience classes in universities all over the United States, I wasn't expecting this to be a topic of conversation on an American produced Food/Travel show.  The fact that Bourdain even brought up that question is what made this episode more historic in the realm of Filipino identity in America. 
Augusto, the Filipino American whose video letter to Bourdain was the impetus for the show going to the Philippines, provided the perspective that the majority of us Pinoy statesiders have felt for our entire lives.  We are not completely one or the other.  We love our Filipino heritage but when we go back to the Philippines, some of us aren't completely accepted as Filipinos because we either don't speak Tagalog or we didn't grow up in the Philippines.  And even though we live in America and grew up in American society, sometimes America overlooks us and doesn't completely embrace us either.  Pinoys can go on and on about this topic but it was great that the producers of the show felt that the discussion about this dual identity was worthy of being included in the final cut of the episode. 
The Not So Good
When Tony Bourdian arrived in Cebu, he was greeted by people giving him a wooden necklace that said Cebu.  When did people start giving out wooden necklaces as a greeting in the Philippines? How come when I arrived in Boracay last March, all I was greeted with was some dude with a dry erase board that had my name spelled wrong?  I swear, the day I go to Cebu I better get a fricken wooden necklace or there will be hell to pay.
As for Augusto, I wanted to take a fricken razor and some electric clippers and shave his head and facial hair. Good God man, what the hell! Augusto, you live in New York.  A place filled with style salons and very qualified barbershops and that's the look you go with?  I mean, I know you want to get back in touch with your Filipino roots but dude, did you need to look to pictures of the Dogtown Igorots from the St. Louis world's fair in 1904 for hairstyle suggestions?  And what the hell is up with that 1970s Pinoy action star facial hair?!?!
If you don't believe me, check this out:
Take the haircut of an igorot from the Igorot Village at the 1904 St. Louis world's fair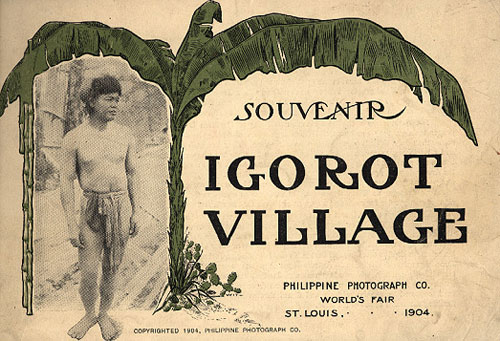 Combine it with the 'stache of 70s Philippines action star Roland Dantes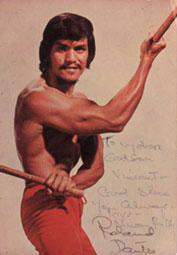 And here's what you get


AUGUSTO!
Ok, ok, I'm just messing around. You're a great guy Augusto.  If you ever come to L.A., the Pinoylifers and I would like to take you out for beers and various deep fried pork dishes. Thanks for making this one happen and thank you for not making Pinoys look like complete 'tards on national television.
In all seriousness, the only real downer about the episode is that they only had one hour to work with and there's so much more that could have been shown. Desserts and pastries, fine dining in the major cities, breakfasts, cock fights, nightlife, beautiful beaches and resorts, and the list goes on. But what they did end up showing made for a great hour of t.v. viewing.
The Ultimate
The last segment of the show had Anthony Bourdain going to Cebu for some good 'ol Filipino pig done lechon style.  We're talking manual rotisserie baboy with the crispy skin and the whole nine. His verdict will go down in infamy…
"BEST PIG EVER!" – Anthony Bourdain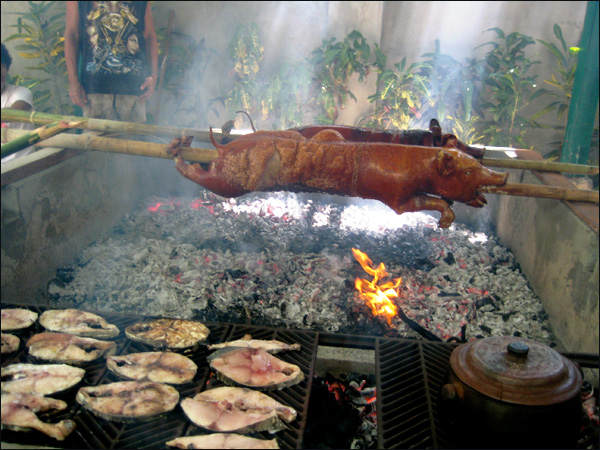 Damn straight Tony.
Check out all the blog posts across the interweb:
Hierarchy of Pork – Anthony Bourdain's blog on TravelChannel.com.  Philippine lechon is #1!
Tony's Travel Itinerary in the Philippines - All the spots Bourdain went to in Pinas
Market Manila's posts on this episode - Marketman's blog with a lot of great behind the scenes posts.  He was one of the resources used for the episode. Great job Marketman!
Bourdain Rocks the "Land of Lechon" - inuyaki's thoughts on the episode. Nice write up!
Bourdain in the Philippines, and a Giveaway Winner - more thoughts from blogger Burnt Lumpia
Comments