Brave New Stereotypes
March 23, 2009 · Posted in Uncategorized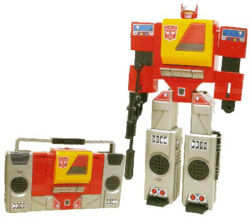 College angst can be fun.  Many Pinoys and Pinays go to college and all of a sudden feel the need to do a lot of catch up activism work for all the years they took their ethnicity for granted.  This usually ends up with some folks overcompensating for years of their lack of Pinoy-ness only to result with being overly politically correct and thus becoming the quintessence of the phrase "buzz kill."  I speak from experience.
For most of us, it's only a small phase and then when we are stuck with real life decisions like starting careers or dealing with reality, we wise up and realize that we were a little over sensitive on a few things.
One thing that the overly p.c. crowd really likes to jump on are stereotypes. 
Growing up in the 80s, a lot of non-Pinoys I encountered would somehow think that I inherently knew kung-fu because of all the martial arts films they saw on t.v.  They would see some Chinese flick on Kung-Fu theater and since there weren't any white guys doing martial arts as bad ass as the folks in those old movies, they would assume that all Asians came out of the womb doing jumping high kicks and one-inch punches. 
Other fun stereotypes I had to deal with growing up:
We eat rice. That's pretty much a fact though.
We eat dogs. Can't say that I've ever seen it at a family party but there were rumors about that one restaurant that sold siopao that got shut down back in the 80s.
Our moms are nurses.  Some but not all. My mom worked in the computer field.
Asians have small penises.  This could partly explain the big push during the 1970s by Filipino American activists to have separate ethnicity checkboxes on forms for Asians and Filipinos.
Ah yes, old school stereotypes are fun. 
Well, as time passed, the world got wiser.  Jean Claude Van Damme and Chuck Norris showed us that martial arts were a learned skill and that acting wasn't necessary to become a movie star.  People eventually vacationed in the Philippines and never encountered dog on any menus they saw.  And Pinoys and Pinays decided to maintain the job market dominance in the field of nursing so we're still stuck with that one.
But the modern era has introduced a few stereotypes that you could either use to your advantage or get angry about.
Filipinos are some of the friendliest people you will ever meet.
Overall, this is true but there are some serious exceptions to this stereotype.  The biggest offender is the lady that works as the seating hostess at the Max's of Manila restaurant in Glendale, CA.  She was a super bitch to me because I didn't speak Tagalog. 
Other people that fall into this category:
My lola on my dad's side
My 6th grade teacher (Sorry Ms. Ferrer but you were mean to a lot of folks).
The haters on Jannelle So's blog. Good God those folks are just brutal on that poor girl!
The Filipino nurses that worked with my wife at Kaiser and treated her differently 'cause she doesn't speak Tagalog. 
Angry spoken word poets that are pissed off because they haven't found a job that pays them well to be an angry spoken word poet.  Being a teacher doesn't count.
And of course… me.  But based on the traffic spikes I get from this site, you folks really enjoy it when I crank up the asshole meter on this blog.
Filipinos are knowledgeable boxing experts
The phenom Manny Pacquiao has galvanized an entire ethnicity into boxing experts.  Let's get real here. Prior to 2004, most Filipinos didn't know squat about boxing except Ali v Frasier 3 (aka. The Thrilla in Manilla), Mike Tyson, and Oscar De La Hoya.  There were a few of us that followed the sport more and watched things like Leonard v. Hearns, Leonard v. Duran, Hearns v. Hagler, Chavez v. Taylor, and the list goes on.  But now, every Pinoy you meet thinks they can call the odds on every Manny Pacquiao fight. 
Please be careful with this one folks.  Manny is a great fighter but after his run is over, I don't see any other Pinoy boxers making heads turn the way Manny did.  By all means, be a Manny fan but don't claim to be a boxing expert. 
The worst offenders are the Filipino moms that yell every time Manny's gloves touch his opponent thinking that each glancing punch is a devastating blow (that's what she said).  Then after the fight, these moms will talk about Manny's performance like they are experts but all they are really doing is echoing what the HBO boxing analysts said only in Tagalog. And if you ask these moms if they think that the one year suspension that Antonio Margarito got was fair because of the hand wrap controversy against "Sugar" Shane Mosely, you'll find out how much of a boxing fan they really are.
And finally…
Filipinos are great hip-hop dancers
The popularity of MTV's America's Best Dance Crew has helped show the rest of the country what Pinoys have known for a long time.  Filipino Americans love to do modern hip-hop dance.  Almost every college in California with a Filipino club throws a PCN (Pilipino Cultural Night – and don't ask me why we use the "P" on that one) complete with a segment where students can showcase their modern dance skills.  And you do know that these PCNs produced some of the dance crews you see on ABDC. 
This is one of the better stereotypes to have but it does come with a price.  Before, if you went to a party and saw a black guy there, all eyes were on him to see what dance moves he had.  Guess what Pinoys, when you go to a party now, all eyes are on you.  Start brushing up on your power moves and work on your b-boy stance.  For the Pinoys and Pinays reading this that lack rhythm and do not want this newly added pressure, please send all your complaints to the Jabbawockeez, Super Crew, and Ronnie from the Red Bull challenge.
Comments