Getting to Know Museo Pambata – An Evening with Dr. Nina Lim-Yuson | April 8, 2009
April 7, 2009 · Posted in Uncategorized
I got this from Pinoylifer Lorely Trinidad.  Please check out the event on Wednesday night!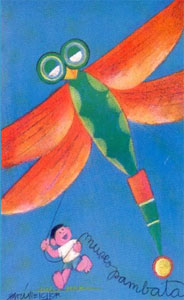 Dear Friends,
A lot of you may or may not know in the past decade I have spent a considerable amount of time in the Philippines immersing myself in the Art scene and working with non-profit organizations. In 2001, I volunteered for Museo Pambata teaching Theatre to current and former streetchildren and have been in love with them and this wonderful organization ever since. Between now and then, this group of kids have went on to perform at events throughout the country, taught Theatre to other kids, and some have went on to college with scholarships. Tears well up in my eyes as I type this

Museo Pambata's Dr. Nin Lim-Yuson is visiting Los Angeles for a brief amount of time and I am helping her spread the word about Museo Pambata and its many programs. She is an incredible woman and role model who has done so many things to make the country of the Philippines a better place. And she is looking forward to meeting all of you

Come join us and if you can't, then pass it on!
You're invited:
Wednesday April 8 @ 730pm
GETTING TO KNOW MUSEO PAMBATA (THE CHILDREN'S MUSEUM – MANILA, PHILIPPINES)
http://www.museopambata.org/
An evening with Dr. Nina Lim-Yuson, President/CEO.
Performances by:
Jono::Gio::Janet (music)
Lorely Trinidad (monologue)
@ Fil-Am ARTS/Hollywood Youth & Family Center
607 N. Vermont Ave (between Melrose and Clinton)
Los Angeles, CA 90004
For more info contact Lorely 323.528.4955 / lorely.trinidad@gmail.com
About Museo Pambata
Museo Pambata, the Philippines' premier children's museum, is a place of hands-on discovery, a child's window to the world, providing a view that stays honest and consistent amidst changing images and meanings.
Comments