You know that big shark back in the province? I ATE THAT!
April 7, 2009 · Posted in Uncategorized
One of Rex Navarrete's funniest comic bits is when he describes his uncle watching Animal Planet and pointing out the fact that the he claimed to have eaten all the animals shown on TV.  Recently, life immitated Rex's art off the Burias island in central Philippines when a few of our kababayan fishermen accidentally caught a rare megamouth shark… and ate it!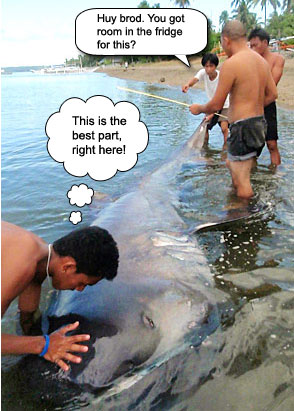 Credit: Elson Aca – World Wildlife Fund, Philippines
Rare megamouth shark caught, eaten in Philippines – AP, Yahoo!
Here are the beginning sentences of the Wikipedia entry for the Megamouth shark:
The megamouth shark, Megachasma pelagios, is an extremely rare and unusual species of deepwater shark. Discovered in 1976, only a few have ever been seen, with 41 specimens known to have been caught or sighted as of 2009 and three recordings on film.
Yes folks, our fisherman accidentally stumbled upon one of the rarest animals on the planet and instead of seizing the opportunity to advance our understanding of this creature, they decided to make supersized pulutan.  That's 1,100 pounds of a potentially endangered species served up deep fried with rice, tomatoes, salted egg and San Miguel beer.
I wasn't there but I can only speculate some of the rationale behind eating the 41st encountered specimen of this shark. 
7 Reasons the Pinoys ate the Megamouth shark:
1. It was going to spoil
I can just imagine the lola of one of the fishermen complaining that the fish was going to go bad so they needed to cook it immediately. 
2. It was Friday during Lent
Eating a rare species of shark is a forgiveable offense if it's done for religious reasons, right?  I mean, it's either endangered shark or Jollibee Chickenjoy.  Shark wins if it's Friday during Lent.
3. "I've never had this before!"
Sure, it's an exotic dish but considering that only 41 of these sharks have been encountered, it's a pretty safe bet that NOBODY ELSE HAS HAD IT BEFORE EITHER!
4. Mistaken Identity
Maybe the fishermen thought it was a mutant beast from hell that needed to be slayed then digested to absorb its super powers?
5. Steve Zissou wanted revenge
This only makes sense if you saw the movie.
6. Someone saw an ad for Shark Week and thought it meant eating shark for an entire week.
Nobody is that dumb. Wait, is it the June/July timeframe yet?
And finally…
7. A lot of people in the Philippines are poor and hungry
A megamouth shark may be rare and special but in the eyes of people that are fighting off starvation, it's just a slightly larger piece of fish that requires a slightly larger fryer.  Just because the World Wildlife Fund says an animal is special doesn't mean that the animal isn't stupid and worthy of being consumed.
And if you don't mind me getting off topic here, I still haven't forgiven the World Wildlife Fund for suing the real WWF – World Wrestling Federation – into changing their name to the lamer WWE – World Wrestling Entertainment. But I digress.
In closing, I present a video tribute to our fallen friend, the Megamouth Shark.  As you watch this, reflect on the majesty of the creature.  Think of how difficult it was to even capture it on video. 
Then think about how it would taste in a sour tamarind broth with some rice.

And now, the greatest shark clip ever put on film. Enjoy.

Comments