Star Trek is Back in Top Form
May 12, 2009 · Posted in Uncategorized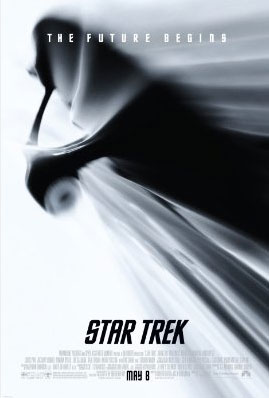 Star Trek is back and it is kicking ass and taking names.  J.J. Abrams has given the old sci-fi franchise a modern-day makeover complete with a hot young cast and a U.S.S. Enterprise that can bring the pain with its added firepower.  It made over $70 million opening weekend so it's safe to say that a good chunk of you saw it already.  For the rest that haven't, head to the theater 'cause it's worth the price of admission.
I'm not going to spoil anything major about the film but there are some things that crossed my mind regarding the new Trek – things that a Pinoy from California who is expecting his first child would notice.
Yes, I am expecting my first child which leads me to my first observation about the film. The movie starts with the birth of Captain James T. Kirk as his mother goes into labor on a Starfleet vessel while it is being attacked by a Romulan mining ship.  What kind of irresponsible mother-to-be allows herself to be on a vessel in outer space near her due date?!?!?  I guess there's no such thing as maternity leave in the Star Trek universe.  I don't care how advanced medical science is in the future, I wouldn't want to be the doctor that has to pull off a c-section on a spaceship while disgruntled aliens are bombarding it with torpedoes and lasers.  I know, I know, it's a movie. I'm just saying.
Speaking of Starfleet vessels, there's a scene in the film where Kirk rolls up on his motorcycle to view the construction of a new spaceship in a field in Iowa.  It's stuff like this that puts the fiction in science-fiction.  Unless Barack Obama really does start bringing manufacturing jobs back to the United States, the construction of Starfleet vessels would most likely get outsourced to China or India and wouldn't take place in an open field in Iowa.  The only big thing that's gonna be constructed in an open field in Iowa is a new Wal-Mart plaza with a Chick-fil-a and Waffle House.
Now, I am appreciative that the film crew used the Cal State University Northridge library as the main Starfleet Academy building (it was also the high school in Sky High).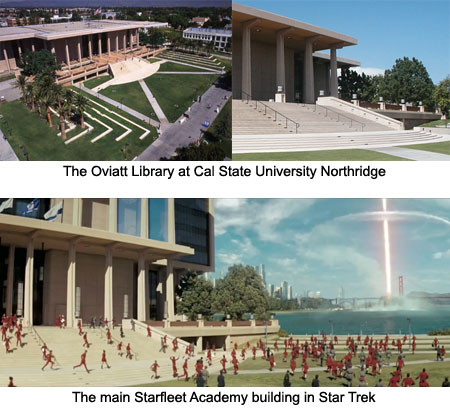 Seeing that building brought back fond memories of math study groups, #irc chatrooms, and the time my buddy pulled the library fire alarm so that the building would get evacuated in order to get more people to buy stuff at our Filipino club's history month bake sale taking place on the library lawn.  It was all fun and games and cultural dance performances until the fire truck came.  But I think we sold a few bbq sticks to those firefighters as well!
Anyway, in the film, Cal State Starfleet is located near the Golden Gate Bridge in San Francisco.  It is the premiere academy where students looking for careers in engineering or medical sciences would go with the hopes of being assigned to a ship to perform a specialized task… a lot like the Navy.  Let's recap real quick: school, engineering, medical science, Navy, and San Francisco.  This school is every Filipino parent's wet dream for their kids.  You can actually hear someone's mom or dad bragging to their friends that their child got accepted to "estarpleet".  The only issue I have is that there should have been more Filipinos in Starfleet Academy in the new Star Trek movie.  If J.J. Abrams really wanted to lend some plausibility that things in Star Trek are not too far from happening, then they needed to show the area of Starfleet Academy where the Pinoys are kicking back and playing pusoy dos to kill time.  I was only able to find one Filipino actor in the entire cast of the new film and that was Reggie Lee as a test administrator.  Let me guess, all the Pinoys must have either been at PCN practice, protesting at some affirmative action rally in the quad, or there must have been a Pacquiao fight going on that day.
It's an entertaining film and I expect that we will see more Star Trek movies with this cast in the not too distant future.  Let's just hope that in the next Star Trek film, they cast a few more Filipinos.  The Basco brothers and the rest of the Debut cast could use the work.
Comments