The Home Runs, Check Swings, & Strike-Outs of Filipino Heritage Night at Dodger Stadium
August 21, 2009 · Posted in Uncategorized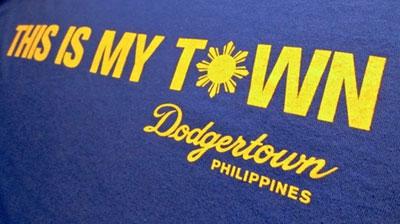 The official My Town Philippines souvenir shirt from the Los Angeles Dodgers (Photo taken by Jon Bareng which I took from him off Facebook)
On Tuesday, August 18th, the Los Angeles Dodgers put an end to the St. Louis Cardinals' 5-game winning streak with a 7 to 3 victory.  Over 49,000 baseball fans were in attendance at Dodger stadium that night to witness an action filled game complete with overpriced food and liquor. 
For the Filipinos that went to the game that night, the evening's story wasn't just about a night at the ballpark.  The Dodgers marked that specific evening as Filipino Heritage Night.  To celebrate this special night, the right field reserve section was decorated to say My Town Philippines and the 800 people that got tickets for that special area were given access to all you can eat concessions, a special Filipino food menu and a souvenir t-shirt that said "This Is My Town, Dodgertown Philippines".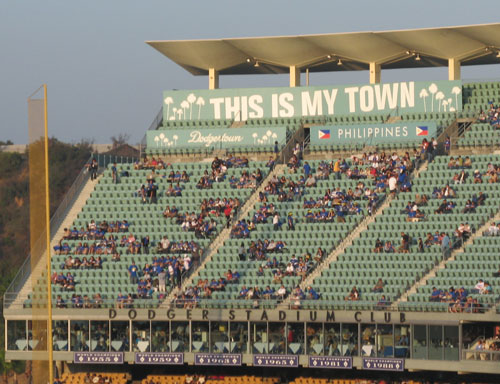 Now, I had a blast at the stadium. Even though I wasn't in the special My Town Philippines section, I was part of the Filipino American Network of L.A. group of 162 people that was in section 9 of the reserve level.  So to all you folks in the My Town section, I hope you enjoyed that awesome view of the right field foul pole and the narrow view of the main scoreboard 'cause the FAN L.A. group was sitting nice and pretty behind home plate. Big thanks to Matt Rousso in the group sales department for hooking up the section and the t-shirts.
The game itself was pretty entertaining. You had a struggling L.A. Dodger team going up against one of the hottest teams in the National League with arguably the best player in the game, Albert Pujols.  Orlando Hudson had a great defensive play with him fielding a deep infield single only to do a quick turn around throw to make the play at 1st base.  Even though there wasn't a home run hit during the game, there was an exciting hustle play by James Loney as he scored from 1st base of a Russell Martin double to barely beat out the throw at home plate.  For Dodger baseball fans, the game delivered.
As for the Filipino Heritage Night components, well, that was more hit and miss.
The Home Runs
The exclusive Dodgertown Philippines shirt is just awesome. This is the first time the Los Angeles Dodgers created merchandise specifically for Filipinos and a lot of life long Pinoy Dodger fans were happy to see that our team was recognizing our community.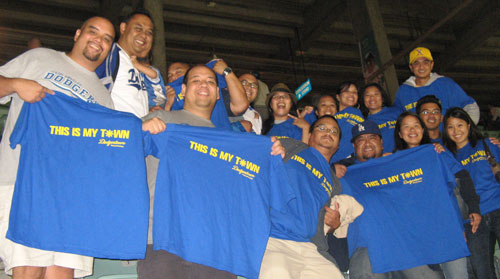 Cal State Northridge FASA Alumni and two of the baddest brothers on the planet showing off their Dodgertown Philippines t-shirts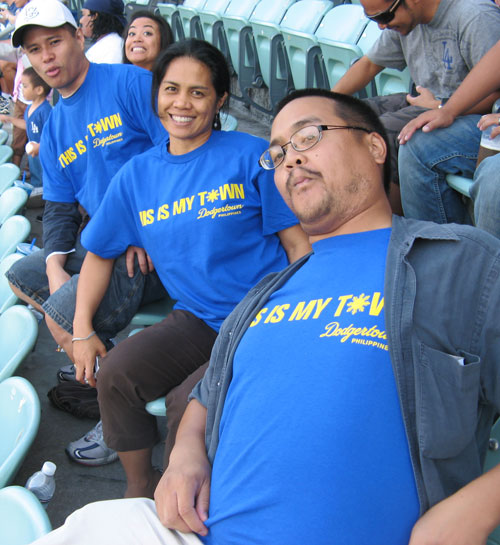 Rod, Marifi, Trish and Brian sporting the t-shirts in Section 9
The My Town Philippines section was completely sold out.  There were other Asian groups that had their My Town theme nights but the Dodgers were not expecting the large response for Filipino Heritage night because the My Town Korea and My Town Japan nights didn't sell as well.  Keep in mind that the Dodgers don't even have a Filipino player on their main roster!  Huge props to the Pinoys that came out in large groups to show the Dodgers that they have a large Filipino fan base and that we are a viable market worth catering to.  Because of the overwhelmingly positive response by the Filipino community of Los Angeles, expect to see the Dodgers do another Filipino Heritage Night in the future. Not to mention that the Dodgers are now 1-0 for Filipino Heritage Nights at Dodger Stadium.
On a personal note, I need to give a huge thanks to Earl for smuggling some of the food from the all you can eat section into the section I was in.  The extra hot dog, popcorn, and peanuts were awesome.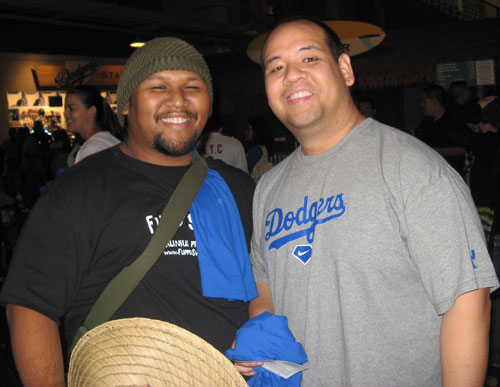 Earl and his magic hat of smuggled food
The Check Swings
Jo Koy throwing out the first pitch was pretty cool but let's get real here folks.  If you were to throw a Filipino Heritage night at a baseball stadium, is Jo Koy's name in the top 5 list of candidates you would try to book for the first pitch?  Not taking away from Jo Koy's success as a stand-up comic but aside from people that watch VH-1 recap shows, Comedy Central viewers, and comedy club patrons, not many other folks know who Jo Koy is (at least not yet). 
The girl that sang the Star Spangled Banner, Michelle Martinez, did a decent job. I've never heard of her before and neither did anyone in my section of 162 people but at least she didn't screw up the song or go flat on the big notes. 
The Strike Outs
Unlike Michelle Martinez, the girl that sang God Bless America in the 7th inning stretch made me want to yank the microphone away from her face and revoke her Filipino card.  "Recording artist" (at least that's what they announced her as) Erika David not only had a difficult time hitting the ending notes of the song, she flubbed the words of the song!  Her mumbling of a partial verse prompted quite a few fans to boo her mercilessly, myself included.  Way to rep the Pinoys in front of 49,000 fans.  Erika, if your excuse for botching God Bless America was because you were nervous singing in front of 49,000 people, why the hell are you passing yourself off as a recording artist? I mean, the f-cking words to the song were in big f-cking letters in the video scoreboard directly in front of you!  Who the hell booked this person and what was the talent criteria? More on that later.
The Filipino food choices in the My Town section was a nice gesture but based on the reports I got, the chicken adobo was more like "teriyaki and soy sauce chicken".  And I don't know about the rest of you but last I checked I've never seen pineapple skewers served as a Filipino food dish at any family party or Filipino restaurant that I've been to.  Not sure how that made it on the exclusive Filipino food menu, well, actually I do have an idea. More on that later.
As much as I love the art of DJing and am proud of all the accomplishments of Filipinos in the world of djing and turntablism, I'm not sure what a group of Pinoy djs spinning hip-hop outside of the My Town Philippines section does to really drive home the feel of Filipino Heritage Night.  And it's not like they were even playing Pinoy hip-hop artists like Bambu or Roscoe Umali. They were just playing stuff you hear on the radio.  Just throwing this out there but if you're gonna book a music group to accentuate the theme of Filipino Heritage, wouldn't you try to find a rondalla or kulintang group instead of DJ Pinoy Guy and his crate carrying homies?  More on that later.
Here's the "more on that later"
There's no way the Dodger organization has the internal staff to know how to market towards every single target group in Los Angeles. They had to consult with some third party agency to figure out how to market towards the Filipino community of Los Angeles in order to sell tickets for their Filipino Heritage Night. 
Enter Plan C Agency.  They are a "full service multi-cultural marketing agency specializing in Asian Americans." At least according to their website that's what they are. These are the folks that convinced the Dodgers that they knew how to target market to Filipinos in Los Angeles and had the connections to deliver quality programming suggestions for the pre-game and in-game entertainment. 
Well, I did meet two of their reps a week before the game and, to be honest, these folks were f'n clueless when it came to the dynamics of the Filipino community of Los Angeles. 
6 days prior to the game, these folks hosted a meet and greet with Filipino community groups and businesses along with a tour of Dodger Stadium.  Let me stress that it was only 6 DAYS PRIOR TO THE GAME that they decided to reach out to Filipino community groups and businesses such as SIPA, FAN LA, FASGI, and the Asian Journal to meet them in person.  Of course this was after the fact that the My Town Philippines section was already sold out. 
On the night of the game, these junior level scouts invited people to join them in the Dodger Stadium club for some form of VIP reception.  Here's a part of an email from Barbara Lee – PR Specialist from Plan C:
"On behalf of the Dodgers, I'd like to extend an invite to you plus 1 additional guest to the Stadium Club on the night of Filipino Heritage Night (8/18).   I am aware you may be attending the event and sitting in seats provided to you by the Dodgers, but if you are interested in enjoying the game at the Stadium Club also, you are welcome to do so.  I would love to share a few words with you and find out more about your organization.  Food will not be complimentary, but the option to purchase appetizers and dinner will be available."
Hey Plan C, if you're gonna invite people to join you at the Stadium Club to get better acquainted with a constituency that you are obviously not familiar with, you need to at least offer a drink or appetizer or something.  What kind of cheap skates are you when you invite people to an exclusive VIP area and tell them they still have to fork over some cash just to eat so you could talk to them? 
I did some digging and found out that these Plan C folks are former club promoters that scored a few deals with liquor companies and now they are an "agency".  That explains the DJs, the God Bless America chick, the pineapple skewers, and the choice of Jo Koy throwing out the first pitch.  And for the folks that remember the failed Manny Pacquiao first pitch night earlier this year when Manny was advertised to be at a Dodger game only to cancel last minute, I'll give you three guesses which "agency" dropped the ball on that but you'll only need one.
To the folks from Plan C reading this, I figured out why you guys are called Plan C.  It's because when the better choices of plan A and plan B are unavailable, you get stuck with Plan C.  It's also the grade you guys get for your part in planning for Filipino Heritage night… a "C" which is barely passing.  If you guys are serious about truly marketing to Filipino Americans, you need to step outside of your nightclub networks and learn about the market you are claiming to understand.  And don't think that it was just me that noticed how junior level you guys came off.
It's partially our fault though.  Nobody from the Filipino community of L.A. stepped up and offered to help the Dodgers put together Filipino Heritage Night.  And that's where we get into a bigger issue.  As our communities grow in size and our presence gets more well known, corporate entities will start doing things like Filipino Heritage Night to try to capture our spending dollars.  If we don't step up and make ourselves business friendly to work with, these corporate entities will go to other groups like Plan C that do not know the dynamics of our people or our community and they will be given the power to define who we are. 
Our heritage was recognized by one of the top sports organizations in one of the largest cities in the United States.  Finally we are getting noticed and now it's up to us to make sure that the Dodgers, Plan C, and every other company looking to make money off of our heritage and ethnicity respects everything that the word Filipino represents.
Comments