Hello Pinoylifers (and the brand new army of haters – thanks for the traffic).  2009 is starting off strong for Pinoy stand-up comedy.  Jo Koy had his first hour long special air on Comedy Central in early January and on January 19, Edwin San Juan's SlantEd Comedy show had its first Showtime taping that featured Edwin, Bernadette Balagtas, Joey Guila, Dan Gabriel, Ron Josol, and Paul Ogata.
Here are some photos from the January 19th SlantEd Comedy show taping at the El Rey Theatre in Los Angeles, CA.
2009 is starting off big for Pinoy comedians.  First we get the Jo Koy special on Comedy Central and now Ed San Juan's "SlantEd" Comedy Show is getting taped for Showtime.  The show is part of the LOL Comedy Festival and the line up is loaded with some of the best in Pinoy stand-up comedy today.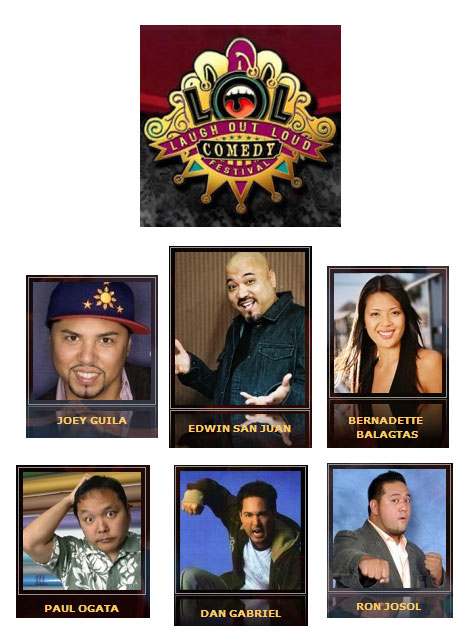 It all takes place on Monday, Jan. 19 (MLK Holiday) at 3:30 p.m at the El Rey Theatre in Los Angeles. Tickets are $15 for general admission and $25 for VIP (not including all the fees Ticketmaster and the El Rey tack on… those bastards).  
And to Ed, Bernadette, Ron, Joey and Dan, the folks behind this site are proud of you. Congrats on achieving this milestone! See you guys on the 19th.
LOL Comedy Festival Official Website
Buy Tickets – Ticketmaster.com
——–
Websites:
Edwin San Juan – www.myspace.com/edwinsj
Ron Josol – www.myspace.com/ron_josol
Dan Gabriel – www.dangabriel.net
Bernadette Balagtas – www.bernadettelive.com
Joey Guila – Joey's Myspace Page (cause JoeyGuila.com is still being worked on)
Pinoy comic Jo Koy gets his own Comedy Central stand-up special titled "Don't Make Him Angry" premiering on Sunday, January 4, 2009 at 10pm EST/PST.  A big congrats to this hard working comedian as he takes another step towards comedy superstardom.  Make sure to set your DVRs and tune in to watch Comedy Central on Sunday night.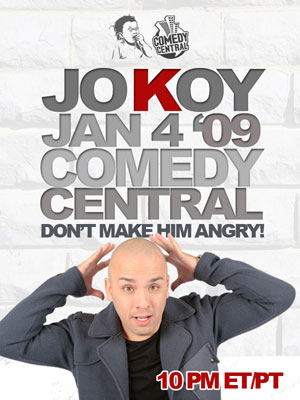 Comedian Ron Josol from Toronto, Canada came to visit the Pinoylife headquarters in Los Angeles (aka Moonie's house) and took some time between watching MMA and a smoke break to do the first ever audio interview posted on Pinoylife.com!  Get to know this Pinoy comic as he talks about his influences, his car accident, making longanisa, and soda.
Ron Josol Interview: Part 1 of 3 
Read on for parts 2 and 3.