Where were you the night Manny Pacquiao beat Oscar De La Hoya?
Last night's event will be ingrained in the memories of Filipinos all over the planet.  A lucky few will proudly say that they were at the fight in Las Vegas to witness history happen.  Most will tell a tale of gathering at a house loaded with food, friends, and family as they cheered on their hero on a television screen. 
In Los Angeles, a select group of community members were invited to watch the fight at the Montalban Theater (yes, it's named after the man who played KHAN!).  The fight screening was sponsored by Nike in conjunction with community organization Search to Involve Pilipino Americans (SIPA) and was billed as the Manny Pacquiao fan headquarters. 
That's where I was and this is the story of that evening.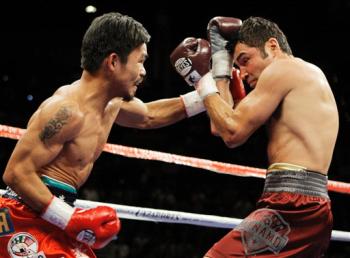 I'm STILL in shock.  The common feeling by a lot of fight fans leading up to Saturday's "Dream Match" between Oscar De La Hoya and Manny Pacquiao was that their hearts were with Manny but they didn't know if he could overcome the size and power of Oscar De La Hoya. 
Manny not only won the fight, he dominated Oscar De La Hoya into an 8 round TKO.  A FREAKIN' TKO!
The torch has officially been passed. The new king of the ring is a Filipino boxer named Manny Pacquiao.
Pacquiao too fast, too strong in lopsided win - SFGate.com
Analyzing Manny Pacquiao's victory over Oscar De La Hoya - L.A. Times
Mismatch indeed: Pacquiao dominates De La Hoya - ESPN.com
Trigger? What trigger? Outgunned De La Hoya leaves firepower at home - ESPN.com
Pacquiao – De La Hoya post fight quotes - SecondsOut.com
Postfight Press Conference (Video) - The Ring 
by Farmer Johneric of the Fighting Cocks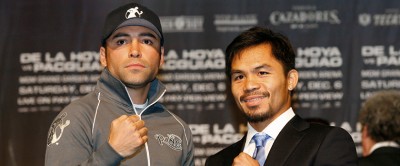 "There will be a knockout."
A claim made by the Golden Boy of Boxing Oscar De La Hoya on his upcoming battle with reigning pound-for-pound champion Manny "Pac-Man" Pacquiao. I would have to agree. But the question remains. Who is getting knocked out and when?
So before the big BBQs that will be on and cracking in every Pinoy, Latino, and fight fanatic's pad, let's run this down.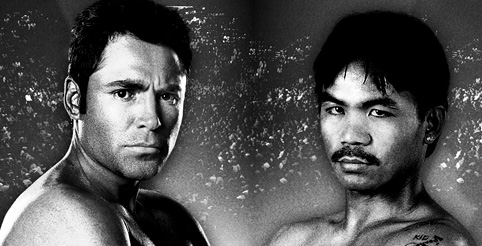 We are just weeks away from witnessing the biggest fight in Filipino sports history.  I never thought that I would see the day when the world's best pound-for-pound boxer would be a Pinoy.  I'm sure boxing historian Corky Pasquil is crapping bricks of joy right now seeing that we are living in a new great era of Philippine boxing. 
HBO knows they are sitting on a goldmine with this fight so they are going to milk it for all the pay-per-view dollars that they can get.  That's why they are dedicating four episodes of their outstanding documentary series 24/7 to the build up of this historic fight.  For those unfamiliar with HBO's boxing marketing methods, for each major boxing fight, HBO sends film crews to document the lives of the two boxers headlining an upcoming bout to give viewers an inside look at what the fighters go through to prepare for the big event.  24/7 shows people how the fighters train, how they spend their down time, their family life, who their trainers and cornermen are, and any other fun information they can dig up.
The cable network aired the first of four episodes of the 24/7 De La Hoya – Pacquio series over the weekend and I was able to see what the cameras captured as they followed our beloved sports hero Manny Pacquiao.  It made for interesting television because I always am intrigued as to how a show will depict the Philippines and the Filipino people.  I was also interested to see how Manny and his crew would come off on camera. 
Well, I saw the show and I have a few thoughts and recommendations towards Manny, his crew, his wife, and his fans.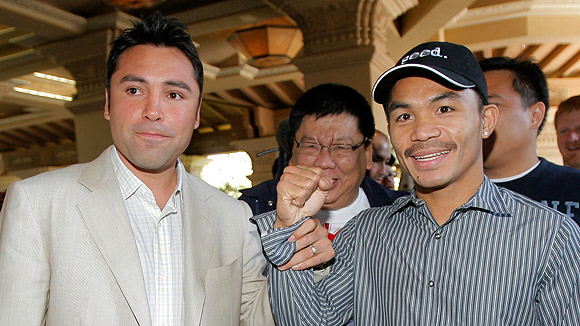 AP Photo/Jae C. Hong
Manny Pacquaio and Oscar De La Hoya just agreed to the biggest boxing event of 2008! Mark your calendars fight fans cause Pac-man vs. DLH goes down on December 6.
De La Hoya to fight Pacquiao in December – Reuters 
GOLDEN BOY WILL FIGHT PACQUIAO - Sportinglife.com
Pacquiao to move up two weight classes to fight De La Hoya - by Dan Rafael, ESPN.com
Fight with Pacquiao makes a lot of cents to De La Hoya by Graham Houston, ESPN.com