August 18, 2009. A day that will live in infamy. A day where Filipina American singer Erika David sang God Bless America for Filipino Heritage Night at Dodger Stadium and f-cked up royal.  You can even see James Loney laughing during the clip.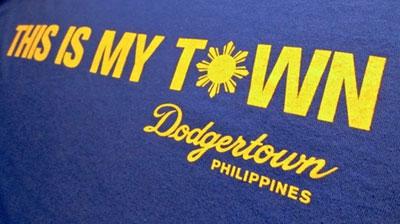 The official My Town Philippines souvenir shirt from the Los Angeles Dodgers (Photo taken by Jon Bareng which I took from him off Facebook)
On Tuesday, August 18th, the Los Angeles Dodgers put an end to the St. Louis Cardinals' 5-game winning streak with a 7 to 3 victory.  Over 49,000 baseball fans were in attendance at Dodger stadium that night to witness an action filled game complete with overpriced food and liquor. 
For the Filipinos that went to the game that night, the evening's story wasn't just about a night at the ballpark.  The Dodgers marked that specific evening as Filipino Heritage Night.  To celebrate this special night, the right field reserve section was decorated to say My Town Philippines and the 800 people that got tickets for that special area were given access to all you can eat concessions, a special Filipino food menu and a souvenir t-shirt that said "This Is My Town, Dodgertown Philippines".