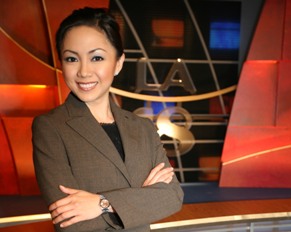 Kababayan L.A. host, Janelle So
Greetings PinoyLifers.  A few weeks ago, I was asked to appear on a show called Kababayan L.A. by its host, the lovely Janelle So.  She wanted to do a segment on blogging and asked me to be on the show after seeing some of the fun things I put on this site. 
The show aired on September 25, 2008 but there is a bit of backstory to some of the antics I pulled during the appearance.
I know, I know. It's just a local Los Angeles show on KSCI channel 18 on the UHF dial. But man, Janelle So really started throwin' it down on two of the rocket scientists behind Pinoyfest on the show Kababayan L.A. Check around the 3 minute mark when she mentions this uber Pinoy Pop Culture blog.
Thanks for the plug Janelle! See you at FPAC!