December 6, 2008 will go down in history as the night Manny Pacquiao became a superstar. It's also the night where two groups threw Manny Pacquiao after parties in Las Vegas.  One was the official one.  One wasn't.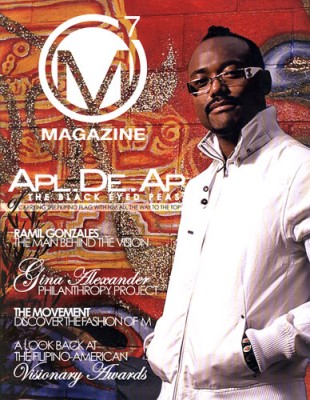 Have you heard of "M7 Magazine"?  I had never heard of it until someone showed me a copy of the 2nd issue featuring Apl.De.Ap of the Black Eyed Peas on the cover.  I'm staring at it as it sits here next to my laptop while I type this. 
Whenever a new Filipino American print publication comes out, I have mixed feelings.  On one hand, it's great to see people trying to put out a publication that's geared towards the Filipino American lifestyle.  On the other hand, these publications always seem to get things wrong and put out a product that I just cannot relate to. 
"Flip Magazine" came out in the 1990s only to be hampered with the fact that some of their target audience didn't identify themselves as "Flips."  It probably didn't help that one of the people behind Flip Magazine owed money to some folks which isn't good when you're trying to cover a magazine's operating expenses. 
Then there were the pan-Asian American publications like "Yolk Magazine" and "A Magazine" that are both no longer in existence, most likely due to their inability to sustain profit. And both magazines had national corporate advertisers! 
Recently, "DP Magazine" came onto the scene and had comedian Jo Koy on one of their covers.  If you're wondering, DP stands for Discovering Pinoys and not Director of Photography or Double Penetration.   I wish I could tell you who is on their latest issue but when I went to their official website www.discoveringpinoys.com, I got a page that said "This Account Has Been Suspended".  I guess we can add one more tombstone to the Pinoy publication graveyard.
Which brings us to the latest entry in the Filipino American start-up magazine saga – M7 Magazine.  I've had a chance to scope out the latest issue and…