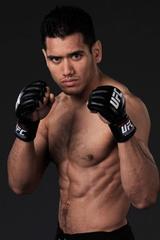 Despite all the comparisons to Georges St. Pierre and Anderson Silva, Pinoy MMA fighter Phillipe Nover lost by unanimous decision against Efrain Escudero in the season 8 finale of The Ultimate Fighter. Escudero neutralized Nover's striking ability by timing every leading punch and kick from Nover and countering with wrestling takedowns for the majority of the three round fight. Even Nover's Brazilian Jiu-jitsu ground game was taken away from him as Escudero controlled the fight with superior wrestling skills.
The only bright spot for Nover came in the third round as he was nearing an omoplata submission but could not properly get the leverage to fully pull off the hold.
Here's hoping that Phillipe bounces back from this loss and returns to the octagon to reach his potential in the world of MMA.
Phillipe, if you're reading this, the Pinoys are still proud of you and we can't wait for you to have a rematch. Thank you for giving us another fighter to cheer for.
Thanksgiving 2008 is in the record books and based on all the Facebook status updates I read, looks like we all ate as if we had four stomachs.  It is impossible to resist.  Every house has lots of good food and at least three different types of dessert.  What makes Thanksgiving such a great holiday is its simple formula: 
People + lots of food + no work or school = Happiness
We can now add another component to a successful Thanksgiving - Filipinos on television.  Yes, you read that right folks. Thanksgiving 2008 was all about increasing the Pinoy visibility percentage on American television.  Maybe some of you blinked but there were quite a few pata eaters on cable these past few days.