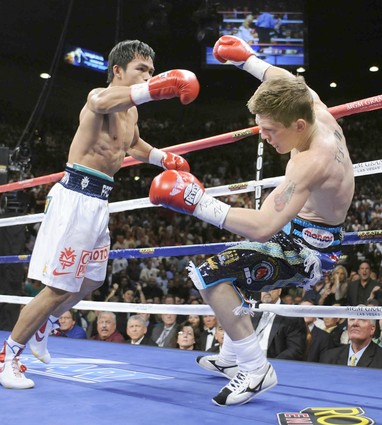 Manny Pacquiao introduces world class speed and punching power to Ricky Hatton. Wally Skalij – L.A. Times
I had a plan to do some gloating last night.  My Filipino flag was ready and I had a few spots in L.A. scoped out to wave it in the event that Manny won the fight.  
Manny made short work of Ricky "Hitman" Hatton with a devastating knock out punch in the 2nd round.  I predicted Manny would win but I wasn't expecting the fight to end so soon.  Everything was said and done by 8:45 pm!
The brutal knock out made me rethink the gloating plans.  Hatton fans didn't deserve anymore grief as their fighter was a class act.   I decided to scrap the gloating plans and just enjoyed a victory drink at Tiki Ti – a local Filipino American owned bar.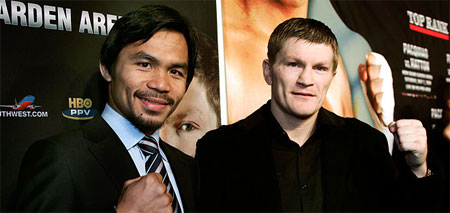 I'm going to make this as simple as possible.  Manny should win this fight.  I'm not saying this because I'm Pinoy and blindly nuthug the Pac-man like the majority of the ignorant drones on Manny Pacquiao's website forums.  I do watch non-Manny Pacquiao boxing and have been following the sport for many years.  There is a short list of names when you want to have a conversation about active boxers that can lay claim to being considered an elite fighter.  That short list should include Shane Mosley, Bernard Hopkins, Paul Williams, Miguel Cotto, and Manny Pacquiao.  Ricky Hatton is not on that list.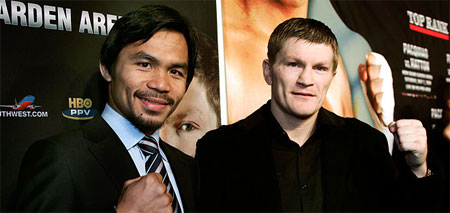 The promotional juggernaut of HBO's Pacquiao – Hatton 24/7 has begun and I am officially excited for the upcoming fight.  Episode one of the four part series aired on Saturday, April 11. As always, HBO's sports documentary team did an excellent job telling the stories of Manny Pacquiao and Ricky Hatton as they prepare for their big fight on May 2 in Las Vegas.
I did have a few thoughts about the first installment of 24/7.
Various news outlets are reporting on the story of Pia Quijada who has recently pled "not guilty" for siphoning more than $89,000 from Manny Pacquiao.  The link between the woman and the boxer is Pia's husband (maybe ex-husband now) Joseph Jose, Manny Pacquiao's driver. 
According to the L.A. Daily News and the Manila Standard Today, Manny asked for Joseph Jose's help in setting up a bank account in the United States.  It is alleged that Pia used that knowledge to forge at least 32 checks to access the money from Manny's bank account.
Here's a photo of the couple (Thanks Manila Standard for putting this online)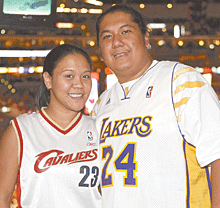 Pia Quijada and Joseph Jose
It is innocent until proven guilty so I cannot say whether or not Pia Quijada actually did the crime nor do I have any inside knowledge of whether or not Joseph Jose was aware of these actions.
The crack staff here at Pinoylife.com tried to find anything online about Pia Quijada and a Facebook link did come up but it led to a cancelled Facebook page.  However, a hacker friend did manage to dig up a "25 Random Things About Me" Facebook post written suspiciously by someone named Pia Q.  Here's what it read: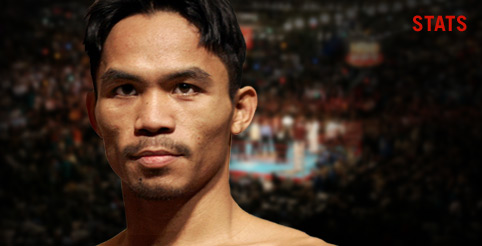 Update as of January 28 2009  10:55 AM Pacific Time:
Lance Pugmire from the L.A. Times has posted that both Pacquiao and Hatton have signed the contracts for the May 2 boxing event in Las Vegas.  FINALLY!
It's official: Ricky Hatton signs and fight with Manny Pacquiao is on - L.A. Times
Update as of January 23 2009  8:45 AM Pacific Time:
ESPN reports that Manny has reversed his position on the fight and has agreed to the terms.  Nothing has been officially announced by Top Rank or Golden Boy but it looks like the fight is back on.  Way to go you greedy assholes!

Hatton, Pacquiao headed for May 2 bout – ESPN.com
Manny Pacquiao-Ricky Hatton bout may be back on – L.A. Times
Pacquiao confirms fight with Hatton 'is on' – FOX Sports 
Update as of January 21 2009  12:00 PM Pacific Time:
As of right now, this fight isn't going to happen. Way to go you greedy assholes!
Pacquiao won't sign; fight called off – ESPN.com
Ricky Hatton's rejection of Pacquiao fight came down to the contract – L.A. Times
Update as of January 13, 2009  4:55 PM Pacific Time:
The fight is in limbo right now.  The L.A. Times is reporting that Pacquiao has backed away from a 50/50 purse split and is looking for a 60/40 split.  Let's hope people come to their senses so that this fight can happen. 
Purse spat jeopardizes Manny Pacquiao-Ricky Hatton fight – L.A. Times
Update as of January 6, 2009 2:22 PM Pacific Time:
The fight date looks to be May 2nd in Las Vegas.  Only thing being published online is that a Pacquiao vs. Hatton fight deal is almost complete.  The contracts haven't been signed yet but news sources are saying that the fighters are on board with making it happen. Stay Tuned.
Pacquaio-Hatton Is On, 99.9% On – The Sweet Science
Hatton set to fight Pacquiao in May – The Guardian (UK)
Boxing Still Alive as Pacquiao, Hatton Close to Deal - TalkingBoxing.com  
Ricky Hatton "on board" with Pacquiao fight being in Vegas – L.A. Times
Pinoylifer Dr. Phil sent me a link off an MMA forum that showed pictures of a guy at a club posing with someone who he thought was Manny Pacquiao. Check them out: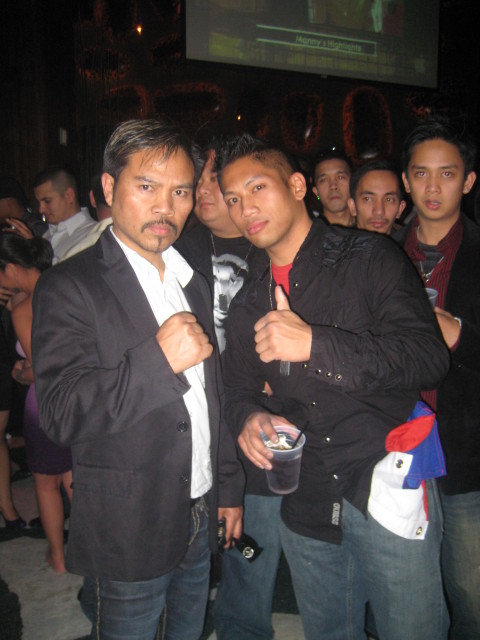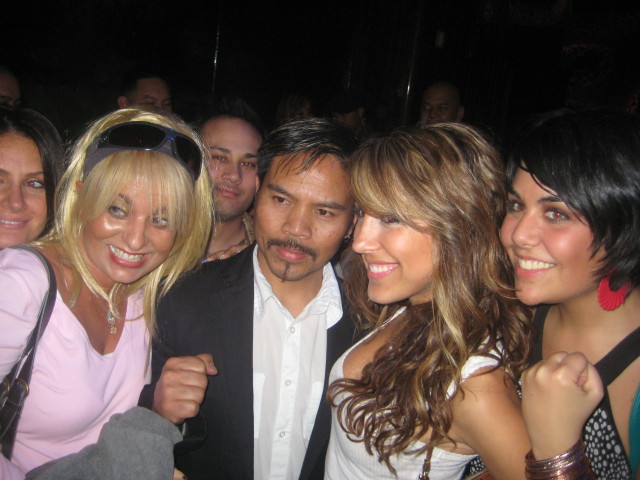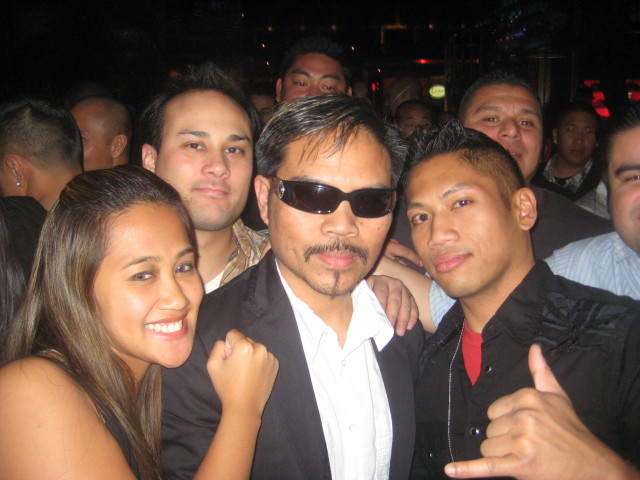 I think it's pretty funny that these folks fell for the fake Pacquiao at the club without even noticing that he didn't have any members of his entourage with him.  Double funny if any of those girls went home with him that night! So when you're out at the club and you think you see Manny Pacquiao, make sure to do a double take. 
As a challenge to all of you, I need some suggestions as to what to call the fake Manny.  Comment up!
Link to original post on MixedMartialArts.com (Warning, there's a camel toe shot at the club)
 
Where were you the night Manny Pacquiao beat Oscar De La Hoya?
Last night's event will be ingrained in the memories of Filipinos all over the planet.  A lucky few will proudly say that they were at the fight in Las Vegas to witness history happen.  Most will tell a tale of gathering at a house loaded with food, friends, and family as they cheered on their hero on a television screen. 
In Los Angeles, a select group of community members were invited to watch the fight at the Montalban Theater (yes, it's named after the man who played KHAN!).  The fight screening was sponsored by Nike in conjunction with community organization Search to Involve Pilipino Americans (SIPA) and was billed as the Manny Pacquiao fan headquarters. 
That's where I was and this is the story of that evening.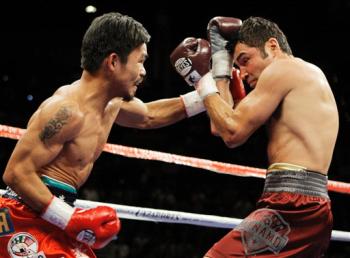 I'm STILL in shock.  The common feeling by a lot of fight fans leading up to Saturday's "Dream Match" between Oscar De La Hoya and Manny Pacquiao was that their hearts were with Manny but they didn't know if he could overcome the size and power of Oscar De La Hoya. 
Manny not only won the fight, he dominated Oscar De La Hoya into an 8 round TKO.  A FREAKIN' TKO!
The torch has officially been passed. The new king of the ring is a Filipino boxer named Manny Pacquiao.
Pacquiao too fast, too strong in lopsided win - SFGate.com
Analyzing Manny Pacquiao's victory over Oscar De La Hoya - L.A. Times
Mismatch indeed: Pacquiao dominates De La Hoya - ESPN.com
Trigger? What trigger? Outgunned De La Hoya leaves firepower at home - ESPN.com
Pacquiao – De La Hoya post fight quotes - SecondsOut.com
Postfight Press Conference (Video) - The Ring 
by Farmer Johneric of the Fighting Cocks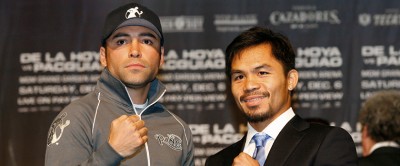 "There will be a knockout."
A claim made by the Golden Boy of Boxing Oscar De La Hoya on his upcoming battle with reigning pound-for-pound champion Manny "Pac-Man" Pacquiao. I would have to agree. But the question remains. Who is getting knocked out and when?
So before the big BBQs that will be on and cracking in every Pinoy, Latino, and fight fanatic's pad, let's run this down.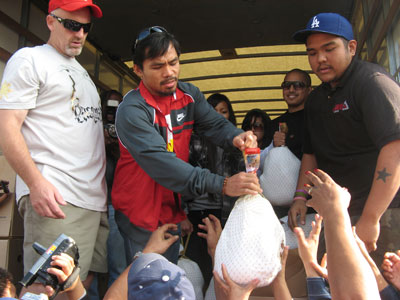 In a token of appreciation to his fans in Los Angeles, Manny Pacquiao gave away 500 turkeys in a park in Historic Filipinotown.  Enjoy the photos!
Update: Someone posted a short video of the event Youtube.