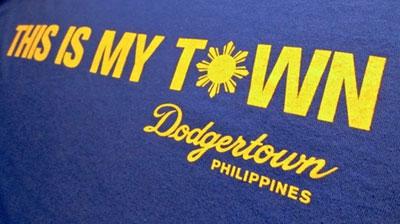 The official My Town Philippines souvenir shirt from the Los Angeles Dodgers (Photo taken by Jon Bareng which I took from him off Facebook)
On Tuesday, August 18th, the Los Angeles Dodgers put an end to the St. Louis Cardinals' 5-game winning streak with a 7 to 3 victory.  Over 49,000 baseball fans were in attendance at Dodger stadium that night to witness an action filled game complete with overpriced food and liquor. 
For the Filipinos that went to the game that night, the evening's story wasn't just about a night at the ballpark.  The Dodgers marked that specific evening as Filipino Heritage Night.  To celebrate this special night, the right field reserve section was decorated to say My Town Philippines and the 800 people that got tickets for that special area were given access to all you can eat concessions, a special Filipino food menu and a souvenir t-shirt that said "This Is My Town, Dodgertown Philippines".
One of Rex Navarrete's funniest comic bits is when he describes his uncle watching Animal Planet and pointing out the fact that the he claimed to have eaten all the animals shown on TV.  Recently, life immitated Rex's art off the Burias island in central Philippines when a few of our kababayan fishermen accidentally caught a rare megamouth shark… and ate it!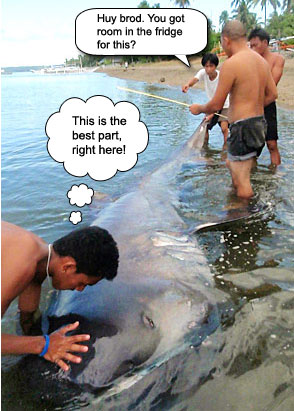 Credit: Elson Aca – World Wildlife Fund, Philippines
Rare megamouth shark caught, eaten in Philippines – AP, Yahoo!
Here are the beginning sentences of the Wikipedia entry for the Megamouth shark:
The megamouth shark, Megachasma pelagios, is an extremely rare and unusual species of deepwater shark. Discovered in 1976, only a few have ever been seen, with 41 specimens known to have been caught or sighted as of 2009 and three recordings on film.
Yes folks, our fisherman accidentally stumbled upon one of the rarest animals on the planet and instead of seizing the opportunity to advance our understanding of this creature, they decided to make supersized pulutan.  That's 1,100 pounds of a potentially endangered species served up deep fried with rice, tomatoes, salted egg and San Miguel beer.
I wasn't there but I can only speculate some of the rationale behind eating the 41st encountered specimen of this shark.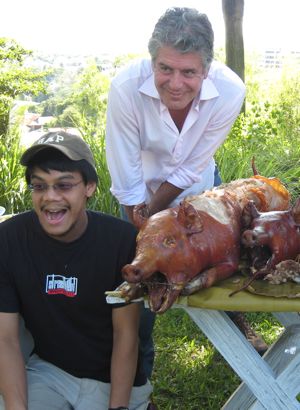 Anthony Bourdain and his buddies Augusto and Wilbur
Food blogs and Pinoy blogs are going Tony Bourdain crazy after his popular show Anthony Bourdain: No Reservations went to the Philippines.  The show finally aired and I have to say that as a Filipino American, I felt it was superbly done.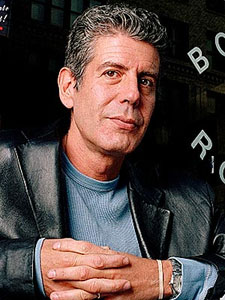 Travel Channel host Anthony Bourdain
Big thanks to Pinoylifer Cire B for sending this one in.
The Travel Channel's hit show Anthony Bourdain: No Reservations is going to the Philippines!  Finally, in its 5th season, restauranteur/chef/culinary bad ass Anthony Bourdain explores the culture and cuisine of our beloved mother country.  I can't wait to hear his no-holds-barred commentary on the unique foods of the Philippines.  I wonder if he'll work in an Apocalypse Now reference. 
Here's the Travel Channel website's synopsis of the upcoming episode:
Tony visits the Philippines, the "Land of the Lechon." He stops in Manila, which is a diverse combination of Spanish and Chinese cultures. Then he heads off to Pampanga to sample some of their rare delicacies.
Set your DVRs kids!
Anthony Bourdain: No Reservations – Philippines
The Travel Channel
Monday, February 16, 2009
10pm Eastern (check your listings as some of you west coasters may get it at 7pm)
Anthony Bourdain: No Reservations – Official Site

Olympic fever has struck and I'm all in.  The swimming races, the basketball games, and even the badminton mixed doubles are things I find myself mesmerized by… in hi-def of course.  I'm cheering for Phelps, Coughlin, Kobe, and anyone representing the good 'ol U.S. of A. 
I'm also pulling for Team Philippines… all 15 of them.  The Philippines is competing in archery, shooting, taekwondo, swimming, boxing, long jump and diving.  The Philippine government even put up $220,000 for the first athlete to win a gold medal for the Philippines. (And no, the 1988 gold medal in women's bowling doesn't count 'cause it was an exhibition sport.)  The money is a great incentive but I'm not sure if it is enough for a crispy pata eater to bring the gold back to the archipelago.