A Tale of Two Manny After Parties
December 17, 2008 · Posted in Uncategorized
December 6, 2008 will go down in history as the night Manny Pacquiao became a superstar. It's also the night where two groups threw Manny Pacquiao after parties in Las Vegas.  One was the official one.  One wasn't. 
"It was the best of times."
It was arguably the greatest moment in Filipino sports history.  The living legend Manny Pacquiao headlined the biggest boxing event of the year with Oscar De La Hoya in Las Vegas, Nevada. The spectacle alone was cause for celebration. 
On cue, a club promoter put together the official Pacquiao after party at the Rum Jungle in the Mandalay Bay hotel featuring DJ Icy Ice.  The website (www.pacquiaoafterfight.com) even featured a video message from both Freddie Roach and Manny Pacquiao just to prove to folks it was really the "official" after party.  To add even further proof, during the post-fight interview, Manny Pacquaio on camera told people to go to his after party at the Rum Jungle!
This is the screenshot of the website for the official after party:



If you were to scour the internet, you could even find photos of the after party featuring such high profile celebrities as Manny Pacquaio, the Black Eyed Peas (sans Fergie), and Dante Basco (stop looking for the joke, I don't have one today).
"It was the worst of times."
We live in a Pinoy world where we must deal with posers and opportunists.  We all have friends that call you out of the blue to invite you over to their house only to find out they are going to pitch you an exciting new product.  We have those people we meet that like to talk a big game and present an image of success only to find out they are just name droppers and blatant liars. We live in a world where scheming people will manipulate our desire to celebrate Filipino accomplishments in order to push their selfish agenda and make themselves seem more significant than they really are.
Unfortunately, we live in a world where we have to deal with…
… wait for it …
M7 MAGAZINE.
You probably didn't hear about the "other" after party.  While I was busy getting drunk at the OFFICIAL Nike Pacquiao event in Los Angeles celebrating the Pacquiao victory and putting up a Philippine flag in front of a Taco Bell, the mensas over at M7 Magazine put together a post-fight party at the Hawaiian Tropic Zone at the Planet Hollywood hotel in Las Vegas.  Throwing a party in Las Vegas isn't such a blog-worthy event but take a look at this screenshot from the M7 Magazine website promoting their after party.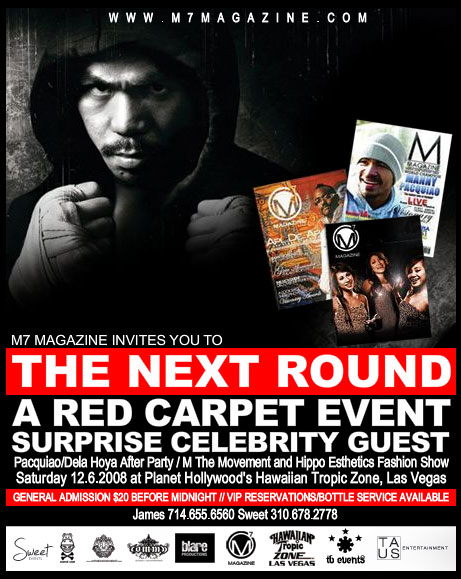 This is a pretty slick ad.  Notice that nowhere does it say that it is the official Manny Pacquiao after party but the implications that the promotional material makes is downright shady.  Time to do some dissecting.
First off, the main image used is of Manny Pacquiao taken from Nike's website.  Of course, that's easy to jack 'cause all you have to do is perform a Google image search for Manny and it comes up.  I doubt they got Nike's permission to use Nike creative materials for the M7 after party flyer.
Second, there is a claim of a "Surprise Celebrity Guest".  It doesn't say that the guest is Manny but when you put his picture on your promotional materials and claim to be a "Pacquiao / Dela Hoya After Party", any guest that isn't a boxer named Manny Pacquiao would be a disappointment to the party attendees.  Quick side note, it's De La Hoya not Dela Hoya but then again, when has M7 Magazine been known to pay attention to things like details or accuracy.
I searched for any press releases for this red carpet event and found something on lasvegasnightlifenetwork.com. 
This was posted on December 5, 2008
Hawaiian Tropic Zone inside Miracle Mile Shops rolls out the red carpet and celebrates the latest issue of M7 Magazine with an exhilarating evening of fashion and live musical performances at 10 p.m Saturday, Dec. 6, 2008.

Guests attending the party will enjoy live performances by the publication's Editor-In-Chief and singer Antoinette Taus, Taboo and Apl.de.Ap of the Black Eyed Peas and "American Idol" finalists Camille Velasco and Ramielle Malubay.
Whoa, whoa, whoa. Let's pump the brakes on this one.  Did you guys see the first name being promoted on this press release?  Good 'ol M7 editor-in-chief herself, Antoinette Taus!  (Who?)  I'm sure Antoinette or one of her homies wrote this but it's pretty amazing that of all the artists to plug for an after party, they promoted Antoinette first before artists that have had national television exposure and… oh, I dunno… sold millions of records!  (I really shouldn't bring up the fact that Apl and Taboo were photographed attending the other party. Oops, too late.) 
It goes on…
Special guest DJs Rocky Rock and Tommy T will take over the turntables while gorgeous Hawaiian Tropic Zone models strut their stuff on the runway during a MTheMovement.com fashion show. Admission to the celebration is $30 and open to the public age 21 and older.
If you paid $30 for this, I don't know what to tell you.  I mean, you could have just used that $30 at the Bellagio buffet. At least you'll know that at the Bellagio buffet when they say they have king crab legs, they actually have king crab legs.
Wait, there's more.
Celebrities expected to attend include World Boxing Council featherweight champion Manny Pacquiao, Dwayne "The Rock" Johnson, recording artist Roscoe Umali, Ultimate Fighting Championship heavyweight fighter Brandon "The Truth" Vera, pro-wrestler Dave Bautista, actress Nia Peeples, singer Martin Nievera, pop group The G-Girlz, actor Lou Diamond Phillips, "Dancing with the Stars" partner Cheryl Burke, award-winning actor and director Edward James Olmos, and actress Tia Carrere.
By the way, I'm having lunch with Barack Obama tomorrow.  I mean, I'm going to have lunch at Subway and Barack is expected to attend because I sent him an evite. 
And I know what you're thinking after reading all those names. Who the f-ck are the G-Girlz? 
If anyone actually went to this after party, please tell me if any of the people mentioned above attended.  I'll be hard pressed to believe that a single person on the M7 wish list showed up. 
Earlier in the year, I wrote about what I felt was lacking in M7 Magazine.  I thought that by being critical, the staff behind M7 would come back and prove me wrong and crank out a better product.  Instead, we get more of the same, this time in the form of a bootleg after party with the primary focus of using Manny Pacquiao's image and accomplishments along with dropping celebrity names in order to lure folks to a party designed to make a profit. 
So for all you M7 apologists and defenders, your beloved magazine staff was not above deceiving people and exaggerating things just for the sake of selfishly promoting themselves. Your uber editor-in-chief cared enough about spotlighting other talent that she made sure she got top billing in their party's press release. 
People wonder what M7 stands for? Here are a few suggestions:
1. Misleading
2. Manipulative
3. Mediocre
4. Mocking your intelligence
5. Meaningless
6. Misinformed
7. Mud – as in the worth of their name.
M7 Magazine isn't about providing content or events that highlight Filipino American living.  It's really a device to make a few insecure people feel better about themselves by making them seem more important than they really are.
Congratulations Antoinette and the M7 Magazine staff! You guys just got elevated to Pinoylife whipping target status. Now go throw a party to celebrate your new accolade. 
Comments