Making Meaning out of M7 Magazine
July 22, 2008 · Posted in Uncategorized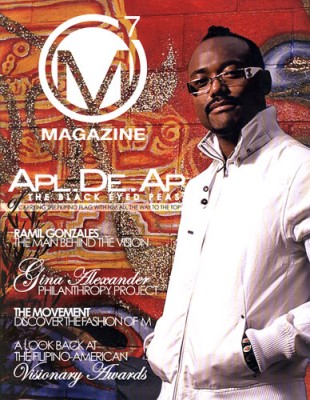 Have you heard of "M7 Magazine"?  I had never heard of it until someone showed me a copy of the 2nd issue featuring Apl.De.Ap of the Black Eyed Peas on the cover.  I'm staring at it as it sits here next to my laptop while I type this. 
Whenever a new Filipino American print publication comes out, I have mixed feelings.  On one hand, it's great to see people trying to put out a publication that's geared towards the Filipino American lifestyle.  On the other hand, these publications always seem to get things wrong and put out a product that I just cannot relate to. 
"Flip Magazine" came out in the 1990s only to be hampered with the fact that some of their target audience didn't identify themselves as "Flips."  It probably didn't help that one of the people behind Flip Magazine owed money to some folks which isn't good when you're trying to cover a magazine's operating expenses. 
Then there were the pan-Asian American publications like "Yolk Magazine" and "A Magazine" that are both no longer in existence, most likely due to their inability to sustain profit. And both magazines had national corporate advertisers! 
Recently, "DP Magazine" came onto the scene and had comedian Jo Koy on one of their covers.  If you're wondering, DP stands for Discovering Pinoys and not Director of Photography or Double Penetration.   I wish I could tell you who is on their latest issue but when I went to their official website www.discoveringpinoys.com, I got a page that said "This Account Has Been Suspended".  I guess we can add one more tombstone to the Pinoy publication graveyard.
Which brings us to the latest entry in the Filipino American start-up magazine saga – M7 Magazine.  I've had a chance to scope out the latest issue and…
this magazine is crap.  Not 100% pure crap but I've seen crap and this magazine is along the lines of the other crap that I've subjected myself to in the past.
I'll start with what it has going for it. 
The design is decent and it has that contemporary "we're cool and modern" slick magazine look.  The feature interview with Apl.De.Ap is a good read and I hope that his upcoming album is successful.  There's also a nice write up of a fundraiser event for the children in the Philippines that was sponsored by the Gina Alexander Philanthropy Project. 
After those few positives comes an onslaught of negatives. 
A simple perusal of the magazine will make most people say, "What exactly is the focus of this magazine?"  On one page, you got photos of a red carpet event, then you get an interview with Francis M, then an article about why it's hard to find a good manager for your music career, then an interview with Apl.De.Ap, then an article about living in Venice, California (huh?), then something about home remedies, followed by a short article on skin care, then a fashion spread of men's clothing by a Pinoy designer, only to close out the issue with a four page collage of various pictures of people at clubs with the biggest photo going to Kim Kardashian (next to a black guy of course).  It's like someone took their digital camera full of photos from four weeks of clubbing and wannabe red carpet events, put it in a blender with a health and beauty pamphlet and some interviews with Pinoys, made a smoothie, drank the smoothie, realized the ingredients of said smoothie did not go together, regurgitated the smoothie and out came M7 Magazine.  By the way, what the f-ck does M7 mean with respect to being Filipino American?
My interest in the brain-trust behind M7 was piqued so I did what any inquiring mind would do… I went to the M7 Magazine website to find out what the people behind the magazine were trying to accomplish.  I typed in the url of www.m7magazine.com and saw a bunch of words that started with the letter "M".  Here are the words:
1. Manila
2. Media
3. Mix
4. Modern
5. Music
6. Mingle
7. Made
8. Mission
9. Me
10. Mmmm…
Ok so… shouldn't you call this mofo M10 Magazine!?!?!
I still wanted to know what the main purpose of the magazine was so I clicked on the link to the M7 Magazine Media Kit that is designed to lure advertisers.  And now, here are some excerpts from the M7 Media Kit along with some personal comments from yours truly:
From page 2 – Welcome to the Filipino-American Market!
"As one of the fastest growing ethnic segments in the US today.  Filipino-Americans comprise the largest Asian-American segment followed by the Chinese, Vietnamese, Korean, Japanese, Asian-Indian, Cambodian and Thai.  More than half of the Filipino population is under the age of 35. This is a substantial market that many businesses already have in their sights – a market segment with a proven buying power!"
Holy frack! Was the opening line even a sentence?  Grammatical errors aside (and as I typed this in MS Word, the green line was going crazy), these folks made claims about population and buying power with NO SUPPORTING DATA.  If you were an advertiser, wouldn't you want to see some numbers before you threw some ad dollars towards these fools?
From page 3 – Who We Are
M Magazine is about you, the individual, and the world you live in. We are your guide to daily life… to help you face each day, whether it be work or play… but most of all, we're here to help you get through it all with a smile on your face and, of course, in style!  We've got the 411 on everything you need to know… where to go… where to eat… where to have fun – day or night!… where to shop and get the best deals… what's in and what's not… the latest gossip in and out of the entertainment industry… how to get in shape… people to watch out for… amazing vacation spots, and much much more!"
Much, much, more?  More what? More points of ellipses (…)?  No wonder I can't make heads or tails about the damn magazine.
Still from page 3
"Life is hard, but we're here to make it easier for you… so you get the best inside tips on LA, as well ast (sic)the rest of the world!"
AST! I swear, that's how it appears on the media kit.  And thanks for reminding me that life is hard but if you want to make it easier for me, eliminate traffic and lower gas prices.
Page 5 – Wide Distribution and Circulation (this one is good)
"M Magazine is distributed to readers throughout Filipino/Oriental supermarkets, groceries and convenience stores. It is also available at selected Asian and Filipino bakeries, delis and restaurants, video outlets and business outlets and offices."
Yes, all of which are places that the majority of Filipino Americans visit on a regular basis to buy magazines.  'Cause there's nothing cooler than going clubbing with Kim Kardashian then finding out about it later in the magazine section of your local Seafood City Supermarket.  Why settle for Borders or Barnes and Noble when you can get your magazine sold in a bakery!  Just imagine someone at Red Ribbon saying, "I'd like a mango cake, half a dozen suman and, oooh, let me get this copy of M7 Magazine too!"
On another note, I can't believe they used the term Oriental. Wait, I take that back. I can believe it.
After a few more pages in the media kit where they say that they cover everything short of the latest developments in nano-technology, I got to the last page of the media kit with their ad prices.  If you are going to give these people $1000 plus for ads in their publication, let me know 'cause I have some timeshares in Tondo that I think you would be interested in.
So who is the Rhodes Scholar in charge of this operation? Is it someone with a proven track record of success in the publication business?  Is it someone with a strong journalism background?  Is it even someone that had a successful business career in another field and is now transitioning to print media?
Nope.
The editor in chief is a woman named Antoinette Taus.  Who?  When in doubt, use Google.
Facts about Antoinette Taus from the internet:
Yep, I'd say she's qualified to run a magazine. That probably explains why she has nine photos of herself spread all over the 2nd issue of M7 magazine.  That's nine photos in 70 magazine pages.  They should just rename the publication to "Where's Antoinette?" 
You know, I haven't even gone into much detail about the actual magazine.  This post is getting kinda long so here are a few questions and thoughts I'd like to throw out towards the M7 editorial staff regarding their latest issue.
Is it a requirement that the photos of the entire editorial staff look like studio glamour shots? (Check the About Us page on their website)
Considering that M7 is supposed to target a young Filipino demographic in the United States, do you really think the Pinoys that grew up in the United States would be interested in an article about Francis M. or a Philippine Basketball Association player reunion tour?  We freakin' grew up watching the NBA and listening to rappers named M.C. Hammer, Ma$e, and a Tribe Called Quest!  Most of us have never even listened to a song by Francis M. nor can we name the starting line up of any PBA team at any time of the league's history.
Here's a real basic question: How much does this magazine cost? I can't find the price listed anywhere on the cover much less a bar code for a store register to scan it.
I see that there is a photo collage of different Pinoy celebrities that were on the red carpet at the Visionary Awards.  Now, I recognize WWE Superstar Batista, singer Billy Crawford, and even Jasmine Trias.  It's really pushing it to have the Happy Slip chick as a red carpet celeb but people know who she is so I guess that's fair.  But was it really necessary to insert photos of the M7 editor, the M7 staff, and the M7 editor's brother in the photo collage?
Speaking of the Visionary Awards, it's great to see so much coverage in your magazine for an event that hardly anybody went to or gave a rat's ass about.  There were more people on the red carpet than there were in the audience!
So, in the message from the editor at the beginning of the magazine, she says that M7's purpose is "to highlight the many successes and triumphs of our countrymen in order to inspire and encourage others to join the quest for global recognition."  That's a very positive message to start a magazine with.  Too bad you ended the magazine with a bunch of photos from a club featuring chicks in bikinis and a huge photo of Kim Kardashian (next to a black guy, of course).
You can call me a hater. That's fine. But I'm calling it as I see it.  I, like many of you, view myself as a Pinoy.  I see people come and go saying that they're all about the community or all about promoting the Filipino or Filipino American lifestyle only to find out that they're really just in it for themselves.  And it's this kind of stupidity that yields publications that are clueless and disconnected. 
I will say this about M7 Magazine.  They were correct in their media kit in saying that the Filipino community in the United States is a market segment with buying power.  I just wish they would give us a product worth buying. 
Comments