I'm one of the few that actually watches NBC's programming these days and one show that I find consistently funny each week is 30 Rock.  This past week's episode titled "Dealbreakers Talk Show #0001" had me do multiple double-takes and jaw drops.  There was a side story in the episode where Tracy Morgan's character becomes obsessed with winning an Emmy, Grammy, Oscar and Tony award after going into a jewelry shop and seeing a bling necklace pendant that read EGOT.  Yes Pinoys, you read that right, EGOT.
Morgan's character becomes so obsessed with this notion that he purchases the EGOT pendant and wears it with pride throughout the episode.  I was waiting for a Filipino character to show up and tell him why it was pretty screwed up to see a black guy wearing an EGOT pendant but that never happened in the episode.
The emmy award winning writers for 30 Rock are typically savvy in finding double meanings in things but this time, the EGOT joke got past their pop-culture radar.  You see, the 30 Rock episode was referencing the term EGOT from 80s TV star Philip Michael Thomas as he used it as an acronym for Emmy, Grammy, Oscar, Tony as those were the awards he planned to win in his career.  Yes, there is humor in envisioning Tubbs winning a Grammy but what the 30 Rock folks didn't research was the fact that the term "egot" is the equivalent to the n-word in Filipino slang.  Don't believe me? Go visit the entry for "egot" on the Urban Dictionary and read it for yourself.
Here's the episode. You got until December 14 to watch it online (or sooner once NBC catches wind of this).
Hey folks, sorry there haven't been any updates. It's not so much that I haven't had anything to say but all the extra time I used to spend blogging went to raising a baby girl. I'm slowly getting the hang of it and I should be able to get Pinoylife posts going again.
Talk to you all very soon.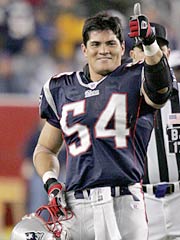 On Monday, August 31, 2009, New England Patriots linebacker Tedy Lacap Bruschi announced his retirement from professional football. Tedy played a key role in the three Patriot Championship teams of 2002, 2004, and 2005. His leadership on the field was rewarded by his teammates as he was chosen to be the Patriots' defensive captain. In 2005 he suffered a mild stroke only to return months later to be a contributing defensive player to his team and earn the award for NFL Comeback Player of the Year.
Bruschi was truly one of the best that ever played on the gridiron and has earned his place in Filipino American history as one of the elite athletes in American pro football.
Working-class hero Tedy Bruschi bows out - Boston Herald
Tedy Bruschi's Wikipedia entry
Hello PinoyLifers. Someone forwarded an email with a link to a website called Gimmick City.  It's claiming to be the "Hottest Web TV Show". 
In the email from Giovi Zamora and his awesome hairpiece, he wrote:
"We are pre launching our Web TV can you please watch our show at www.gimmickcity.com and your comment and suggestion would be greatly appreciated" (grammar not corrected for your enjoyment)
So folks, I'm not commenting. I'm here to help Giovi and that's where you come in.  Take a look at the video and if you are so compelled or moved by it, please share your thoughts in the comments section.  Thank you all for helping do God's work.
August 18, 2009. A day that will live in infamy. A day where Filipina American singer Erika David sang God Bless America for Filipino Heritage Night at Dodger Stadium and f-cked up royal.  You can even see James Loney laughing during the clip.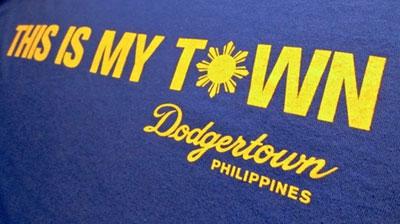 The official My Town Philippines souvenir shirt from the Los Angeles Dodgers (Photo taken by Jon Bareng which I took from him off Facebook)
On Tuesday, August 18th, the Los Angeles Dodgers put an end to the St. Louis Cardinals' 5-game winning streak with a 7 to 3 victory.  Over 49,000 baseball fans were in attendance at Dodger stadium that night to witness an action filled game complete with overpriced food and liquor. 
For the Filipinos that went to the game that night, the evening's story wasn't just about a night at the ballpark.  The Dodgers marked that specific evening as Filipino Heritage Night.  To celebrate this special night, the right field reserve section was decorated to say My Town Philippines and the 800 people that got tickets for that special area were given access to all you can eat concessions, a special Filipino food menu and a souvenir t-shirt that said "This Is My Town, Dodgertown Philippines".
Hi Pinoylifers,
I'm sure you've noticed the lack of updates recently. I swear, there's a good explanation. My wife and I are having our first baby and the past few weeks have been packed with baby showers and house preparation for the future Pinoylife Singkil Princess.
The due date is June 23 so it could happen any day now. If you want to get up-to-the-minute mini-reports on Baby Watch '09, just follow me on twitter:
Stay tuned true believers.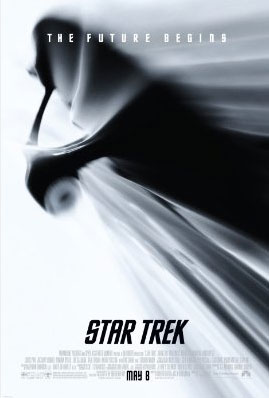 Star Trek is back and it is kicking ass and taking names.  J.J. Abrams has given the old sci-fi franchise a modern-day makeover complete with a hot young cast and a U.S.S. Enterprise that can bring the pain with its added firepower.  It made over $70 million opening weekend so it's safe to say that a good chunk of you saw it already.  For the rest that haven't, head to the theater 'cause it's worth the price of admission.
I'm not going to spoil anything major about the film but there are some things that crossed my mind regarding the new Trek – things that a Pinoy from California who is expecting his first child would notice.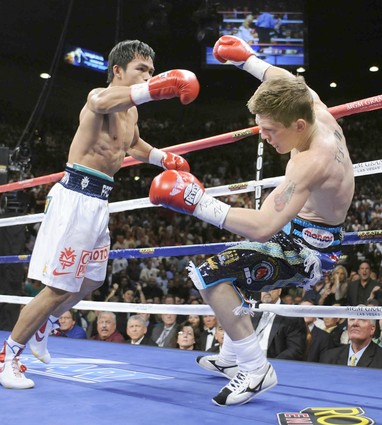 Manny Pacquiao introduces world class speed and punching power to Ricky Hatton. Wally Skalij – L.A. Times
I had a plan to do some gloating last night.  My Filipino flag was ready and I had a few spots in L.A. scoped out to wave it in the event that Manny won the fight.  
Manny made short work of Ricky "Hitman" Hatton with a devastating knock out punch in the 2nd round.  I predicted Manny would win but I wasn't expecting the fight to end so soon.  Everything was said and done by 8:45 pm!
The brutal knock out made me rethink the gloating plans.  Hatton fans didn't deserve anymore grief as their fighter was a class act.   I decided to scrap the gloating plans and just enjoyed a victory drink at Tiki Ti – a local Filipino American owned bar.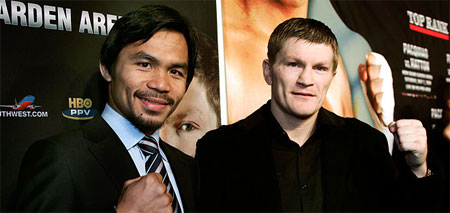 I'm going to make this as simple as possible.  Manny should win this fight.  I'm not saying this because I'm Pinoy and blindly nuthug the Pac-man like the majority of the ignorant drones on Manny Pacquiao's website forums.  I do watch non-Manny Pacquiao boxing and have been following the sport for many years.  There is a short list of names when you want to have a conversation about active boxers that can lay claim to being considered an elite fighter.  That short list should include Shane Mosley, Bernard Hopkins, Paul Williams, Miguel Cotto, and Manny Pacquiao.  Ricky Hatton is not on that list.