The site has become one big Manny shrine as of late.  And I know not all of you are boxing fans so I felt it would be good if all of us took a break from the Pacquiao posts and switched gears to a new topic. Normally, I stay away from talking about politics on this site but I was sent a thought provoking article that was very critical of the United States military.  I really think you should take the time to read this. 
OMG! What is our military spending its money on?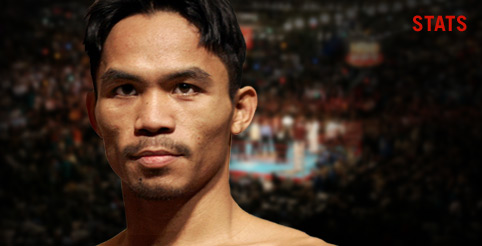 The second installment of the Pacquiao – De La Hoya 24/7 series was, once again, a solid piece of documentary work by the HBO Sports crew.  The show depicted Pacquiao as a loving husband as he spent some alone time with his wife Jinkee listening to the pulses of their unborn child using an electronic device pressed against Jinkee's very pregnant belly. This was a much needed improvement from the last episode's display of karaoke coldness from Manny.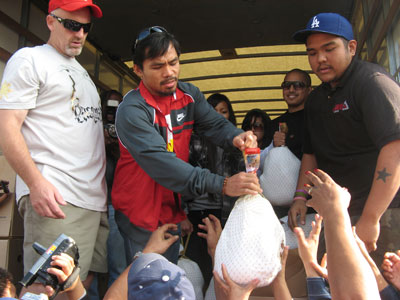 In a token of appreciation to his fans in Los Angeles, Manny Pacquiao gave away 500 turkeys in a park in Historic Filipinotown.  Enjoy the photos!
Update: Someone posted a short video of the event Youtube.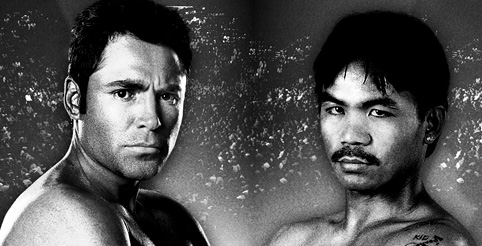 We are just weeks away from witnessing the biggest fight in Filipino sports history.  I never thought that I would see the day when the world's best pound-for-pound boxer would be a Pinoy.  I'm sure boxing historian Corky Pasquil is crapping bricks of joy right now seeing that we are living in a new great era of Philippine boxing. 
HBO knows they are sitting on a goldmine with this fight so they are going to milk it for all the pay-per-view dollars that they can get.  That's why they are dedicating four episodes of their outstanding documentary series 24/7 to the build up of this historic fight.  For those unfamiliar with HBO's boxing marketing methods, for each major boxing fight, HBO sends film crews to document the lives of the two boxers headlining an upcoming bout to give viewers an inside look at what the fighters go through to prepare for the big event.  24/7 shows people how the fighters train, how they spend their down time, their family life, who their trainers and cornermen are, and any other fun information they can dig up.
The cable network aired the first of four episodes of the 24/7 De La Hoya – Pacquio series over the weekend and I was able to see what the cameras captured as they followed our beloved sports hero Manny Pacquiao.  It made for interesting television because I always am intrigued as to how a show will depict the Philippines and the Filipino people.  I was also interested to see how Manny and his crew would come off on camera. 
Well, I saw the show and I have a few thoughts and recommendations towards Manny, his crew, his wife, and his fans.
Teachers and FANHS folks, here's another thing to put in your Filipino American history books. Pinoy major league pitcher Tim Lincecum has won the 2008 National League Cy Young award.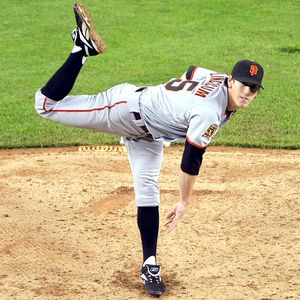 Giants ace Tim Lincecum wins NL Cy Young Award - Associated Press
PinoyLifer Valleypinoy sent a post on curbed.com regarding some new signage in L.A.'s Historic Filipinotown.
Take a look at these photos found on Matt Nelson's flickr page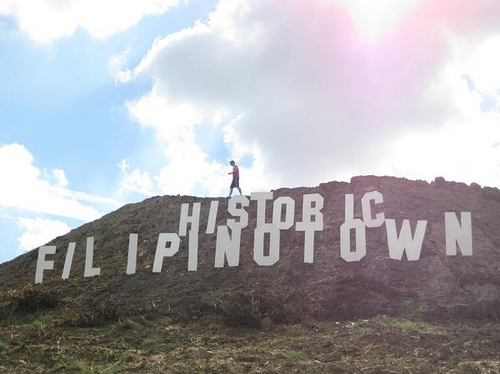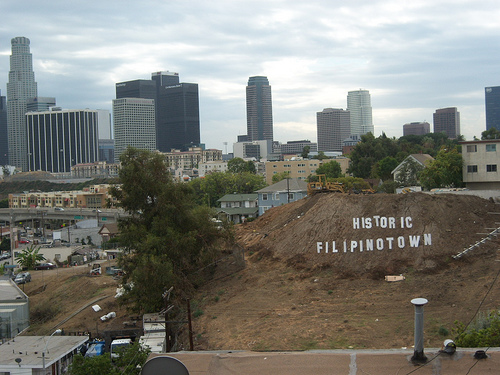 Somebody, I don't know who, but somebody put this sign up on a dirt mound in Historic Filipinotown. I guess the signs on major street posts in Historic Filipinotown that say "Historic Filipinotown" weren't good enough to let you know where you were.
Pinoy pride is great and all but the sign looks like shit if you ask me. It kinda reminds me of the illegitimate bastard child of the Hollywood sign and the South San Francisco sign. 
Thoughts?
This year, Halloween fell on a weekend.  However, I wasn't with the Geto Boys trick or treatin'.  I was at home watching DVDs and handing out candies to children with nice costumes and begrudgingly giving candy to teenagers dressed like they just shopped at Hot Topic.  (Note to teenagers, a Pixies band t-shirt, jeans, and skeleton gloves is not a Halloween costume).  Halloween marks the ending of Filipino American History Month and what better way to remind us that we need to wrap up the history month celebrations than to have countless horror films playing on dozens of cable channels.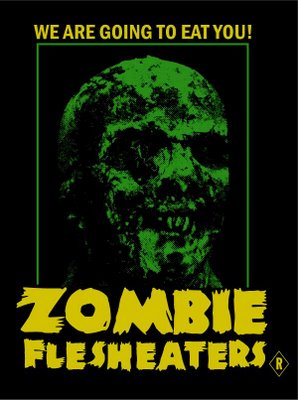 One channel was showing a marathon of zombie films and I saw that 28 Days Later was playing.  It's a pretty good zombie film and I highly recommend it if you got some free time on your hands.  The premise of the film did get me thinking.  What if there was some form of lab created genetic zombie virus that attacked people with at least 1/4th Filipino ancestry?  What would we need to do in order to survive and minimize the risk of zombie infection? 
Fear not loyal PinoyLifers.  The fan boys behind this site got you covered.