No Win for the favored Nover
December 14, 2008 · Posted in Uncategorized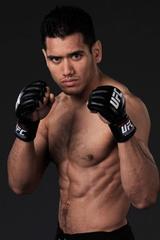 Despite all the comparisons to Georges St. Pierre and Anderson Silva, Pinoy MMA fighter Phillipe Nover lost by unanimous decision against Efrain Escudero in the season 8 finale of The Ultimate Fighter. Escudero neutralized Nover's striking ability by timing every leading punch and kick from Nover and countering with wrestling takedowns for the majority of the three round fight. Even Nover's Brazilian Jiu-jitsu ground game was taken away from him as Escudero controlled the fight with superior wrestling skills.
The only bright spot for Nover came in the third round as he was nearing an omoplata submission but could not properly get the leverage to fully pull off the hold.
Here's hoping that Phillipe bounces back from this loss and returns to the octagon to reach his potential in the world of MMA.
Phillipe, if you're reading this, the Pinoys are still proud of you and we can't wait for you to have a rematch. Thank you for giving us another fighter to cheer for.
Comments