Pia Quijada pleads Not Guilty for stealing from Manny Pacquiao
Various news outlets are reporting on the story of Pia Quijada who has recently pled "not guilty" for siphoning more than $89,000 from Manny Pacquiao.  The link between the woman and the boxer is Pia's husband (maybe ex-husband now) Joseph Jose, Manny Pacquiao's driver. 
According to the L.A. Daily News and the Manila Standard Today, Manny asked for Joseph Jose's help in setting up a bank account in the United States.  It is alleged that Pia used that knowledge to forge at least 32 checks to access the money from Manny's bank account.
Here's a photo of the couple (Thanks Manila Standard for putting this online)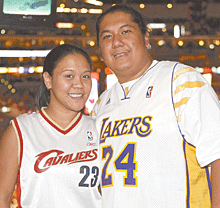 Pia Quijada and Joseph Jose
It is innocent until proven guilty so I cannot say whether or not Pia Quijada actually did the crime nor do I have any inside knowledge of whether or not Joseph Jose was aware of these actions.
The crack staff here at Pinoylife.com tried to find anything online about Pia Quijada and a Facebook link did come up but it led to a cancelled Facebook page.  However, a hacker friend did manage to dig up a "25 Random Things About Me" Facebook post written suspiciously by someone named Pia Q.  Here's what it read:
25 Random Things About Me
By "Pia Q"
Rules: Once you've been tagged, you are supposed to write a note with 25 random things, facts, habits, or goals about you. At the end, choose 25 people to be tagged. You have to tag the person who tagged you. If I tagged you, it's because I want to know more about you. (To do this, go to "notes" under tabs on your profile page, paste these instructions in the body of the note, type your 25 random things, tag 25 people (in the right hand corner of the app) then click publish.)
 
1. I spent $80 on an official NBA Lebron James jersey
2. I bought my husband a $100 official NBA Kobe Bryant jersey
3. I bought some really sweet Lakers vs. Cavs tickets for $1000
4. I got my teeth whitened for $5000
5. I picked up a brand new digital camera at Best Buy to take pictures of me, my husband, and our new jerseys at the Lakers game.
6. For our next anniversary, I'm going to get some expensive dental procedures done on my husband's f-cked up grill.
7. My husband and I spend a lot on hair care products
8. I like to take my husband out to eat a lot
9. My average grocery bill is $1000 a month for me and my husband.
10. I really liked Heroes season 1 but it got really bad with season 3
11. I bought flatscreens and tivos for every room in my house so I could watch Heroes.
12. I paid full retail value for the flatscreens and tivos
13. I know how to do the Papaya dance
14. My favorite song is "Creep" by TLC.  I dunno, it just speaks to me.
15. I could tell Kobe how Shaq's ass tastes.
16. My parents love me because I've remitted a whole lot of money to them this past year.
17. I'm a big fan of Manny Pacquiao
18. My husband knows Manny Pacquiao personally
19. For my husband's last birthday gift, I spent $10,000 so he could make modifications to his car so that he could fit in it better in order to drive Manny Pacquiao around.
20. I'm so happy that Manny Pacquiao is so successful
21. I know that my husband isn't attractive or sexy but he makes up for it by being a personal friend to Manny Pacquiao.
22. I thank God every day for Manny Pacquiao
23. I think I'm hotter than Jinkee Pacquiao
24. I would so do Manny Pacquiao.
25. I stole over $90,000 from Manny Pacquaio. That dumb son of a bitch. LOL!
Note: To all the brainless f-ckheads that can't put 2 and 2 together, the 25 list is just a joke.
Comments