Pacquiao – Hatton 24/7 Episode 1 : More Blog Fodder!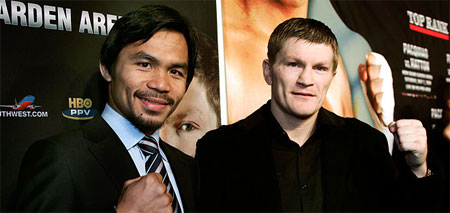 The promotional juggernaut of HBO's Pacquiao – Hatton 24/7 has begun and I am officially excited for the upcoming fight.  Episode one of the four part series aired on Saturday, April 11. As always, HBO's sports documentary team did an excellent job telling the stories of Manny Pacquiao and Ricky Hatton as they prepare for their big fight on May 2 in Las Vegas.
I did have a few thoughts about the first installment of 24/7.
The episode opens with a montage of shots of General Santos City, Philippines set to the song "Paint it Black" by the Rolling Stones.  For a brief second, I thought I was watching the opening credits of "China Beach" and was waiting for Dana Delaney to show up. 
It then cuts over to Manny playing some pick up basketball with a few locals.  Big props to HBO's cameras for capturing a basketball phenomenon that you will only see in the Philippines.  I'm not talking about a world champion boxer playing a pick up game with locals.  I'm talking about Pinoys rocking NBA and PBA basketball jerseys as they play with flip-flop chinelas on their feet.  Only in Pinas, folks. 
Pacquiao is then shown talking on camera about now that he has "a money" he still hasn't changed his style.  Then they show the awesome pad he lives in as he's escorted by armed guards.  Unfortunately, the beauty of the Philippines and Manny's well manicured house are images that are quickly erased as Manny's mom's face takes over my high def t.v.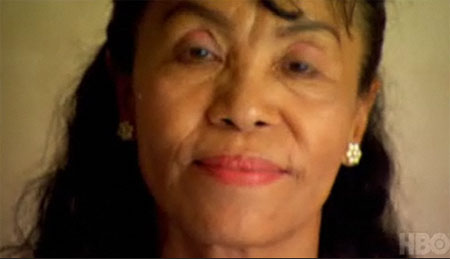 The episode switches over to Ricky Hatton.  Good to know that Ricky's biggest highlight of his career is when he got his ass handed to him by Floyd Mayweather, Jr. 
More Hatton stuff. Something about his parents. Something about him swimming in a pool. Ok cool, Manny is back on TV.
Footage of Manny's victory parade from his win over Oscar De La Hoya is shown. It then transitions to Manny and Jinky Pacquiao and their newborn daughter.  It's some very heartwarming video as we see Manny decked out in scrubs with the smile of a proud father while Jinky is on the delivery bed looking like she just pushed a watermelon through her pee-hole.  Then the narrator mentions that the name of the newborn is… wait for it… Queen Elizabeth Pacquiao.  Let that marinate in your mind for a bit.  Ok, let's move on.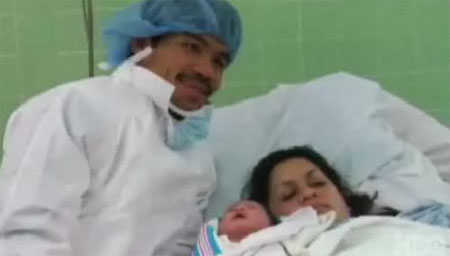 Next up is footage of Queen Elizabeth Pacquiao's baptism which looks to have gotten a better turnout than the Easter vigil service over at Immaculate Heart of Mary parish in East Hollywood. Queen has 48 godparents.  Let that marinate in your mind for a bit.  Ok, let's move on.
The scenery changes to Hollywood, California – home of Wild Card Gym and the Yoshinoya with a drive thru on Santa Monica and Vine. Team Pacquiao has a new member as Michael Moorer is helping Coach Freddie Roach.  Moorer should prove to be a good addition to the training camp as he'll be able to assist Roach in working on Pac-man's mechanics.
Now we go back to Hatton's camp and the attention is on his new trainer, Floyd Mayweather, Sr.  This marks two horrid visuals that my television has been subjected to in this episode – Manny's mom and a close up of Floyd Sr.'s facial complexion in high definition.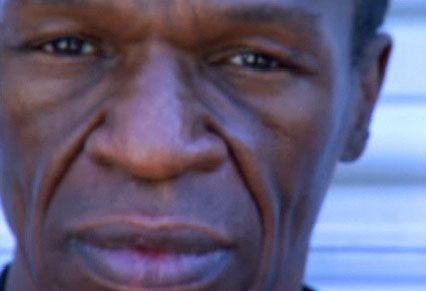 We are then blessed with a spoken word piece from Floyd Mayweather, Sr.
Manny, come may 2nd you'll be uncrowned
With your head hanging down.

And pain and stress, left to confess
That the hitman's the best

So let's make it simple and plain
After this fight you will never be the same.

So get your tickets now peoples and let's make it clear
That the pac-man ass whoopin' is almost here.
I can only respond with another spoken word piece:
Hey HBO camera guy, to the face of Floyd senior, the camera is too close
I'm still getting over 4 years of Battlestar Galactica close ups of Edward James Olmos

Floyd, your prune like face and overgrown nasal hair puts HDTV to shame
It's no wonder that your own son does not like to even speak your name

Words don't win a boxing fight, superior boxing does so please…
No more rhymes now, I mean it!
ANYBODY WANT A PEANUT?
Happy Easter everyone. And GO MANNY!
Comments