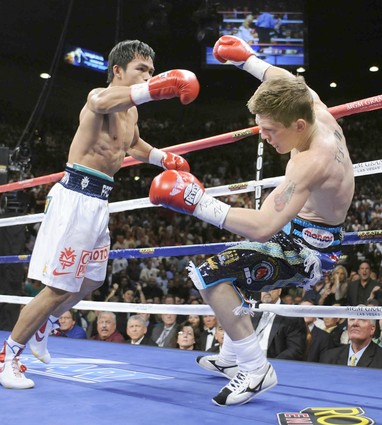 Manny Pacquiao introduces world class speed and punching power to Ricky Hatton. Wally Skalij – L.A. Times
I had a plan to do some gloating last night.  My Filipino flag was ready and I had a few spots in L.A. scoped out to wave it in the event that Manny won the fight.  
Manny made short work of Ricky "Hitman" Hatton with a devastating knock out punch in the 2nd round.  I predicted Manny would win but I wasn't expecting the fight to end so soon.  Everything was said and done by 8:45 pm!
The brutal knock out made me rethink the gloating plans.  Hatton fans didn't deserve anymore grief as their fighter was a class act.   I decided to scrap the gloating plans and just enjoyed a victory drink at Tiki Ti – a local Filipino American owned bar.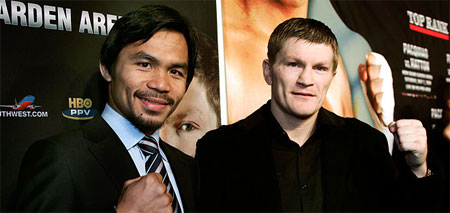 I'm going to make this as simple as possible.  Manny should win this fight.  I'm not saying this because I'm Pinoy and blindly nuthug the Pac-man like the majority of the ignorant drones on Manny Pacquiao's website forums.  I do watch non-Manny Pacquiao boxing and have been following the sport for many years.  There is a short list of names when you want to have a conversation about active boxers that can lay claim to being considered an elite fighter.  That short list should include Shane Mosley, Bernard Hopkins, Paul Williams, Miguel Cotto, and Manny Pacquiao.  Ricky Hatton is not on that list.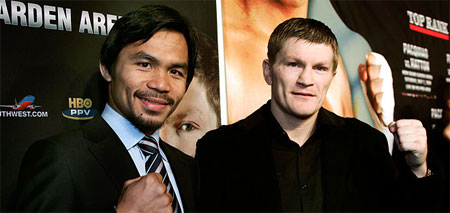 The promotional juggernaut of HBO's Pacquiao – Hatton 24/7 has begun and I am officially excited for the upcoming fight.  Episode one of the four part series aired on Saturday, April 11. As always, HBO's sports documentary team did an excellent job telling the stories of Manny Pacquiao and Ricky Hatton as they prepare for their big fight on May 2 in Las Vegas.
I did have a few thoughts about the first installment of 24/7.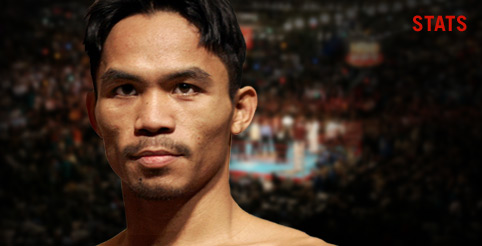 Update as of January 28 2009  10:55 AM Pacific Time:
Lance Pugmire from the L.A. Times has posted that both Pacquiao and Hatton have signed the contracts for the May 2 boxing event in Las Vegas.  FINALLY!
It's official: Ricky Hatton signs and fight with Manny Pacquiao is on - L.A. Times
Update as of January 23 2009  8:45 AM Pacific Time:
ESPN reports that Manny has reversed his position on the fight and has agreed to the terms.  Nothing has been officially announced by Top Rank or Golden Boy but it looks like the fight is back on.  Way to go you greedy assholes!

Hatton, Pacquiao headed for May 2 bout – ESPN.com
Manny Pacquiao-Ricky Hatton bout may be back on – L.A. Times
Pacquiao confirms fight with Hatton 'is on' – FOX Sports 
Update as of January 21 2009  12:00 PM Pacific Time:
As of right now, this fight isn't going to happen. Way to go you greedy assholes!
Pacquiao won't sign; fight called off – ESPN.com
Ricky Hatton's rejection of Pacquiao fight came down to the contract – L.A. Times
Update as of January 13, 2009  4:55 PM Pacific Time:
The fight is in limbo right now.  The L.A. Times is reporting that Pacquiao has backed away from a 50/50 purse split and is looking for a 60/40 split.  Let's hope people come to their senses so that this fight can happen. 
Purse spat jeopardizes Manny Pacquiao-Ricky Hatton fight – L.A. Times
Update as of January 6, 2009 2:22 PM Pacific Time:
The fight date looks to be May 2nd in Las Vegas.  Only thing being published online is that a Pacquiao vs. Hatton fight deal is almost complete.  The contracts haven't been signed yet but news sources are saying that the fighters are on board with making it happen. Stay Tuned.
Pacquaio-Hatton Is On, 99.9% On – The Sweet Science
Hatton set to fight Pacquiao in May – The Guardian (UK)
Boxing Still Alive as Pacquiao, Hatton Close to Deal - TalkingBoxing.com  
Ricky Hatton "on board" with Pacquiao fight being in Vegas – L.A. Times