A Gold Medal Strategy for the Philippines
August 15, 2008 · Posted in Uncategorized

Olympic fever has struck and I'm all in.  The swimming races, the basketball games, and even the badminton mixed doubles are things I find myself mesmerized by… in hi-def of course.  I'm cheering for Phelps, Coughlin, Kobe, and anyone representing the good 'ol U.S. of A. 
I'm also pulling for Team Philippines… all 15 of them.  The Philippines is competing in archery, shooting, taekwondo, swimming, boxing, long jump and diving.  The Philippine government even put up $220,000 for the first athlete to win a gold medal for the Philippines. (And no, the 1988 gold medal in women's bowling doesn't count 'cause it was an exhibition sport.)  The money is a great incentive but I'm not sure if it is enough for a crispy pata eater to bring the gold back to the archipelago. 
Let's face it, there are only a few Filipinos competing in each of those events with swimming having five competitors.  That makes it the sport with the most participants from the team.   And if you've been following swimming, the chances of someone from team Philippines winning a gold medal are pretty slim.  I'm not saying it can't be done. I'm just saying the chances are slim.
I would really love to see a Pinoy bring home the gold for the Philippines at an Olympic games during my lifetime.  However, I don't think that the Philippine Olympic strategy is working because the Philippines has been sending a squad to the Olympics since 1924 and the motherland hasn't gotten a single gold medal in an official Olympic sport.  China didn't start sending a squad until 1932 and they're totally kicking ass now!  Maybe it has something to do with the fact that China dedicated resources and effort in winning some medals along with strategically selecting sports they would find success in.  And I guess the fact that they have a larger pool of people to choose from doesn't hurt.
My suggestion to the Philippine Olympic committee is to take a page out of the China strategy book and pick a few sports, dedicate some resources to it, and then find some underaged girls to compete in them.  Ok, maybe not the underaged girls but I do have some ideas that should be considered.
For starters, let's just eliminate any sport where height is an asset so kiss basketball and volleyball goodbye.  It's not worth it to spend pesos on an Olympic basketball squad only to become the new Angola. 
Next is to eliminate team sports.  I am a fan of team sports but if the goal is to maximize the chances for a gold medal, the Philippines should not devote multiple athletes to a single sport just to win one medal in a two week competition.  That gets rid of handball, water polo, rowing, field hockey, and soccer.
And don't even bother with equestrian.  It's hard enough to get Pinoy athletes to be disciplined what more trying to get a Pinoy horse to pull off a jump. 
So let's focus on other individual medal sports. 
Even though the United States and Australia are the two powerhouses in swimming, there is hope for the Philippines.  I'm not talking about trying to cultivate athletes in this sport, I'm talking about jacking athletes from another country.  Yep, I'm saying offer Natalie Coughlin one of the 7,107 islands or some prime real estate in either Panglao or Boracay in exchange for her partial citizenship.  NBC spent all their coverage on Phelps so all ABS CBN has to do is just become the all Natalie channel and then the country will be her oyster.  And once she's done getting the gold for the Philippines, she just has to buy the Tagalog package from Rosetta Stone language tutoring and she'll be well on her way of being a movie superstar… in the Philippines of course.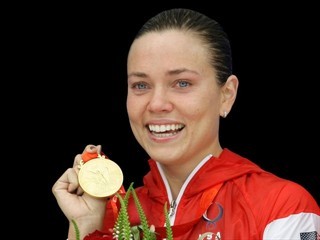 I can already imagine a movie starring Manny Pacquiao and Natalie Coughlin.  It would be some really weird action love story about people from different worlds that have to pull off a rescue mission for some kidnapped tourists.  Natalie would play a spy that would have to swim the backstroke to the secret island headquarters of the bad guy in order to turn off the island security systems so that Manny could lead an elite group of fighters to infiltrate the island and punch the fuck out of everyone. 
While I'm on the topic of Manny Pacquiao, I'm sure some of you are thinking, "Why doesn't the Philippines just devote more resources in developing boxers to win gold medals?"   That would be good but the scoring system in Olympic boxing isn't conducive to Filipino boxers.  We're the types of fighters that'll take a few punches in order to go for a knock out so that may not work well in amateur boxing. 
However, there is a Filipino athlete in a contact sport that the Philippines can try to get in order to represent the country in the hopes for a gold medal.  The sport I'm talking about is heavyweight Olympic wrestling.  The athlete – WWE Superstar Dave Batista.  Batista would easily dominate the competition.  His opponents would try to get big Dave on the mat but all he would need to do is point the thumbs down and BATISTA BOMB! Instant medal.
Not all means to a gold medal involve bringing in Filipino athletes that grew up in the United States.  There are sports were the natural resources of the mother country combined with Filipino cultural tendencies could be leveraged for athletic glory. Two sports come to mind.
The first one is sailing.  All the resources could be poured into making a kick ass yacht and then the native maritime instincts of our Filipino-ness should kick in.  If our people could manage to navigate across the damn Pacific Ocean during those galleon trades (big ass Spanish boats for the old school Pinoylife fans), then it's not too far fetched to see Pinoys navigate their way to a gold medal.  The country is surrounded and divided by water. It's not like you have to invest in a new training facility.
The second sport where the Philippines should focus their resources is a sport where we have shown great skill.  Now, these displays of skill haven't been done in competition but Filipinos have proven that they possess the talent to go far in this sport.  That's right, I'm talking about shooting. 
Who are some of the people that have shown that Filipino skill with a gun?  Does the name Andrew Cunanan ring a bell?  What about the dude that took out Benigno Aquino?  Heck, every year we hear of at least one report of some assassination plot against Gloria Macapagal Arroyo.  These assassination plots would require someone that has the skill to hit a target with a gun.  So instead of trying to kill the president for some stupid political statement, why not use that passion and drive for Olympic gold!  I'll take the chance at being a national hero over jail time or public execution any day. 
What? I'm serious about this!
Boats + Guns + Filipinos = Gold Medals. 
It's that simple.
Comments