Hawaiian Little League Team Wins World Championship
August 25, 2008 · Posted in Uncategorized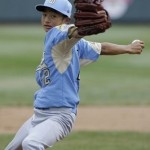 There might have been very little Filipino representation in the 2008 Beijing Olympics, but one championship event this week was full of Pinoy representation as the Waipi'o little league baseball team beat the team from Matamoros, Mexico, 12-3 to win the Little League World Series Sunday in South Williamsport, PA.
The team, representing the US West region, beat the Mexican team, whose players are taller, have averaged eight runs a game and beat Japan's little league representatives during the International Championship round Saturday. On that day, the Hawaiian little leaguers scored an improbable 7-5 victory against the team from Lake Charles, LA (representing the US Southwest) after rallying from a 5-1 deficit to score six runs in at the top of the 6th and final inning to win the game and move on to the World Championship.
The Aloha State's team hails from Waipahu, a Honolulu suburb known for its large Filipino population, and owed much of its success to players like pitcher Caleb Duhay (pictured), who pitched 5 1/3 innings with only three earned runs in the final match. Duhay also contributed three runs and a hit of his own at the plate. Catcher Keelen Obedoza scored a hit as well. Other Pinoys on the team such as outfielders Jedd Andrade, Matthew Yap and Jordan Ulep also contributed to the team's championship. 
News Link: http://www.honoluluadvertiser.com/apps/pbcs.dll/article?AID=/20080824/BREAKING02/80824033
Box Score: http://www.littleleague.org/series/2008divisions/llbb/WSBoxScores/llws32.html
Little League site: http://www.littleleague.org
Big thanks to Elson Trinidad for sending this in.
Comments