Farmer Johneric breaks down Pacquiao vs. De La Hoya
December 4, 2008 · Posted in Uncategorized
by Farmer Johneric of the Fighting Cocks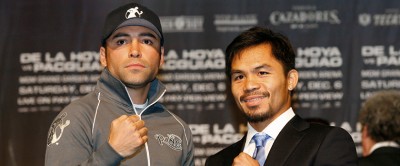 "There will be a knockout."
A claim made by the Golden Boy of Boxing Oscar De La Hoya on his upcoming battle with reigning pound-for-pound champion Manny "Pac-Man" Pacquiao. I would have to agree. But the question remains. Who is getting knocked out and when?
So before the big BBQs that will be on and cracking in every Pinoy, Latino, and fight fanatic's pad, let's run this down.
Let me say this, I have always been a fan of Oscar de la Hoya. From his entry point into boxing notoriety in the 1992 Barcelona Olympics to every pay-per-view fight and HBO broadcast. He has faced the premier fighters of our time and is the mastermind behind one the most lucrative boxing promotion companies, Golden Boy Promotions. He's an East Los (East L.A), American Dream.
A converted southpaw with knock out potential from a jab, Oscar is 5 ½ inches ahead of any punch his opponent is capable of throwing. His jaw has been challenged with the punches from future Hall of Famers, such as Shane Mosley and Pernell Whittaker, and has only been knocked down by a liver punch delivered by a larger boxer and future hall of famer Bernard Hopkins. He's developed one of the most comprehensive training regimens using custom built private gyms and a library of boxing expertise. Think of him as having Apollo Creed's braintrust and Ivan Drago's training facilities.
Against high caliber opponents in their prime, Oscar de la Hoya has faced boxers that, in my honest opinion, could defeat Manny in a "what if?" matchup. "Sugar" Shane Mosley, Felix "Tito" Trinidad, and Floyd "Money" Mayweather, Jr. could have each brought problems to Manny while Oscar was able to go the distance and on some cards defeated these top fighters.
He's second only to Tiger Woods for the yearly payday he commands. When asked for his future plans, he was quoted on saying he has "goals of becoming a billionaire." How ballin' is that?!?!
What I'm trying to get at is this: Oscar has worked tirelessly towards his legacy of success and he is not the type to allow anyone tarnish it.
As Oscar was establishing his legacy, a young man from the Philippines named Emmanuel Pacquiao (aka Manny) was just starting his boxing career by fighting in order to eat. In 1995 at the age of 16 and weighing in at 106 pounds, this fighting cock (paacckkaaaccckkk!!!) used his fists in ferocious fashion to not only beat his opponents but to escape the hunger that he and so many others around him faced on a daily basis.
His popularity skyrocketed on November 15, 2003 with his dominating upset victory against the heavily favored Marco Antonio Barrera. Since that fight, he has evolved into the pound-for-pound best fighter in boxing today under the tutelage of trainer Freddie Roach.
At home and abroad, Manny provides an unbelievable sense of dignity for Filipinos in a job he humbly excels at. With fists of molten lava, Manny Pacquiao represents a rich legacy of elite fighters from the Philippines and has sparked a new interest amongst Filipinos worldwide to lace up the gloves. Not since the Golden Era of Pinoy Boxing from the 1920s to the 1940s has the world looked towards the South East Asian island chain for emerging talent. Manny has a combination of Flash Elorde's blinding speed, Ceferino Garcia's power, and Pancho Villa's heart. Garcia, being the largest Filipino World Champion at Middleweight, was only 5'7'' and removed doubts on how effective the Filipino frame can be with enough pinakbet, fried chicken, and solid training.
Manny's hunger to achieve success shows in his growing repertoire of pain-delivering punches. From his trademark straight left, to "Manila Ice" (sweeping right hook), and – as clearly shown in recent training footage – a flurry of hooks to the body, Manny's development as a dangerously well-balanced slugger has been evident with each fight.
But has Manny's capabilities matured well enough to face a fighter that has a height, reach, size, and experience advantage over him? A few keys to look for, in this match up:
Oscar De La Hoya – Keys to victory
Oscar must withstand the 1st round flurry that Manny is speculated to deliver, while establishing a stunning jab and quick footwork around the "Pacman." When Oscar starts to bounce on his tiptoes he gets extremely comfortable and starts to systematically throw 3 punch combinations starting with a straight left to the body. With trainer Ignacio "Nacho" Beristain on board in his camp, expect Oscar to use short counter punches with angled footwork. Although many can argue that Oscar tires in the middle rounds, his Compubox fight numbers at 150lbs against Steve Forbes earlier this year had him amassing over 800 punches in 12 rounds with 31% accuracy. With the potency of Oscar's left, his jabs become power shots that can reach Manny before he even winds up for a punch.
His last fight at welterweight was seven years ago against the pride of Italy, Arturo "The Human Highlight Film" Gatti. Gatti is 1 inch taller than Manny Pacquiao with a comparable reputation for bringing the ruckus and Oscar was viciously dominant in that bout.
Look for Oscar to work the left into hooking combinations. If he can counter Manny's onslaughts with a stiff jab and figures out Pacquiao's timing, it's going to be a long night for Filipino fight fans.
Manny Pacquiao – Keys to victory
Manny must attack the body of De La Hoya at the onset of the bell even as Oscar attempts to throw lefts using his height and reach advantage. As mentioned earlier, Oscar's only loss by knockdown was from a liver punch by Bernard Hopkins and with Manny being the shorter man, a "Davao Dynamite" liver punch from his left hook is possible. As long as he can stay active on the body and keep Oscar busy throughout the fight, Manny's solid 3-punch combo will be more effective in the later rounds. When throwing the straight left, Manny must have his right hand up to defend Oscar's potent left hook.
Look for Manny to throw a right jab into a left-hook to the body, finished off with a Manila Ice right-hook to the temple. Solid body shots could bring Oscar's arms down leaving his head exposed or have him crouching, which will take his height advantage away. Speed is key to Manny's strategy. Manny needs to punch first, counter first, and angle away from harm first while always throwing.
The Fighting Cock Prediction
In one corner is Oscar De La Hoya – the flag bearer of the sport of boxing that has done everything right on the road to fame and fortune. He's an Olympic Gold Medalist, an 11 time world champion, and a thriving entrepreneur. He's faced the best in the business and has a burning desire to be accepted into discussions of all-time great Mexican boxers by knocking out the so-called "Mexicutioner".
In our corner stands Manny Pacquiao – a shining example of success that has emerged from the poverty of the Philippines. He exemplifies and embodies the fighting spirit of a nation – a fighting spirit that has been defined by hand-to-hand combat on the battlefield, the political arena, the backyard cock fight, and the squared circle.
Although it pains me to say it, from looking at what's on paper, Oscar is the clear favorite with a 9th round stoppage from a left hook. That's what I could see happening on this historic night.
But when history is on the line and Filipinos are fighting for pride, amazing things have happened.
Comments