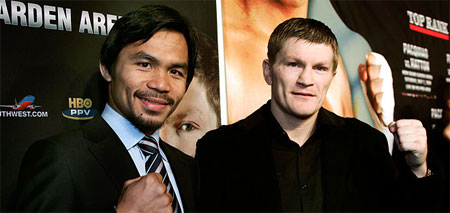 I'm going to make this as simple as possible.  Manny should win this fight.  I'm not saying this because I'm Pinoy and blindly nuthug the Pac-man like the majority of the ignorant drones on Manny Pacquiao's website forums.  I do watch non-Manny Pacquiao boxing and have been following the sport for many years.  There is a short list of names when you want to have a conversation about active boxers that can lay claim to being considered an elite fighter.  That short list should include Shane Mosley, Bernard Hopkins, Paul Williams, Miguel Cotto, and Manny Pacquiao.  Ricky Hatton is not on that list.
by Farmer Johneric of the Fighting Cocks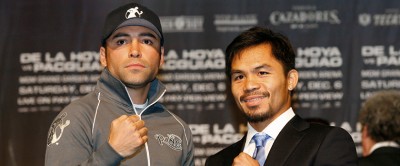 "There will be a knockout."
A claim made by the Golden Boy of Boxing Oscar De La Hoya on his upcoming battle with reigning pound-for-pound champion Manny "Pac-Man" Pacquiao. I would have to agree. But the question remains. Who is getting knocked out and when?
So before the big BBQs that will be on and cracking in every Pinoy, Latino, and fight fanatic's pad, let's run this down.