Charice sings at Obama's pre-inauguration party. That makes no sense.
January 20, 2009 · Posted in Uncategorized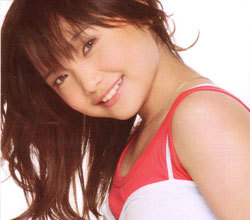 Charice, the young vocal sensation from the Philippines, sang for Barack Obama's pre-inaugural party on January 18.
Here's TV Patrol's news coverage in wondrous low def.

I've been a big fan of Charice and applaud her every accomplishment. This post is no way a knock on Charice's amazing talent or her somewhat large head (hopefully she'll grow into it and not look like a walking lollipop a la her idol Celine Dion). But I do need to question why she was picked to sing "God Bless America" for an American presidential event.
You see, like many of you reading this site, I am an American of Filipino ancestry.  I have roots and ideals that were shaped by the culture of my native land but I consider the United States to be my home and my chosen national identity.  Say what you will but I've bought into the red, white and blue.  I mainly speak English and I speak better Spanish than I do Tagalog or any other Philippine dialect (thanks a lot Los Angeles).  I'm more passionate about American politics, American society, and American pop-culture because that is what surrounds my day-to-day life. 
I'm happy to be alive to witness such a historical moment with the election of Barack Obama.  He electrified the populace as no other political figure has done in this country in a long time.  And the people have responded to Obama with rock star welcoming ovations and overwhelming optimism. 
With so much fervor in celebrating the election of a new American president, the powers that be decided to get a teenage girl from the Philippines to sing "God Bless America"?  Seriously folks, what the hell does Charice know about living in this country aside from being on daytime t.v., a Thanksgiving parade, a few performances for special events, and countless Filipino expos that sell time shares and salad masters? 
The freaking lyrics of God Bless America even end with the words "God bless America, my home sweet home."  Dude, even if this girl was 18, she wouldn't have been able to vote for Obama! 
Then again, it was because of American exposure that Charice rose in popularity.  It was because of an American company called YouTube that she became a viral video superstar.  So maybe it was appropriate for her to sing "God Bless America" 'cause she's about to get paid some serious Benjamins and not Benignos.
But hey, this is really a minor thing and I'm glad she got the exposure. Good job to David Foster for getting Charice some publicity and please, enough with the freaking cover songs already.
In closing, I leave with this final thought…
Charice is a cylon.
Comments