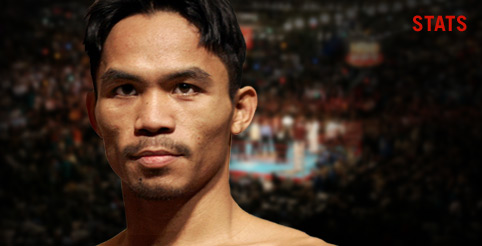 Update as of January 28 2009  10:55 AM Pacific Time:
Lance Pugmire from the L.A. Times has posted that both Pacquiao and Hatton have signed the contracts for the May 2 boxing event in Las Vegas.  FINALLY!
It's official: Ricky Hatton signs and fight with Manny Pacquiao is on - L.A. Times
Update as of January 23 2009  8:45 AM Pacific Time:
ESPN reports that Manny has reversed his position on the fight and has agreed to the terms.  Nothing has been officially announced by Top Rank or Golden Boy but it looks like the fight is back on.  Way to go you greedy assholes!

Hatton, Pacquiao headed for May 2 bout – ESPN.com
Manny Pacquiao-Ricky Hatton bout may be back on – L.A. Times
Pacquiao confirms fight with Hatton 'is on' – FOX Sports 
Update as of January 21 2009  12:00 PM Pacific Time:
As of right now, this fight isn't going to happen. Way to go you greedy assholes!
Pacquiao won't sign; fight called off – ESPN.com
Ricky Hatton's rejection of Pacquiao fight came down to the contract – L.A. Times
Update as of January 13, 2009  4:55 PM Pacific Time:
The fight is in limbo right now.  The L.A. Times is reporting that Pacquiao has backed away from a 50/50 purse split and is looking for a 60/40 split.  Let's hope people come to their senses so that this fight can happen. 
Purse spat jeopardizes Manny Pacquiao-Ricky Hatton fight – L.A. Times
Update as of January 6, 2009 2:22 PM Pacific Time:
The fight date looks to be May 2nd in Las Vegas.  Only thing being published online is that a Pacquiao vs. Hatton fight deal is almost complete.  The contracts haven't been signed yet but news sources are saying that the fighters are on board with making it happen. Stay Tuned.
Pacquaio-Hatton Is On, 99.9% On – The Sweet Science
Hatton set to fight Pacquiao in May – The Guardian (UK)
Boxing Still Alive as Pacquiao, Hatton Close to Deal - TalkingBoxing.com  
Ricky Hatton "on board" with Pacquiao fight being in Vegas – L.A. Times
Hello Pinoylifers (and the brand new army of haters – thanks for the traffic).  2009 is starting off strong for Pinoy stand-up comedy.  Jo Koy had his first hour long special air on Comedy Central in early January and on January 19, Edwin San Juan's SlantEd Comedy show had its first Showtime taping that featured Edwin, Bernadette Balagtas, Joey Guila, Dan Gabriel, Ron Josol, and Paul Ogata.
Here are some photos from the January 19th SlantEd Comedy show taping at the El Rey Theatre in Los Angeles, CA.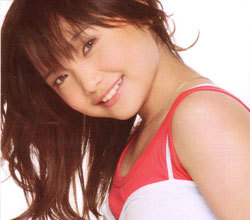 Charice, the young vocal sensation from the Philippines, sang for Barack Obama's pre-inaugural party on January 18.
Here's TV Patrol's news coverage in wondrous low def.

I've been a big fan of Charice and applaud her every accomplishment. This post is no way a knock on Charice's amazing talent or her somewhat large head (hopefully she'll grow into it and not look like a walking lollipop a la her idol Celine Dion). But I do need to question why she was picked to sing "God Bless America" for an American presidential event.
2009 is starting off big for Pinoy comedians.  First we get the Jo Koy special on Comedy Central and now Ed San Juan's "SlantEd" Comedy Show is getting taped for Showtime.  The show is part of the LOL Comedy Festival and the line up is loaded with some of the best in Pinoy stand-up comedy today.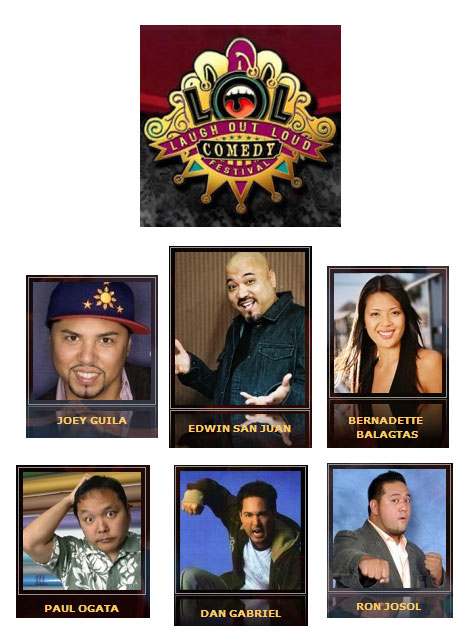 It all takes place on Monday, Jan. 19 (MLK Holiday) at 3:30 p.m at the El Rey Theatre in Los Angeles. Tickets are $15 for general admission and $25 for VIP (not including all the fees Ticketmaster and the El Rey tack on… those bastards).  
And to Ed, Bernadette, Ron, Joey and Dan, the folks behind this site are proud of you. Congrats on achieving this milestone! See you guys on the 19th.
LOL Comedy Festival Official Website
Buy Tickets – Ticketmaster.com
——–
Websites:
Edwin San Juan – www.myspace.com/edwinsj
Ron Josol – www.myspace.com/ron_josol
Dan Gabriel – www.dangabriel.net
Bernadette Balagtas – www.bernadettelive.com
Joey Guila – Joey's Myspace Page (cause JoeyGuila.com is still being worked on)
Pinoy comic Jo Koy gets his own Comedy Central stand-up special titled "Don't Make Him Angry" premiering on Sunday, January 4, 2009 at 10pm EST/PST.  A big congrats to this hard working comedian as he takes another step towards comedy superstardom.  Make sure to set your DVRs and tune in to watch Comedy Central on Sunday night.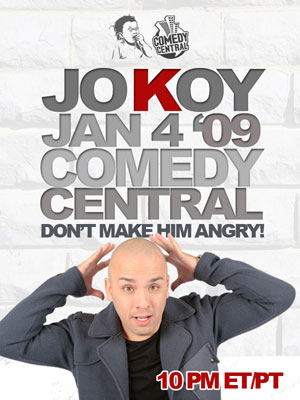 Big props to Bambu for the new music video. Thanks for the link AJ!
Crooks and Rooks
by Bambu

Bambu "Crooks & Rooks" Music Video (Short Film Version) from Kid Heroes on Vimeo.
Behind the scenes video:

Bambu "Crooks and Rooks": Behind the Scenes from Xylophone Films on Vimeo.