Album Review: Bambu Gives the World "…exact change…"
September 14, 2008 · Posted in Uncategorized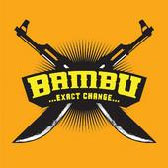 Album: …exact change…
Artist: Bambu | www.bambu.la
Release Date: September 11, 2008
Bambu has unleashed his latest musical fury with his third album "…exact change…" and adds further depth to his already vast hip-hop artistry.  One thing that really sets his songs apart from the "rap" that gets played on mainstream outlets is the wide variety of social topics he can masterfully rhyme about and still have people bob their heads to it. 
I first heard of Bambu in 2002 through a college friend who was very particular when it came to hip-hop music.  She only listened to stuff that "kept it real" to the roots of hip-hop.  My tastes are pretty close to hers so she got me a copy of Bambu's first album "Self Untitled" which I reviewed on a previous version of PinoyLife.com.  That album was a breath of fresh air as it offered a different view of things that hip-hop wasn't talking about at that time.  With his debut album, Bambu defined himself as a rapper that was going to align his legacy with artists such as KRS-One and Chuck D – intelligent lyricists that weren't afraid to be controversial and delivered songs with soul and meaning. 
Today's popular rap artists can only talk about things like selling millions of records, spending lots of money, and encouraging men to look at women as "bitches."  The sad thing is that these are the songs that sell. 
"…exact change…" breaks the modern day hip-hop mold by, ironically, being true to hip-hop's roots.  Bambu introduces himself with the song "Spare Change" as a common person with a lot on his mind while trying to be a good father as he struggles to pay the bills. In this song, he shares his political views in hoping for a better society in the world by calling attention to the ills that plague the urban neighborhoods of America then effortlessly switches his lyrical style to rapping in Tagalog in order to speak about the poverty that affects people in the Philippines.  The track is produced by Nick James and it sets the tone for the whole album as it has all the basics of hip-hop music – solid drum beats, creative sampling, and bold lyrical delivery. 
The second track "Swing" features guest rapper Zion I and is produced by Amplive.  It is the song that closest resembles something you would hear on mainstream hip-hop radio stations and fixed up SUVs.  And even though it sounds like a nice club banger, the song is about fighting back against police brutality.  Fuckin' awesome!
Track by track, you hear the music influences of r&b / soul rhythms, reggae, west coast gangsta rap, daisy age / abstract hip-hop, and even classic rock as Bambu samples the opening organ riff from Iron Butterfly's "In-a-Gadda-Da-Vida" and transforms it into a commentary about hate speech, greed, and ignorance in his song "Out The Gate".  He also samples Black Sabbath's classic metal song "Iron Man" and flips it into a guitar fueled, flow exhibition titled "Iron Bam".  I just wonder if he watched the movie with Robert Downey, Jr. and got inspired to write a song.
There are a lot of things to digest with this album as Bambu has an opinion on a wide array of topics and is not shy from letting you know exactly what is on his mind.  From people fronting on myspace, to the economy, to urban gangs, religion, and racism, Bambu not only shares his thoughts, he does it in different lyrical styles that really show how serious he takes his craft of being a rapper. 
The one track that stands out is "Seven Months" – a song from the perspective of a soon-to-be father as he ponders life in seven months when his child will be born.  It's a song that, again, goes against the grain of modern day rap as it shows a man's vulnerability while praising the virtues of being a responsible father and showing respect to women. 
"…exact change…" does exactly what its loaded title means.  It is a call for people to change society.  The songs are a statement to change the direction of hip-hop.  Bambu gives you exact change. He gives you everything he has – all his heart and soul in the form of fifteen tracks without padding it with fluff.
And if you need one more reason to get this album, track twelve is an interlude by the band with the greatest name in the Filipino American community… THE FIGHTING COCKS!!!  See, even Bambu recognizes the power of cocks. 
Buy "…exact change…" on www.beatrock.com or at Amoeba Records. 
Available on iTunes and cdbaby.com/bambumusic in October 2008
Listen to tracks from "…exact change…" on Bambu's myspace page: www.myspace.com/bambumusic
Comments