Prediction on Pacquaio vs. Hatton
May 1, 2009 · Posted in Uncategorized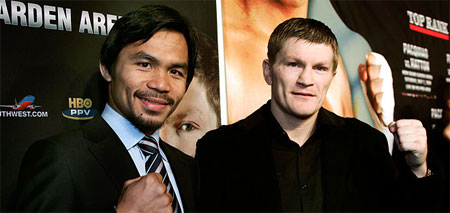 I'm going to make this as simple as possible.  Manny should win this fight.  I'm not saying this because I'm Pinoy and blindly nuthug the Pac-man like the majority of the ignorant drones on Manny Pacquiao's website forums.  I do watch non-Manny Pacquiao boxing and have been following the sport for many years.  There is a short list of names when you want to have a conversation about active boxers that can lay claim to being considered an elite fighter.  That short list should include Shane Mosley, Bernard Hopkins, Paul Williams, Miguel Cotto, and Manny Pacquiao.  Ricky Hatton is not on that list.
Don't get me wrong, I like Ricky Hatton. He and Manny will put on a great show.  But after what I've seen with his fights, he's only had one truly outstanding performance in his career and that was against Kostya Tszyu in 2005.  His fights since then have either been unimpressive wins over B-rated boxers (see Paul Malignaggi) or a flat out loss by KO against an elite fighter in Floyd Mayweather, Jr.
HBO and British fight fans have done a great job in building up Ricky Hatton as a formidable opponent. 
But I don't think Ricky can pull off the upset.
Manny is simply a more skilled fighter.  He's faster, has better footwork, fought a better pedigree of opponents, and when he follows the game plan that Freddie Roach lays out for him, it normally ends up with a win for the Pac-man. 
The only way that Manny loses this fight is if he slacked off in training and let all the pointless distractions surrounding him affect his focus in preparing for the fight.    
Expect an action packed fight with rabid fans from England, the Philippines, and the United States cheering wildly in Las Vegas.  Expect Hatton to bring his A-game as he seeks redemption from his loss to Floyd Mayweather, Jr.  And expect Manny Pacquiao to deliver another 5-star boxing performance and prove why so many boxing experts call him the best pound-for-pound boxer on the planet. 
Manny with a KO in the 9th round. And that's being nice.
It's only a prediction.  I could be wrong and Hatton could knock Manny out within the first few rounds.  Yeah right. 
Take it to him Manny.  Make him and Floyd Mayweather, Sr. know what Pac-man Knows.
Comments