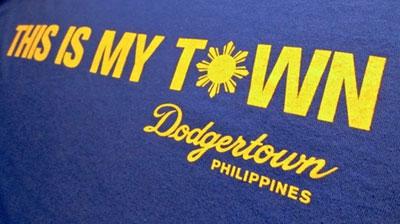 The official My Town Philippines souvenir shirt from the Los Angeles Dodgers (Photo taken by Jon Bareng which I took from him off Facebook)
On Tuesday, August 18th, the Los Angeles Dodgers put an end to the St. Louis Cardinals' 5-game winning streak with a 7 to 3 victory.  Over 49,000 baseball fans were in attendance at Dodger stadium that night to witness an action filled game complete with overpriced food and liquor. 
For the Filipinos that went to the game that night, the evening's story wasn't just about a night at the ballpark.  The Dodgers marked that specific evening as Filipino Heritage Night.  To celebrate this special night, the right field reserve section was decorated to say My Town Philippines and the 800 people that got tickets for that special area were given access to all you can eat concessions, a special Filipino food menu and a souvenir t-shirt that said "This Is My Town, Dodgertown Philippines".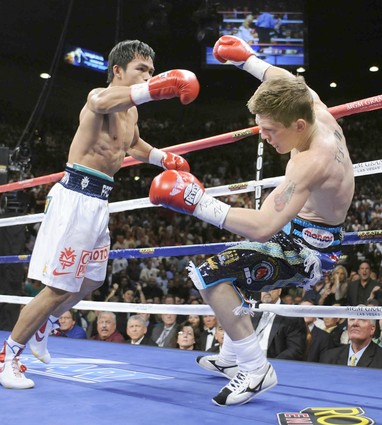 Manny Pacquiao introduces world class speed and punching power to Ricky Hatton. Wally Skalij – L.A. Times
I had a plan to do some gloating last night.  My Filipino flag was ready and I had a few spots in L.A. scoped out to wave it in the event that Manny won the fight.  
Manny made short work of Ricky "Hitman" Hatton with a devastating knock out punch in the 2nd round.  I predicted Manny would win but I wasn't expecting the fight to end so soon.  Everything was said and done by 8:45 pm!
The brutal knock out made me rethink the gloating plans.  Hatton fans didn't deserve anymore grief as their fighter was a class act.   I decided to scrap the gloating plans and just enjoyed a victory drink at Tiki Ti – a local Filipino American owned bar.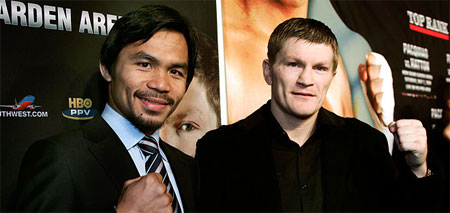 I'm going to make this as simple as possible.  Manny should win this fight.  I'm not saying this because I'm Pinoy and blindly nuthug the Pac-man like the majority of the ignorant drones on Manny Pacquiao's website forums.  I do watch non-Manny Pacquiao boxing and have been following the sport for many years.  There is a short list of names when you want to have a conversation about active boxers that can lay claim to being considered an elite fighter.  That short list should include Shane Mosley, Bernard Hopkins, Paul Williams, Miguel Cotto, and Manny Pacquiao.  Ricky Hatton is not on that list.
by A Very Opinionated Pinoy Dude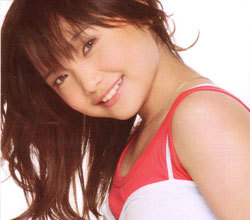 (Disclaimer: Here at Pinoylife, we may be a bit L.A.-biased when it comes to pro sports teams, so I'm afraid you're gonna have to deal with it.)
I got a chance to ditch work on Monday and go to Dodger Stadium to see the Dodgers home opener vs. the hated Frisco Giants. I know a lot of Frisco fans have cum in their pants (pun intended) lately due to a certain half-Pinoy pitcher, but us Dodger fans have our perks too. For Opening Day the sellout record crowd of 57,099 were treated to none other than 16-year old singing sensation (wait, wasn't she the 15-year old singing sensation last year?) Charice Pempengco, singing the "Star-Spangled Banner" as the big-ass American flag was unfurled.
There was also an international theme as flags of 30 nations (including the Philippine flag) of which the Dodgers have had some relationship with were carried into the infield.
Missed it? My infamous video camera caught the performance!
Okay yeah, she's not even a U.S. citizen, but you gotta admit, she can rock the anthem better than most citizens could.  Speaking of which, she's spent an awful lot of time here in the States lately. And one of the songs played before the game was AC/DC's "T.N.T." Coincidence?
 
After her performance, a B2-stealth bomber flew overhead, hundreds of doves were released, Vin Scully threw out the ceremonial first pitch to open up a game which had Dodger outfielder Andrew Either hit two homeruns, pitcher Chad Billingsley throw 11 strikeouts, and new infielder Orlando Hudson hit for the cycle with a homerun, a single, a double and a triple all in the same game – a rare feat not accomplished since 1970!
Oh yeah, the Dodgers won 11-1. Sorry Frisco fans. Tsk, tsk.
At this rate, we should have Charice sing the national anthem every day.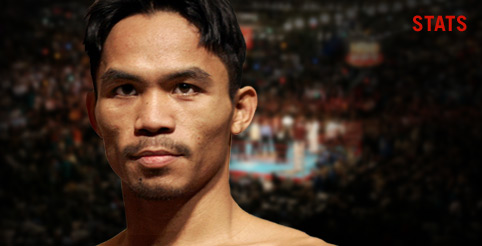 Update as of January 28 2009  10:55 AM Pacific Time:
Lance Pugmire from the L.A. Times has posted that both Pacquiao and Hatton have signed the contracts for the May 2 boxing event in Las Vegas.  FINALLY!
It's official: Ricky Hatton signs and fight with Manny Pacquiao is on - L.A. Times
Update as of January 23 2009  8:45 AM Pacific Time:
ESPN reports that Manny has reversed his position on the fight and has agreed to the terms.  Nothing has been officially announced by Top Rank or Golden Boy but it looks like the fight is back on.  Way to go you greedy assholes!

Hatton, Pacquiao headed for May 2 bout – ESPN.com
Manny Pacquiao-Ricky Hatton bout may be back on – L.A. Times
Pacquiao confirms fight with Hatton 'is on' – FOX Sports 
Update as of January 21 2009  12:00 PM Pacific Time:
As of right now, this fight isn't going to happen. Way to go you greedy assholes!
Pacquiao won't sign; fight called off – ESPN.com
Ricky Hatton's rejection of Pacquiao fight came down to the contract – L.A. Times
Update as of January 13, 2009  4:55 PM Pacific Time:
The fight is in limbo right now.  The L.A. Times is reporting that Pacquiao has backed away from a 50/50 purse split and is looking for a 60/40 split.  Let's hope people come to their senses so that this fight can happen. 
Purse spat jeopardizes Manny Pacquiao-Ricky Hatton fight – L.A. Times
Update as of January 6, 2009 2:22 PM Pacific Time:
The fight date looks to be May 2nd in Las Vegas.  Only thing being published online is that a Pacquiao vs. Hatton fight deal is almost complete.  The contracts haven't been signed yet but news sources are saying that the fighters are on board with making it happen. Stay Tuned.
Pacquaio-Hatton Is On, 99.9% On – The Sweet Science
Hatton set to fight Pacquiao in May – The Guardian (UK)
Boxing Still Alive as Pacquiao, Hatton Close to Deal - TalkingBoxing.com  
Ricky Hatton "on board" with Pacquiao fight being in Vegas – L.A. Times
Hello Pinoylifers (and the brand new army of haters – thanks for the traffic).  2009 is starting off strong for Pinoy stand-up comedy.  Jo Koy had his first hour long special air on Comedy Central in early January and on January 19, Edwin San Juan's SlantEd Comedy show had its first Showtime taping that featured Edwin, Bernadette Balagtas, Joey Guila, Dan Gabriel, Ron Josol, and Paul Ogata.
Here are some photos from the January 19th SlantEd Comedy show taping at the El Rey Theatre in Los Angeles, CA.
2009 is starting off big for Pinoy comedians.  First we get the Jo Koy special on Comedy Central and now Ed San Juan's "SlantEd" Comedy Show is getting taped for Showtime.  The show is part of the LOL Comedy Festival and the line up is loaded with some of the best in Pinoy stand-up comedy today.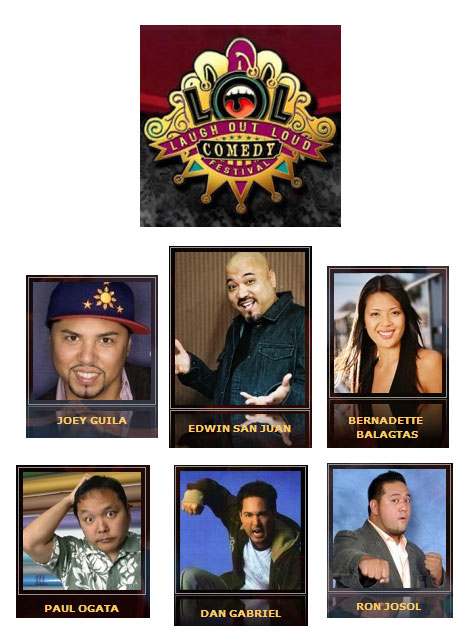 It all takes place on Monday, Jan. 19 (MLK Holiday) at 3:30 p.m at the El Rey Theatre in Los Angeles. Tickets are $15 for general admission and $25 for VIP (not including all the fees Ticketmaster and the El Rey tack on… those bastards).  
And to Ed, Bernadette, Ron, Joey and Dan, the folks behind this site are proud of you. Congrats on achieving this milestone! See you guys on the 19th.
LOL Comedy Festival Official Website
Buy Tickets – Ticketmaster.com
——–
Websites:
Edwin San Juan – www.myspace.com/edwinsj
Ron Josol – www.myspace.com/ron_josol
Dan Gabriel – www.dangabriel.net
Bernadette Balagtas – www.bernadettelive.com
Joey Guila – Joey's Myspace Page (cause JoeyGuila.com is still being worked on)
Pinoy comic Jo Koy gets his own Comedy Central stand-up special titled "Don't Make Him Angry" premiering on Sunday, January 4, 2009 at 10pm EST/PST.  A big congrats to this hard working comedian as he takes another step towards comedy superstardom.  Make sure to set your DVRs and tune in to watch Comedy Central on Sunday night.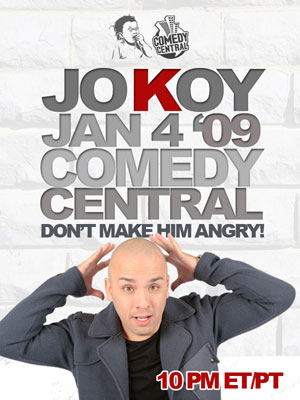 December 6, 2008 will go down in history as the night Manny Pacquiao became a superstar. It's also the night where two groups threw Manny Pacquiao after parties in Las Vegas.  One was the official one.  One wasn't.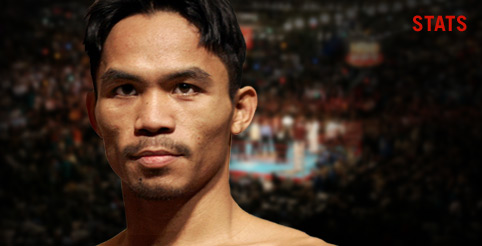 The second installment of the Pacquiao – De La Hoya 24/7 series was, once again, a solid piece of documentary work by the HBO Sports crew.  The show depicted Pacquiao as a loving husband as he spent some alone time with his wife Jinkee listening to the pulses of their unborn child using an electronic device pressed against Jinkee's very pregnant belly. This was a much needed improvement from the last episode's display of karaoke coldness from Manny.