Manny Said Knock You Out!
May 3, 2009 · Posted in Uncategorized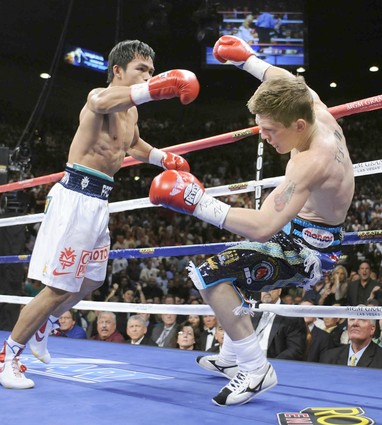 Manny Pacquiao introduces world class speed and punching power to Ricky Hatton. Wally Skalij – L.A. Times
I had a plan to do some gloating last night.  My Filipino flag was ready and I had a few spots in L.A. scoped out to wave it in the event that Manny won the fight.  
Manny made short work of Ricky "Hitman" Hatton with a devastating knock out punch in the 2nd round.  I predicted Manny would win but I wasn't expecting the fight to end so soon.  Everything was said and done by 8:45 pm!
The brutal knock out made me rethink the gloating plans.  Hatton fans didn't deserve anymore grief as their fighter was a class act.   I decided to scrap the gloating plans and just enjoyed a victory drink at Tiki Ti – a local Filipino American owned bar. 
X-Factors
Most boxing analysts will attribute the win to Manny's speed and punching power combined with a brilliantly executed fight plan by Freddie Roach, Michael Moorer and Manny Pacquiao.  That's probably true but there were some x-factors that helped contribute to Manny's win.
1. Manny's mom was watching him live in Vegas.  Manny's a great boxer but he's still Filipino.  Like the rest of us, he didn't want to hear the end of it from his mom if he didn't perform well. 
2. Martin Nievera sang the Philippine National anthem.  Finally they get one of the top Philippine singers to do the anthem before a Manny fight and it resulted in a 2nd round knock out. 
3. Tom Jones sang  the British National Anthem of "God Save the Queen".  So you're asking how does this help Manny?  Think about it.  Manny LOVES to sing karaoke.  There are a few singers that have legendary karaoke status in the Philippines.  Tom Jones is one of those singers.  When Manny saw that Tom Jones was singing before one of his fights, he got inspired to be greater so that he could impress one of  his karaoke heroes. 
4. Buboy. Can't forget Buboy.
And I can't leave out…
5. Batista.  If you are about to get into a fight, who better to be standing behind you for back up than WWE Superstar Dave "The Animal" Batista.   Good lord he looked huge behind Manny.
Gloating the morning after
It's Sunday morning after the fight.  My vocal chords are recovering from the amount of yelling I was doing at the Nike/SIPA sponsored Manny Pacquiao viewing event at the Montalban Theater in Hollywood (KHAN!).  I've been farting intermittently due to the poor decision on my part to get a chili spaghetti size at Bob's Big Boy last night after downing a few rum drinks at Tiki Ti.  It seems that I am still celebrating Manny's win as I now possess a devastating combo of a hoarse voice and frequent farts.
Seeing that my body is still in Manny victory mode, I might as well do what  bloggers do best… gloat like an asshole.
To all the Ricky Hatton fans that flew from England just to sing that retarded Ricky Hatton song, I have some modifications to your song's lyrics. 
You got knocked out… Ricky Hatton!

Only took two rounds… Ricky Hatton!

Manny's lightning fast fists, dropped you like a ton of bricks

Sending you to Hatton wonderland.
Learn your new lyrics you fracken hooligans. And tell the queen to take the iPod Obama gave her, shine it up real nice, turn that sumbitch sideways and stick it straight up her candy ass! 
At the viewing party I attended, we had our own cheer for Ricky Hatton. It went something like this:
OVER-RATED! (clap. clap. clap-clap-clap)  OVER-RATED! (clap. clap. clap-clap-clap)
To that interesting looking kid holding Ricky Hatton's belt in the ring before the fight, I really hope you are developmentally challenged cause if not, oh man.  Dude, you kinda look like a real life version of Bobby Hill from King of the Hill.
And to Floyd Mayweather, Sr. 
You claimed Manny was amateur.  You called Freddie Roach a joke coach.  You said you were the best.  Well, it looks like you literally have been drinking too much of your own Kool-Aid.  Funny that you were nowhere to be seen after the fight and didn't really have much to say to the press after your "Italian Stallion" got KO'ed like a little bitch poodle. Since you like to talk in poetic verse, I got a haiku for you and your crackhead-esque brother Roger.
Hey Floyd and Roger

You have earned a new title

Freddie Roach's bitch!
Eh, whatever. Those two guys are so mentally warped they won't get it.
Fight fans now await the outcome of the upcoming Floyd Mayweather, Jr. vs Juan Manuel Marquez bout in July in the hopes of a Mayweather, Jr. vs Pacquiao mega fight down the road.  Or we just may end up with a Pacquiao vs. Marquez rematch.  Or we may get Pacquiao vs. Cotto or Pacquiao vs. Mosley.  Either way, Manny Pacquiao has solidified himself as the top draw in the world of boxing. 
A few thank yous
To Dante Basco, thank you for saying hello to my niece over the phone at the Pacquiao viewing party.  You didn' t have to do that.  Even though you are not the pan, you turned my 14 year-old-niece into a screaming teenage fangirl and made her the coolest kid at the party she was attending as she told her friends that she was talking to Dante Basco on her cell phone.  Dante, you were bomb in "Biker Boyz."
To Winston Emano, Joel Jacinto, SIPA and Nike, thank you for letting me and my buddies be a part of a great viewing event at the Montalban theater (KHAN!).  
To Manny Pacquiao, you will probably never read this but thank you for giving this generation of Pinoys so many great memories.   
Ok, the chili spaghetti is calling.  I gotta take a Floyd Mayweather, Sr.
News Links
Brilliant Pacquiao cements legacy with win – Yahoo! Sports
Pacquiao-Hatton: Lance Pugmire's round-by-round observations – L.A. Times
Pacquiao punches place into history – ESPN.com
The broadcast from England

Comments