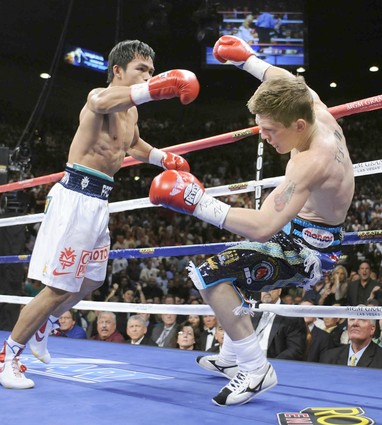 Manny Pacquiao introduces world class speed and punching power to Ricky Hatton. Wally Skalij – L.A. Times
I had a plan to do some gloating last night.  My Filipino flag was ready and I had a few spots in L.A. scoped out to wave it in the event that Manny won the fight.  
Manny made short work of Ricky "Hitman" Hatton with a devastating knock out punch in the 2nd round.  I predicted Manny would win but I wasn't expecting the fight to end so soon.  Everything was said and done by 8:45 pm!
The brutal knock out made me rethink the gloating plans.  Hatton fans didn't deserve anymore grief as their fighter was a class act.   I decided to scrap the gloating plans and just enjoyed a victory drink at Tiki Ti – a local Filipino American owned bar.