One of Rex Navarrete's funniest comic bits is when he describes his uncle watching Animal Planet and pointing out the fact that the he claimed to have eaten all the animals shown on TV.  Recently, life immitated Rex's art off the Burias island in central Philippines when a few of our kababayan fishermen accidentally caught a rare megamouth shark… and ate it!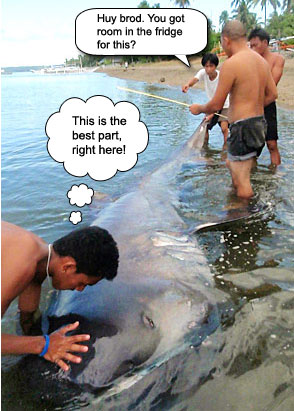 Credit: Elson Aca – World Wildlife Fund, Philippines
Rare megamouth shark caught, eaten in Philippines – AP, Yahoo!
Here are the beginning sentences of the Wikipedia entry for the Megamouth shark:
The megamouth shark, Megachasma pelagios, is an extremely rare and unusual species of deepwater shark. Discovered in 1976, only a few have ever been seen, with 41 specimens known to have been caught or sighted as of 2009 and three recordings on film.
Yes folks, our fisherman accidentally stumbled upon one of the rarest animals on the planet and instead of seizing the opportunity to advance our understanding of this creature, they decided to make supersized pulutan.  That's 1,100 pounds of a potentially endangered species served up deep fried with rice, tomatoes, salted egg and San Miguel beer.
I wasn't there but I can only speculate some of the rationale behind eating the 41st encountered specimen of this shark.