Big props to Bambu for the new music video. Thanks for the link AJ!
Crooks and Rooks
by Bambu

Bambu "Crooks & Rooks" Music Video (Short Film Version) from Kid Heroes on Vimeo.
Behind the scenes video:

Bambu "Crooks and Rooks": Behind the Scenes from Xylophone Films on Vimeo.
Pinoylife Album Review of "…exact change…"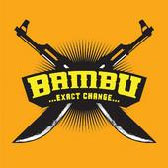 Album: …exact change…
Artist: Bambu | www.bambu.la
Release Date: September 11, 2008
Bambu has unleashed his latest musical fury with his third album "…exact change…" and adds further depth to his already vast hip-hop artistry.  One thing that really sets his songs apart from the "rap" that gets played on mainstream outlets is the wide variety of social topics he can masterfully rhyme about and still have people bob their heads to it.