Just a few notes:
I had a South Park Eric Cartman doll, a Santo Nino statue, and a Voltes V figure in my webcam but they cropped the shot.  You can kinda see the head of the Santo Nino in some of the shots.
I didn't see Jannelle on my computer as she was interviewing me. I had no idea what she was wearing while she was talking to me and by the looks of it, I'm not sure if her wardrobe person did either.
Yes, that is a 1 liter glass boot from Germany filled with a drink.

Now you know why I posted the graphic of 70s anime robot Daimos because I wanted to see if they would actually broadcast the website with the words I'M ON KABABAYAN L.A. BEEYATCHES!  And they did hehe.
Thanks again to Jannelle So for giving me and Pinoylife.com some airtime.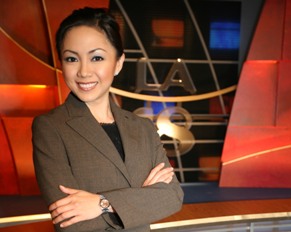 Kababayan L.A. host, Janelle So
Back in September of 2008, I was asked to be a guest on a local news/talk show called Kababayan L.A. by show host Jannelle So. I figured that it would have been a one time deal since nothing about me screams Kababayan L.A. viewing demographic. With that in mind, I tried to have some fun with the appearance by taking dares from Pinoylife visitors and creating a drinking game for my appearance. The end result was me making an ass out of myself for the sake of entertaining the beloved readers of this site. I grabbed my junk, said the words "menstrual cycle" and "lawn care" in the same sentence, and mugged like crazy for the camera.
If you don't believe me, check out the original post about my appearance complete with the video proof.
Not everyone was a fan of my performance art.
Larry wrote:
Wow you are a fat loser. You should be hiding behind a computer. Maybe the show should bring you back for their Halloween episode if they want to scare off viewers..
Parlay wrote:
Sorry but, any credibility about a true critiquing of the show is lost with this Moonie guy making an utter fool of himself while being interviewed. As a guest, you had a golden opportunity to lend voice to your opinion and instead you chose it as a venue for inside pranks for a few of your friends. How old are you, really? You owe the hostess an apology. At the end of the day, you're the fool but, once again, all Filipinos bare the brunt of your stupid childishness. Gago ka!
Well, can't please them all. But guess what Larry, parlay, and all my adoring haters…
Jannelle So wants me back on the show!
Why you ask? Real simple… Pinoylife.com = Ratings!
So tune in on Thursday, February 12 at 4:30 p.m. as I help Jannelle So introduce a new segment called Viral Thursdays on Kababayan L.A. I'll be appearing via webcam since they probably don't want me anywhere near the set. And no, Viral Thursdays is not a new holiday that allows you to go out and spread STDs in your respective social circles.
You guys got until 10 a.m. Thursday morning to get your requests in.