Looking Back on Thanksgiving 2008
December 2, 2008 · Posted in Uncategorized
Thanksgiving 2008 is in the record books and based on all the Facebook status updates I read, looks like we all ate as if we had four stomachs.  It is impossible to resist.  Every house has lots of good food and at least three different types of dessert.  What makes Thanksgiving such a great holiday is its simple formula: 
People + lots of food + no work or school = Happiness
We can now add another component to a successful Thanksgiving - Filipinos on television.  Yes, you read that right folks. Thanksgiving 2008 was all about increasing the Pinoy visibility percentage on American television.  Maybe some of you blinked but there were quite a few pata eaters on cable these past few days. 
The Food Network aired the latest Iron Chef America Thanksgiving battle where Masaharu Morimoto and Cat Cora teamed up to battle Michael Symon and Bobby Flay.  It was pretty crazy to see what these culinary artists could do with traditional Thanksgiving ingredients like turkey, corn, and cranberries.  Flay and Symon edged out Cora and Morimoto by just one point but that isn't what is important for this site.  The significance of this episode was the fact that TWO, count 'em, TWO biracial Pinoys were on the same episode of Iron Chef America.  One of the judges was Mr. La Bamba himself, Lou Diamond Phillips and of course there's the chairman, the legend, the friggen man, Mark Dacascos.  We almost had enough genetic make up on the show to comprise a whole Pinoy!  We'll get there some day but it's a start.
Speaking of Dacascos, the people in charge of programming on HBO decided to air the Dacascos cinematic classic "Only the Strong" during Thanksgiving week.  What? Are some of you not familiar with "Only the Strong"?  It was the moving original story of a military man / capoeira master that went to a troubled inner city school to help a group of misfit students find their way in life using capoeira. He runs into some drug lord who was probably the inspiration to the wrestler Razor Ramon and then they have a big fight in the end. 
Why try to describe the indescribable? Here's the ending of the film!
DACASCOS RULES!
Thanksgiving also gave me an opportunity to do some catching up with the stuff on my DVR, which includes all the happenings of the World Wrestling Entertainment universe.  After watching ECW on the Sci-Fi network, the DVR recorded the first 5 minutes of a game show called Cha$e.  The show is basically a reality show version of the movie Hard Target mixed with "hide and seek" and a lot of running.  It didn't really hook me in but when I saw the host Trey Farley and his flat nose and slight tan, I needed to do the internet Pinoy confirmation check. Sure enough, IMDB lists him as having a Filipino mom and an English dad.  Congrats to Trey for landing the gig but I doubt this show will be on much longer.


Cha$e host Trey Farley 
While we're on the subject of reality game shows, Spike TV ran a mini-marathon of this season's UFC Ultimate Fighter.  Valleypinoy sent me an email about a Pinoy being one of the MMA fighters in Team Nogueira so I decided to watch an episode.  Of all the episodes to choose to watch, it was the one that focused on a Fil-Am nurse named Phillipe Nover and his fight against Dave Kaplan.  Not only did Phillipe fight, this dude kicked major ass as he beat Kaplan with some stiff punches that dropped his opponent and led to a choke submission.  See for yourself:
UFC president Dana White went as far as saying Phillipe reminded him of a young Georges St. Pierre (GSP). I just loved the fact that the dude rocked a hat on the show that said "Mahal Kita Lola".   Good luck Phillipe and I hope you win the contest and the UFC contract.
You know what would be dope? If a Filipino MMA fighter in the UFC got sponsored by the UFC food corporation.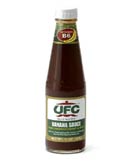 Pinoys weren't just on basic cable during Thanksgiving week.  The next big thing, Charice Pempengco, found her way on NBC's coverage of the Macy's Thanksgiving Day Parade.  Being billed as 16 year old pop-star Charice, she performed on the Good Housekeeping showboat float and did a cover of Celine Dion's "Because You Loved Me".  She sounded outstanding as always and we are witnessing her evolution into a legendary vocalist with each year.  Here's hoping she'll start cranking out some great original material soon so we don't have to endure anymore covers of Celine Dion or Barbara Streisand songs.
But the true highlight of the Macy's Thanksgiving parade was the Cartoon Network float for Foster's Home for Imaginary Friends.   If you didn't see it, here it is in its full glory:
Too awesome.
The holiday week was capped with the third episode of HBO's De La Hoya – Pacquiao 24/7.  That episode was so bad ass, it's going to get its own dedicated post.  I'll just comment that I would have never believed that I would see the day when I would pay for HBO just to see Farmer John of the Fighting Cocks in high definition.  That deserves a hi-def dolby 5.1 surround PACKAACK!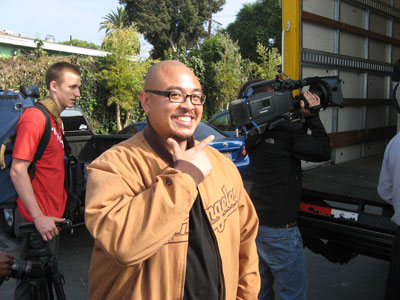 Comments