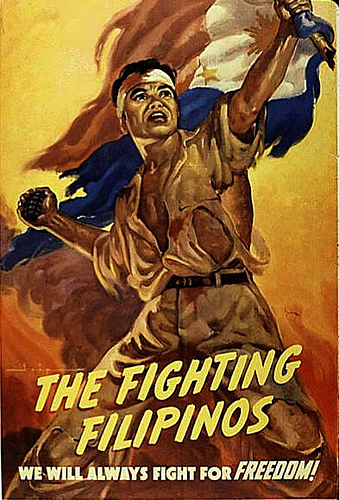 If you haven't heard, we're in a recession.  Just making sure we got that piece of information out of the way.
This difficult economic time has resulted in the U.S. Government scrambling to take some form of immediate action to alleviate the current financial situation in America. The proposed solution that was signed by President Obama was a $787 billion (with a "B") economic stimulus package.  I don't have the time nor energy to try to explain the rationale of every line item in this stimulus package but basically, the government is going to spend a sh*tload of money on a bunch of stuff in the hopes that the U.S. economy will improve. 
The bill contains things like infrastructure construction projects, tax breaks and credits to incent more people to buy new vehicles, and many other things that are supposedly intended to have an immediate impact on decreasing unemployment and increasing consumer spending.
Then there are the other items in the stimulus package that have drawn the ire of its biggest critics.  One of the controversial items in this bill is a proposed $400 million to be spent on anti-smoking and sexually transmitted disease prevention programs.  I'm sure these are both great in promoting good health but the only possible result that I can see how this would benefit the U.S. economy is the increased sales of Nicorette and Trojan products. 
An item that has become a major talking point of the package's critics is the nearly $200 million that will go to Filipino WWII veterans.  From what I've read in news articles, a lump sum of $15,000 will go to each vet that is a U.S. citizen and $9,000 to non-citizens. 
The positive is that these deserving veterans are finally going to get something (even though it's just a fraction of what was promised to them).  The big negative that I see is that the issue for Filipino veteran's benefits has now become a partisan politics talking point to argue the validity of a stimulus package rather than a standalone non-partisan issue.  Journalists, pundits and politicians that want to highlight what they feel are the unnecessary aspects of the stimulus package are quick to point out that at least a third of the money allocated to these Filipino veterans will end up going to people in the Philippines, thus not really doing anything to stimulate the U.S. economy. They also argue that appropriating stimulus package money to Filipino veterans does nothing to help create jobs or increase consumer spending.
I am no economic expert but according to Kababayan L.A., I'm some kind of expert in something (not sure what, though).  Being the expert that I am, I can assure all of you reading this that giving money to old Filipinos will definitely help the U.S. economy.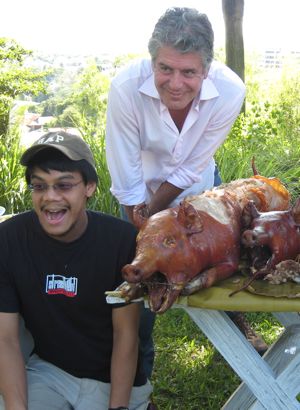 Anthony Bourdain and his buddies Augusto and Wilbur
Food blogs and Pinoy blogs are going Tony Bourdain crazy after his popular show Anthony Bourdain: No Reservations went to the Philippines.  The show finally aired and I have to say that as a Filipino American, I felt it was superbly done.
In case you missed it, Shaquille O'Neal came out with Pinoy dance crew Jabbawockeez as he was introduced for the 2009 NBA All-Star Game.
Whoever is managing the Jabbawockeez is doing an incredible job. Congrats on the All Star gig and the Gatorade commercials.
Just a few notes:
I had a South Park Eric Cartman doll, a Santo Nino statue, and a Voltes V figure in my webcam but they cropped the shot.  You can kinda see the head of the Santo Nino in some of the shots.
I didn't see Jannelle on my computer as she was interviewing me. I had no idea what she was wearing while she was talking to me and by the looks of it, I'm not sure if her wardrobe person did either.
Yes, that is a 1 liter glass boot from Germany filled with a drink.

Now you know why I posted the graphic of 70s anime robot Daimos because I wanted to see if they would actually broadcast the website with the words I'M ON KABABAYAN L.A. BEEYATCHES!  And they did hehe.
Thanks again to Jannelle So for giving me and Pinoylife.com some airtime.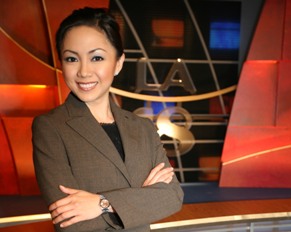 Kababayan L.A. host, Janelle So
Back in September of 2008, I was asked to be a guest on a local news/talk show called Kababayan L.A. by show host Jannelle So. I figured that it would have been a one time deal since nothing about me screams Kababayan L.A. viewing demographic. With that in mind, I tried to have some fun with the appearance by taking dares from Pinoylife visitors and creating a drinking game for my appearance. The end result was me making an ass out of myself for the sake of entertaining the beloved readers of this site. I grabbed my junk, said the words "menstrual cycle" and "lawn care" in the same sentence, and mugged like crazy for the camera.
If you don't believe me, check out the original post about my appearance complete with the video proof.
Not everyone was a fan of my performance art.
Larry wrote:
Wow you are a fat loser. You should be hiding behind a computer. Maybe the show should bring you back for their Halloween episode if they want to scare off viewers..
Parlay wrote:
Sorry but, any credibility about a true critiquing of the show is lost with this Moonie guy making an utter fool of himself while being interviewed. As a guest, you had a golden opportunity to lend voice to your opinion and instead you chose it as a venue for inside pranks for a few of your friends. How old are you, really? You owe the hostess an apology. At the end of the day, you're the fool but, once again, all Filipinos bare the brunt of your stupid childishness. Gago ka!
Well, can't please them all. But guess what Larry, parlay, and all my adoring haters…
Jannelle So wants me back on the show!
Why you ask? Real simple… Pinoylife.com = Ratings!
So tune in on Thursday, February 12 at 4:30 p.m. as I help Jannelle So introduce a new segment called Viral Thursdays on Kababayan L.A. I'll be appearing via webcam since they probably don't want me anywhere near the set. And no, Viral Thursdays is not a new holiday that allows you to go out and spread STDs in your respective social circles.
You guys got until 10 a.m. Thursday morning to get your requests in.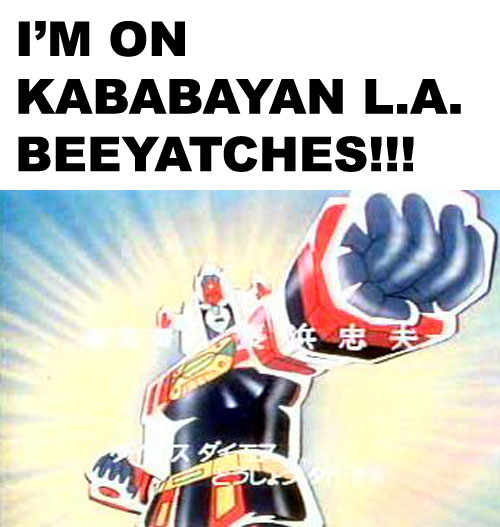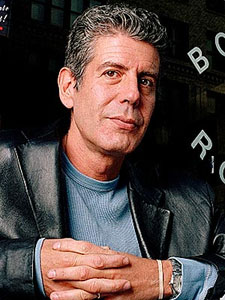 Travel Channel host Anthony Bourdain
Big thanks to Pinoylifer Cire B for sending this one in.
The Travel Channel's hit show Anthony Bourdain: No Reservations is going to the Philippines!  Finally, in its 5th season, restauranteur/chef/culinary bad ass Anthony Bourdain explores the culture and cuisine of our beloved mother country.  I can't wait to hear his no-holds-barred commentary on the unique foods of the Philippines.  I wonder if he'll work in an Apocalypse Now reference. 
Here's the Travel Channel website's synopsis of the upcoming episode:
Tony visits the Philippines, the "Land of the Lechon." He stops in Manila, which is a diverse combination of Spanish and Chinese cultures. Then he heads off to Pampanga to sample some of their rare delicacies.
Set your DVRs kids!
Anthony Bourdain: No Reservations – Philippines
The Travel Channel
Monday, February 16, 2009
10pm Eastern (check your listings as some of you west coasters may get it at 7pm)
Anthony Bourdain: No Reservations – Official Site
Various news outlets are reporting on the story of Pia Quijada who has recently pled "not guilty" for siphoning more than $89,000 from Manny Pacquiao.  The link between the woman and the boxer is Pia's husband (maybe ex-husband now) Joseph Jose, Manny Pacquiao's driver. 
According to the L.A. Daily News and the Manila Standard Today, Manny asked for Joseph Jose's help in setting up a bank account in the United States.  It is alleged that Pia used that knowledge to forge at least 32 checks to access the money from Manny's bank account.
Here's a photo of the couple (Thanks Manila Standard for putting this online)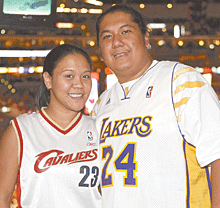 Pia Quijada and Joseph Jose
It is innocent until proven guilty so I cannot say whether or not Pia Quijada actually did the crime nor do I have any inside knowledge of whether or not Joseph Jose was aware of these actions.
The crack staff here at Pinoylife.com tried to find anything online about Pia Quijada and a Facebook link did come up but it led to a cancelled Facebook page.  However, a hacker friend did manage to dig up a "25 Random Things About Me" Facebook post written suspiciously by someone named Pia Q.  Here's what it read: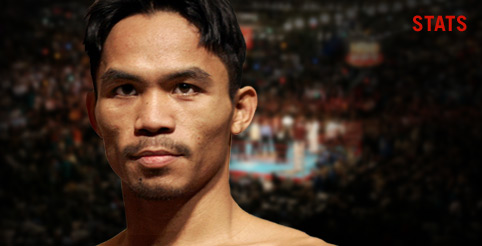 Update as of January 28 2009  10:55 AM Pacific Time:
Lance Pugmire from the L.A. Times has posted that both Pacquiao and Hatton have signed the contracts for the May 2 boxing event in Las Vegas.  FINALLY!
It's official: Ricky Hatton signs and fight with Manny Pacquiao is on - L.A. Times
Update as of January 23 2009  8:45 AM Pacific Time:
ESPN reports that Manny has reversed his position on the fight and has agreed to the terms.  Nothing has been officially announced by Top Rank or Golden Boy but it looks like the fight is back on.  Way to go you greedy assholes!

Hatton, Pacquiao headed for May 2 bout – ESPN.com
Manny Pacquiao-Ricky Hatton bout may be back on – L.A. Times
Pacquiao confirms fight with Hatton 'is on' – FOX Sports 
Update as of January 21 2009  12:00 PM Pacific Time:
As of right now, this fight isn't going to happen. Way to go you greedy assholes!
Pacquiao won't sign; fight called off – ESPN.com
Ricky Hatton's rejection of Pacquiao fight came down to the contract – L.A. Times
Update as of January 13, 2009  4:55 PM Pacific Time:
The fight is in limbo right now.  The L.A. Times is reporting that Pacquiao has backed away from a 50/50 purse split and is looking for a 60/40 split.  Let's hope people come to their senses so that this fight can happen. 
Purse spat jeopardizes Manny Pacquiao-Ricky Hatton fight – L.A. Times
Update as of January 6, 2009 2:22 PM Pacific Time:
The fight date looks to be May 2nd in Las Vegas.  Only thing being published online is that a Pacquiao vs. Hatton fight deal is almost complete.  The contracts haven't been signed yet but news sources are saying that the fighters are on board with making it happen. Stay Tuned.
Pacquaio-Hatton Is On, 99.9% On – The Sweet Science
Hatton set to fight Pacquiao in May – The Guardian (UK)
Boxing Still Alive as Pacquiao, Hatton Close to Deal - TalkingBoxing.com  
Ricky Hatton "on board" with Pacquiao fight being in Vegas – L.A. Times
Hello Pinoylifers (and the brand new army of haters – thanks for the traffic).  2009 is starting off strong for Pinoy stand-up comedy.  Jo Koy had his first hour long special air on Comedy Central in early January and on January 19, Edwin San Juan's SlantEd Comedy show had its first Showtime taping that featured Edwin, Bernadette Balagtas, Joey Guila, Dan Gabriel, Ron Josol, and Paul Ogata.
Here are some photos from the January 19th SlantEd Comedy show taping at the El Rey Theatre in Los Angeles, CA.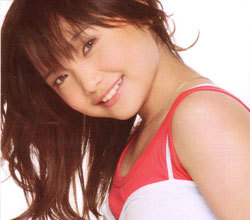 Charice, the young vocal sensation from the Philippines, sang for Barack Obama's pre-inaugural party on January 18.
Here's TV Patrol's news coverage in wondrous low def.

I've been a big fan of Charice and applaud her every accomplishment. This post is no way a knock on Charice's amazing talent or her somewhat large head (hopefully she'll grow into it and not look like a walking lollipop a la her idol Celine Dion). But I do need to question why she was picked to sing "God Bless America" for an American presidential event.